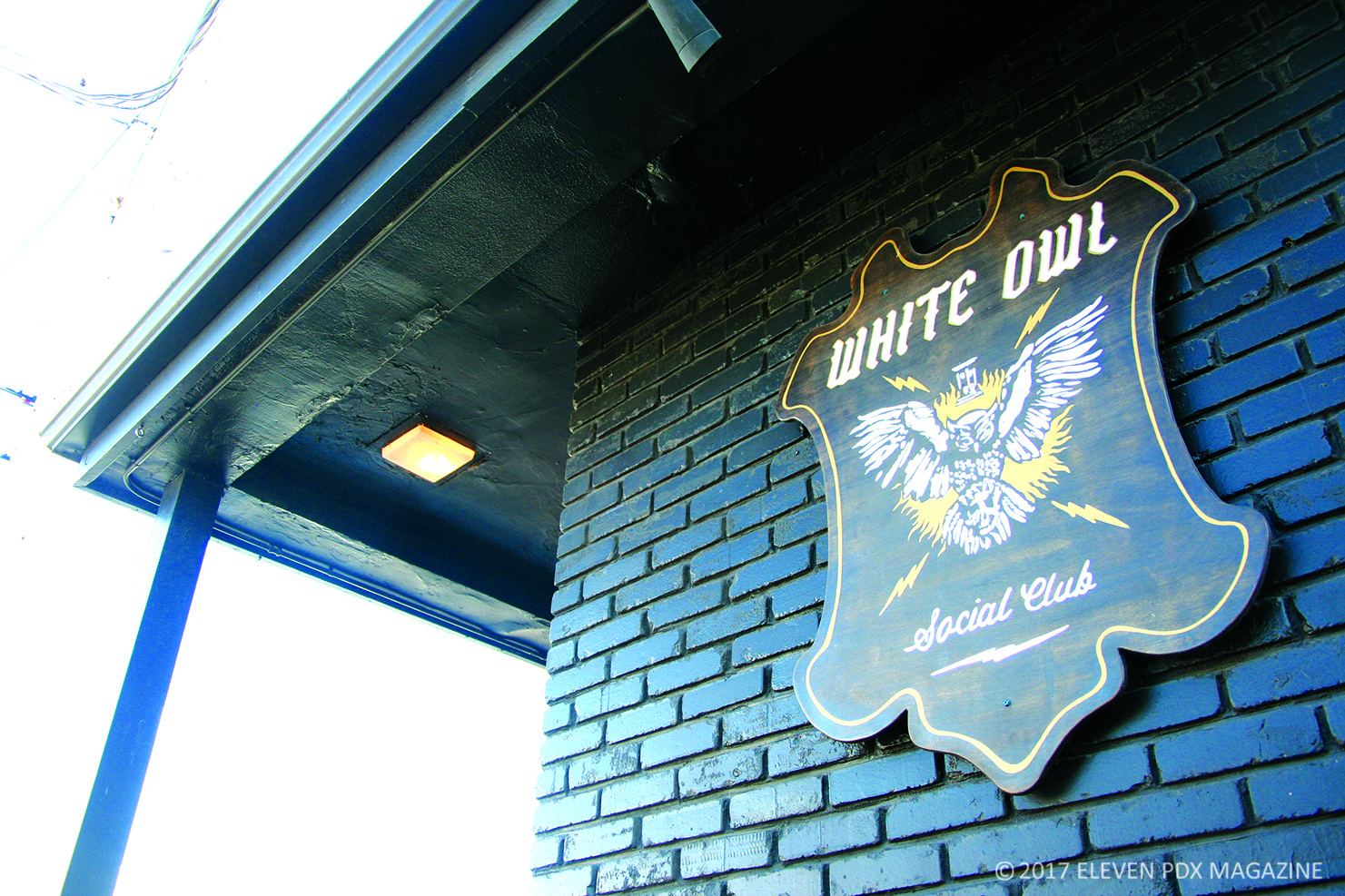 The blocks in this part of inner Southeast are truly representative of hard-working, artistic Portland. Old warehouses are transformed into small businesses, breweries and distilleries. It's also a mural district, with many huge walls becoming sprawling canvases. Strolling towards the White Owl Social Club, I pass one that says "Hey! You're A Part Of It" in big bold letters. I hear guitar and a crowd's cheers echoing off of the bricks.
A lot of people still miss Plan B, a dark dive bar which transformed into The White Owl back in 2012. It's been classed up but still holds a noir edge. There might even be some heavy metal playing in the background.
There are special events like the annual Rose City Kentucky Derby Party, and the insanely popular Simpson's trivia night, but until recently bands and DJ nights were pretty sparse.
More live music is happening though and is likely to continue, because the new owners have seized upon The White Owl's best asset: The enormous patio. The entire property has plenty of room. Inside is a beautiful bar and lots of seating, but outside is where it's at. There's a glow from the strings of lights and a fire pit under the stars. Rows of picnic tables are for chilling, eating, and occasionally dancing on. A second bar has been added outside to ease the lines of people ordering from the topnotch menus.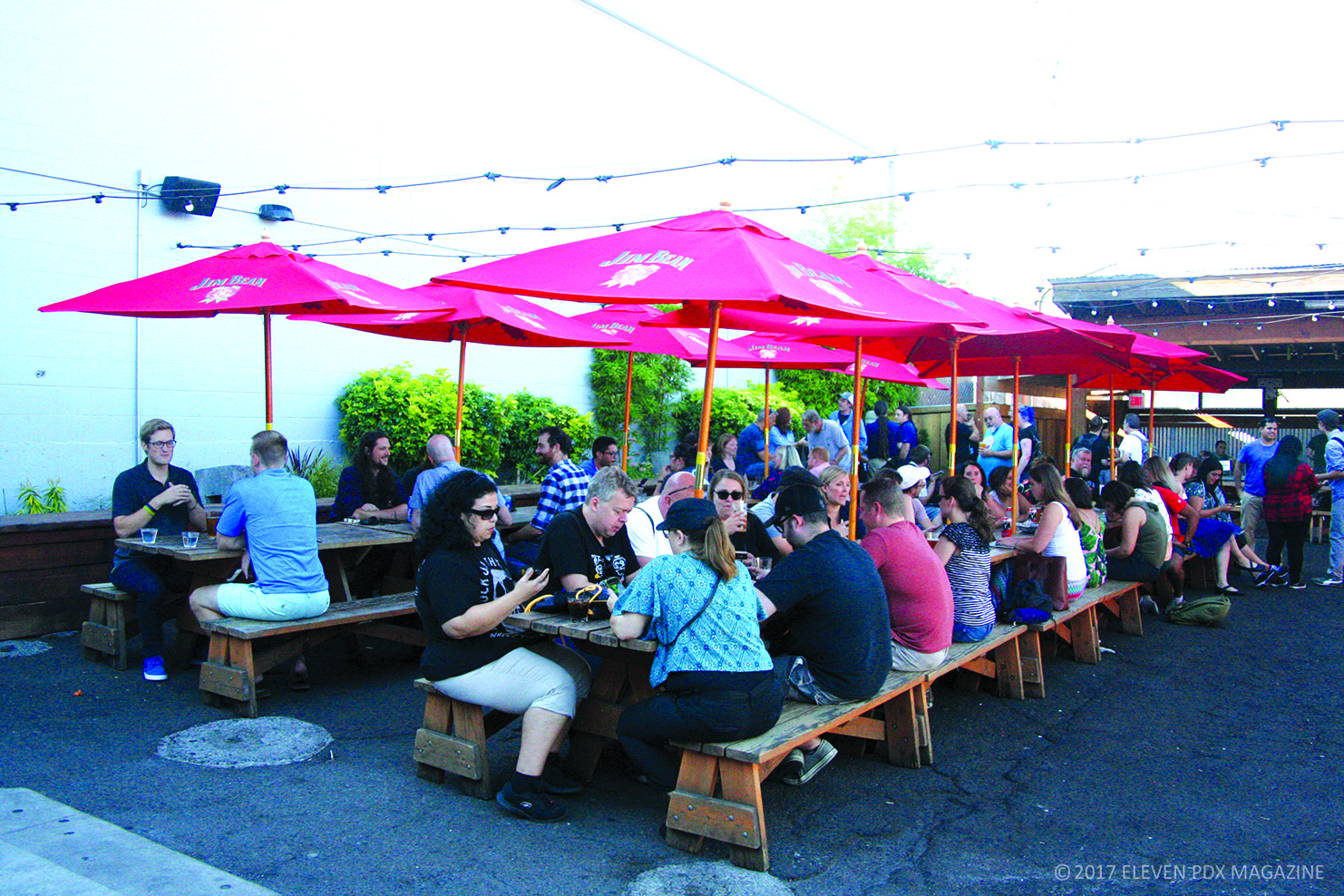 Happy Hour offers full plates for 5 bucks and craft drafts for 3. They boast "Quality Adult Beverages, Fair Prices, Mixed Strong," and sure enough there are fanciful combinations of spirits and fine ingredients on the cocktail menu. I kept it pretty simple with their Kentucky Moonshine (which isn't actually moonshine but instead bourbon, pineapple juice, and raspberry liqueur).
It might be one of the only places in town where you can get a locally sourced lamb burger, and the veggie burger made with beets and hazelnuts is one of the crispiest and most flavorful veggie burgers in the city (Bon Appetit Magazine says it's one of the best in the country).
"We don't want to just be a place to get food, we want to bring quality back," says co-owner Matt Relkin, as he tells me about their "Taco and Tecate" Tuesdays. "It's not just an afterthought here, it's something we take very seriously."
But let's get back to those live shows coming into play. With all of that space, the new owners took previously covered patio seating and flipped it into a stage. Relkin emphasizes that they work with a variety of bookers and sponsors, and strive to keep things accessible for their patrons.
"We are not just planning everything ourselves. It's nice to work with other people to create events. It definitely helps us bring more to the table."
This month, be on the lookout for free shows, end of summer celebrations, and vintage surf-wop from Shannon and the Clams. With a wide appeal of menus and music, a comfortable vibe and lots of room to mingle, The White Owl lives up to its "Social Club" status. It's very central and easily accessible from nearly every part of the city, so make plans to meet up. »