Orbital @ Roseland Theater 9/28/2012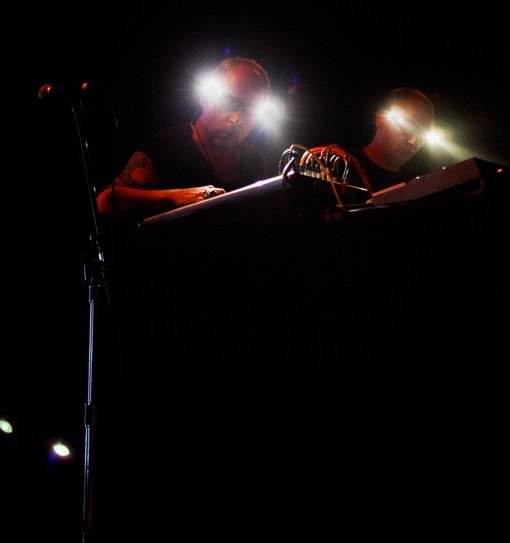 "There is the theory of the möbius, a twist in the fabric of space where time becomes a loop…" Michael Dorn's Star Trek character explained it best; Orbital remixed it best – on the very first song of their very first album way back in '91. The last time I saw Orbital play it was about ten years ago somewhere in Detroit. I don't remember much, but the brothers Hartnoll left a hard impression on me, one that made me keep listening to each new album over the years; one that got me so excited to see their show Friday night at the Roseland Theater. They were in town this weekend before their gig headlining at Decibel Festival in Seattle.
I didn't know what to expect this time: two aging British men making electronic dance music? I could recognize one of their songs from a mile away, but is this unique sound still relevant today? I can't say I was surprised to see a mostly >30 crowd… Waiting for them to go on, I pondered why isn't this show sold out? Why don't they have the same audience as someone like deadmau5 or The Chemical Brothers? It comes down to the fact that Orbital is more cerebral and less physical and if the younger generation could take some t-time, put the glow sticks down and listen for one second they might find the holy grail that is Orbital's discography, which spans 23 years.

I had found my sweet spot about two rows in and center and couldn't believe my ears as the above quote started on loop around 10pm…then the boys headed out in helmets affixed with two signature bright, distracting LCD lights. Three large screens surrounded them, providing background visual support. I could feel that the show was going to be unforgettable. Spoiler alert: it was, but not in the way I had hoped. Starting off with a dubstep-ish version of "Satan," they played crowd favorite, "Halycon" next. I closed my eyes and let the melodic waves of sound wash over what's left of my eardrums and then all of a sudden the music went out about half way through. I was already embarrassed for them that the house wasn't packed, but now a technical error halfway through one of their most popular songs? They asked for a 15 minute break. The sound guy confirmed that it had been a computer glitch and all systems needed to be rebooted. This happened a few Fridays back at the Dillon Francis show too. Luckily, when everything was back up, they started right where they left off. The rest of the show went on without a hitch, playing other awesome songs like "Belfast" and "Transient," as well as some recent material from their latest album, Wonky, which came out in April. Surprisingly, they used Madonna and Missy Elliot samples, two people I hate mixed into tracks. They don't need to use them for any reason, it detracts from their already gorgeous original house and techno tracks. The sometimes poor transition between songs distracted me too. Regardless, I will always be A Girl with the Sun in Her Head and it was an honor to see them live again. I'll be on an Orbital kick for at least the next week.
Words by Kelly Kovl.
Photos by Gabe Granach.