Preview: Jaga Jazzist at Edgefield on 6.28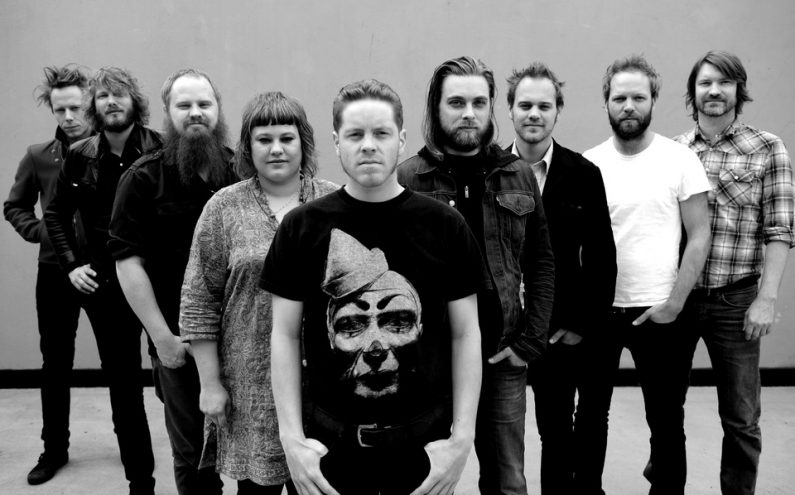 To be a member of Norway's experimental jazz band Jaga Jazzist is kind of like being inducted into a professional society. Firstly, that band is an institution in the northern nation, stretching across many sagas of musical inspiration and decades of time. And second, the list of their past members on Wikipedia reads like a who's-who of diverse instrumentalists – all who've had a hand in the band's mercurial sound of horns and operatic synthesizers.
Along side Olso's own Todd Terje, Jaga Jazzist will be making a rare stop at Edgefield this month where the sound of arpeggiated keys will emanate long into the sunset of a summer night.
We spoke to Lars Horntveth from the band about touring, the Nu-Jazz tag, and his moonlighting as a producer.
Eleven: Thank you for taking the time to speak to me, I know you're busy getting ready to tour.
Lars Horntveth: I'm actually getting ready for three tours. On this tour I am playing with both Todd Terje and the Olsens and Jaga. I am also producing and playing with A-Ha. Two days before we leave for this tour we are recording a live album with A-Ha.
Eleven: What are some other projects you and your brother are involved with? Any composing for film?
LH: My brother and I are both working with film and theater. My brother is like a full time composer for TV and radio theater. I've done three feature films and a few shorts. It's part of what we do, we work together on projects all the time.
11: What is "Nu-Jazz" in Scandinavia? Your band seems to get that label a lot.
LH: Since we've been signed to Nina Tune in the U.K., we've kind of been separated from the whole Nu-jazz thing. Journalists especially need a sticker to put on a movement though.
11: Indeed, we do.
LH: I don't think we ever really felt that we were a part of that scene, to be totally honest. To describe what we're doing, we have an approach to making music, which is just trying as hard as we can to change it up as much as we can. We have a dogma of trying to do the opposite of what we did last time. And that goes for many things, including production.
11: There are definitely some themes that do run through all your albums – one of them being how you use electronics in an almost celestial kind of way. Good work.
LH: Thanks man. We did an album a few years ago called "One Armed Bandit," that album does not have a lot of electronics; like for example drum programming. So that was a conscious choice from our side to try to skip the electronic drums. The album before that was so packed with electronics and inspired by people like Aphex Twin or Cornelius. Then we did an album with an orchestra, and as a reaction to that our last album is very electronic.
11: It seems like an exceptional amount of work for you to recreate the songs live. How do you go about it?
LH: The approach we have to play the music live is to try to copy the album as much as we can. But then in the process we make it a little bit prettier and open for variation, so that it can be fun to play again and again live. Not necessarily solos and stuff, but if you understand the basic element of the song you can make it a little bit different every day.
11: What is touring like in your home base of Norway?
LH: In Norway sometimes we can play at a club to 1,500 people. The cool thing about touring in a jazz-related band is that sometimes we may play a club and they may not have the same production, like a huge lighting set up. Some venues can't do that, and those shows are a lot of fun because you focus on making it jazzier in a way. If we play a bigger festival, it's probably going to be a bit stricter.
11: Edgefield is about as big as it gets in Portland, unless you're playing Moda Center. I hope it doesn't feel too strict this June.
LH: We've been lucky that we can play whatever kind of festival or venue. Although we are a big group with a bunch of instruments we somehow squeeze into smaller venues as well. It's not really a problem being that many people.
11: How many people are on your touring roster? How has it changed?
LH: We've been the same band for 23 years now. We used to be 10 people and now we are eight onstage. Five of the guys in the band, including myself, were there from the beginning, and now we have three newer guys. But one of those three has been in the band for 15 years, the others like 9 years. It's a very stable lineup.
---
Catch Jaga Jazzist live at Edgefield on Wednesday, June 28 in support of Tycho and Todd Terje & The Olsens. Tickets are available here.