What's Going On: 01/23 – 01/30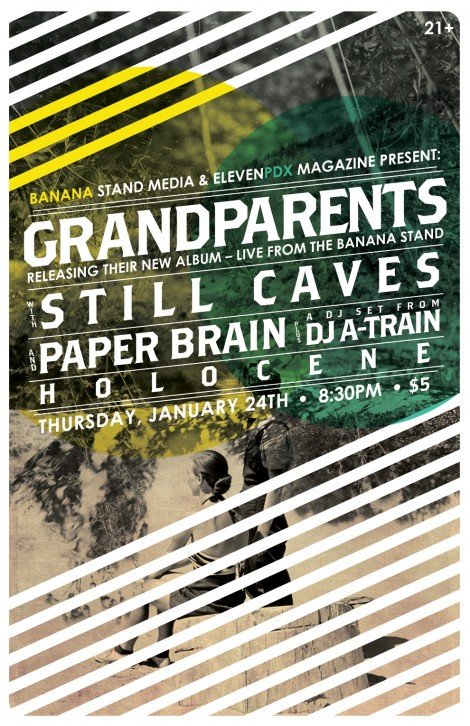 1. Banana Stand Media & ELEVEN PDX Present: Grandparents w/ Still Caves & Paper Brain
Where: Holocene
How Much: $5
When: Thursday, January 24th – 8:30pm
Why:  What could be better than two awesome local music-loving entities come together? Not much. Well, maybe this show and these mind-blowingly awesome bands. Come celebrate the release of Grandparents – Live from the Banana Stand! Teamed up with local favs Paper Brain and Still Caves.
2.  School of Rock: Best of Portland 2
Where: Crystal Ballroom
How Much: $13/$17 – All Ages
When: Friday, January 25th -8pm
Why:  Portland teens play local jams with local heroes! All proceeds go to benefit Music in the Schools and PROWUS Music Scholarships. Music and appearances by: Red Fang, Blind Pilot, Typhoon, Radiation City, Blitzen Trapper, Portugal. The Man, Sons of Huns, Guantanamo Baywatch, Laura Gibson, Wild Ones, and more!
3. The Walkmen w/ Father John Misty
Where: Roseland Theater
How Much: $22/$25 – All Ages
When: Saturday, January 26th – 9pm
Why: At first glance it seems a little pricy when you're used to shelling out $5-$15 to see bands around town, but big time national touring acts are gonna cost ya. Truly a heck of a deal to get two talented acts–for the price of one! If you haven't seen the video for Father John Misty's "Hollywood Forever Cemetery", you should.