What's Going On: 01/11 – 01/18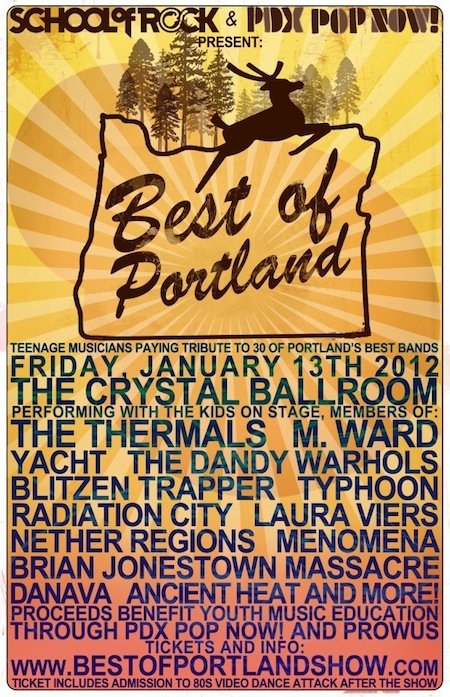 1.  School of Rock and PDX Pop Now! Present:  Best of Portland
Where:  Crystal Ballroom
How Much:  $14/$20
When:  Friday, January 13th—7pm
Why:  Local teens playing the best tunes from the best local bands like YACHT, Purple Rhinestone Eagle, and Horse Feathers. Joining the kids on stage will be members of:  Typhoon, Radiation City, Menomena, M. Ward, The Thermals, and more! Proceeds go to benefit PDX Pop Now! and PROWUS Music Scholarships!
2.  Forest Park Record Release w/ Your Rival & Duck Little Brother Duck
Where:  Mississippi Studios
How Much:  $5
When:  Saturday, January 14th—7pm
Why:  The captivating vocals of Maya Kiko Stoner and Katherine Paul should be enticing enough to get you to this anticipated record release. It might be a chilly winter evening, but once the dynamic guitars and slow-building yet powerful drums fall on your ears you'll have no problem warming up. [If you need more Forest Park, they also play Friday the 13th w/ members of Typhoon and Like A Villain, as well as performances by Aan and Youth]
3.  Thee Cormans, Cécilia Und Die Sauerkrauts, Thee Headliners & Chemicals
Where:  Kenton Club
How Much:  Free!
When:  Sunday, January 15th—9pm
Why:  Here it is—the first ridiculously awesome show of the year! Five bands, one DJ, and so much dancing you're gonna be one hot and sweaty mess by the time the night is over. Kicking off at 9:30 w/ French-pop garage group Cécilia Und Die Sauerkrauts and you definitely don't want to miss LA surf creeps Thee Cormans!