It's Austin City Limits Music Festival's 15th anniversary, and there are plenty of reasons to celebrate. Taking it's name from acclaimed PBS television series originally focusing on Texas' take on country music in the '70s, ACL has grown from a small 2 day festival in 2002 to dominating Zilker Park with over 75 thousand screaming fans for each of 2 sold-out weekends. It boasts some of the biggest headliners in the world, offers an eclectic mix of indie to hip-hop to Americana, and draws upon the excellent Tex-Mex indulgences of the acclaimed food scene. ACL still retains a distinctly Texas vibe – with many fans relaxing in lawn chairs the crowd and cheering on the Dallas Cowboys from the craft beer tent. And for those still looking for adventure after the festival gates close, the great city of Austin awaits with late night taco trucks, official after shows around town, or just bellying up to the bar at your favorite dive on the Eastside. Being a keystone festival from a city that reigns as a music capital of the world, it's no surprise that ACL knocks it out of the park. Here are some highlights from Weekend 1:
Cage the Elephant – Saturday 6:30pm – Honda Stage
Cage the Elephant's Matt Shultz electrified the crowd with his characteristic irreverence for physical constraints, slithering across the stage like a possessed rock villain. His high-octane repertoire ranged from incessantly jumping into the photo pit, nearly knocking out anything in proximity with his vigorous gyrations, and sprinting back and forth along the barricades to make contact with his hyped up fans. His madness paid off, and the band had the crowd completely under their spell through "Too Late to Say Goodbye," "Shake Me Down," and "Trouble." Cage the Elephant really put folks under a spell of rock stardom. One particular adoring teenage fan was left clutching her heart and shamelessly sobbing her eyes out, singing "What kind of man are you? Instead of kisses you gave bruises" with more conviction than Matt himself, reminding us once again of the power of rock music to ignite those deep recesses of our emotional consciousness.
Radiohead – Friday 8:00pm – Samsung Stage
Never has the mantra "Everything In Its Right Place" rung more true than at Radiohead's headlining set. Thom Yorke was already three songs in from the recent A Moon Shaped Pool, having just ended with "Daydreamer," and from where I was standing the crowd seemed restless. They were still streaming in and out and chattering incessantly. The volume seemed unusually soft and I felt as though I am straining to hear Thom's angelic concoctions. As I moved deeper into the crowd to find a spot where the die-hard fans will hopefully be standing in a quiet, obedient trance I overheard someone saying, "I listen to a lot of Radiohead, just not the new stuff," while her friend agreed, saying in response that he hopes they will play some of the older stuff soon. But this is one trip that is better left to the captain, because only once you've transcended the ebbs and flows of music greatness as Radiohead have done, then do you get the right to dictate the journey. Those who aren't ready simply get left behind. With their complex, unmatched cerebral cacophonies, Radiohead is something listeners need to work for, a spiritual journey that is earned, and one that is immeasurably rewarding if enacted diligently. Towards the second half of the set, Thom did however take a gander through memory forest, exciting the crowd with classics such as "Idioteque" and "Street Spirit," likely reminding us all of those adolescent high school house parties when life was perfectly uncomplicated and full of daydreaming. And for a minute during the crashing crescendos of "Karma Police," I really did lose myself to it all over again.
Frightened Rabbit – Friday 1:00pm – Miller Lite Stage
Kicking off their set with the driving "Get Out," Frightened Rabbit had the tough task of fighting the afternoon Texas sun to jolt the crowd on Friday into festival mode. The band favored upbeat layered guitars and atmospheric choruses, chugging through "The Woodpile", "Living in Colour", and "Keep Yourself Warm." However, they did leave time for a more delicate acoustic rendition of "Old Old Fashioned." The infectious chant at the end of set closer "The Loneliness and the Scream" had everyone joining in and wide awake for the rest of the festival weekend.
Young the Giant – Sunday 7:00pm – Miller Lite Stage
It is sundown as Young the Giant took the Miller Lite stage and the dust began to settle on day 3 of ACL. As the soft orange sky hinted at the end of a sweltering day in the Texan sun, singer Sameer Gadhia's orange jumpsuit replaced its warmth and vibrance. Jumping around in his white hi-tops and bridging new favorites such as "Something to Believe In" and "Amerika" with old favorites such as "Cough Syrup" and "Mind over Matter," YTG skillfully orchestrated the transition from day to night, and the crowd's internal transition from contented music satiety back to letting loose in the pit.
Band of Horses – Friday 7:00pm – Miller Lite Stage
Attendance was light at Band of Horses set – Radiohead fans were camping out by the main stage to get close to the front, and M83 and Flume had big draws in their own right. But as the opening notes of "Is There A Ghost" rang out, everyone in the crowd knew this was going to be something special. "I like it when we just shoot the shit together," chatted band leader Ben Bridwell in-between songs. The casualness and authentic energy of the band's presence made it feel more like they were performing for friends than a massive festival audience. The interleaved guitars and Bridwell's distinct falsetto on "No One's Gonna Love You" rang true, and a golden sunset added to the already emotional "The Funeral." The band closed with folky "The General Specific," giving a last communal, campfire vibe to their loyal crowd.
Die Antwoord – Friday 6:00pm – Honda Stage
It's a far cry from the 2010 Oppikoppi music festival on the arid farmlands of the Limpopo province in South Africa, where I first saw these guys perform as "Die Antwoord." Back then, they had made a household name for themselves under various acts such as Max Normal and The Constructus Corporation, and Die Antwoord was in our minds as likely to be nothing more than a passing amusement. But the joke was on us, because as true testament to their musical ingenuity, the group has been able to help define the intersection of rap and electronic music, and can get a crowd going like nobody's business. The huge turnout at the Honda Stage was testament to this. They're one measure musical perversion, a double shot of fuck-you-just-because, topped with a boundary defying frosting, and as we like to say in South Africa, a dose of "kwaai." Whatever that formulation amounts to, when they get up on the stage in their animal onesies, booty shorts or boxers, they take zero fucking prisoners. These irreverent bad-boys/girls create a potent explosion that either leaves one mercilessly dropping with the beat or gasping with some combination of shock/wonder/intrigue.
The Strumbellas – Friday 3:00pm – Miller Lite Stage
The Strumbellas are the band you'd most likely want to be best friends with, spending your weekends cracking silly jokes over some local brew in your neighborhood tavern. The band dressed like country hippies who rolled in from a lumber mill somewhere in the Canadian mountains (in a cool way), and you couldn't help but adore them. The feeling only grew as lead singer Simon Ward ceaselessly taunted the crowd with jokes ranging from his claims that the brisket is better in Canada, to joking admitting his love for the Dallas Cowboys, and playfully taking jabs at fellow bandmate David Ritter, who seemed to have inadvertently won the crowd's adoration as they incessantly chant his name, likely taking a cue from his cap which has the word "DAVE" emblazoned on it in bold capital letters. But beyond jovial stage banter, The Strumbellas played one crowd pleaser after another, ranging from slow burners like "Shovels & Dirt" to up tempo sing-alongs like "Spirits." The band knew how to entertain and they danced around unabashedly, most notably when violinist Isabel Ritchie and lead guitarist Jon Hembrey playfully danced with each other across the stage, both cradling their instruments and melting our heartstrings more than the blistering sun was even able to.
Nathaniel Rateliff & The Night Sweats – Sunday 4:00pm – Samsung Stage
Sporting an all black "Canadian tuxedo" and a cowboy hat, Nathaniel Rateliff looked the part for to match his unique, bluesy croon and soul-tinged R&B sound. Rateliff was chatty with the crowd, introducing the slow burning "Shake" by reminiscing about how his mom taught him to dance or cracking a dad joke about drinking before set closer "S.O.B." Rateliff has the required frontman charisma, but it doesn't hurt to be able to harness the energy, backing vocal harmonies, and horn section of The Night Sweats to truly bring these songs to life. Sharing with us a slice of vintage American soul, Nathaniel Rateliff & The Night Sweats made for a perfect feel-good, Sunday afternoon set.
LCD Soundsystem – Sunday 8:00pm – Honda Stage
Milan Kundera once posed the question of whether our love for music stems from a longing for brotherhood. If true, then LCD Soundsystem has to be one of our great loves if purely for the sense of companionship they are able to evoke. Even before James Murphy and friends take the stage, the crowd seemed to have shapeshifted from the usual why-are-you-stealing-my-spot hostility into a complete love fest. The sense of friendship only accelerated as the woman to my right puts her arm around me, coaxing me into a synchronous jump throughout the entire synthy "I Can Change." The stranger to my front turned around and sings passionately into his fist to the stranger on my left, who acknowledged his friendship bid by mirroring his movements. The crowd of friends to my left pranced around in a hyperactive circular scrum and what the fuck, we joined right in, hoping our knees and noses survive the moshing hysteria. The only thing we all had in common is some mutual love for a band that somehow makes us more relatable, and for tonight that was enough to let our guard down and lose ourselves in the groove of "Get Innocuous!," "Yeah," and "Dance Yrself Clean." If my entire life culminated into just one moment, I would be perfectly content if it were that moment in the pit, listening to LCD recreate the backing track to some of the greatest moments of my life.
ACL Eats – All Day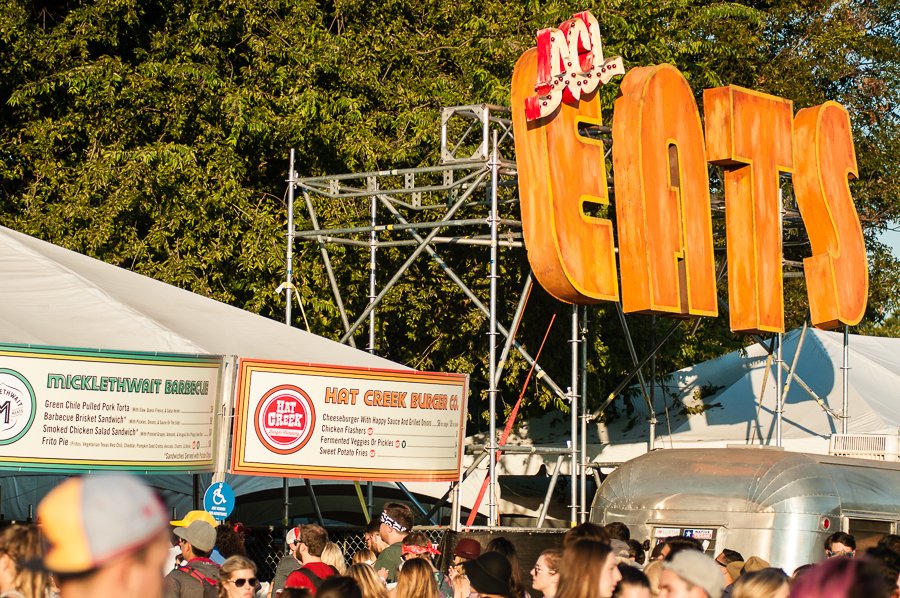 Once again another clear winner in ACL's line-up was the broad selection of local cuisine emulating Austin's distinct food culture. The ACL Eats Food Court was back once again serving favorites such as Torchy's Tacos, Mighty Cone, The Salt Lick, and Trudy's, topping off the selection with dessert favorites such as Amy's Ice Cream, GoodPop and Bananarchy's chocolate and peanut butter dipped frozen bananas. Though the selection at each stall was a sample of each Austin staple's full menu, this enabled festival goers to experience a taste of Austin's delightful cuisine without needing to set foot outside of the festival grounds, keeping their bellies as full as their ears and hearts.
Kendrick Lamar – Saturday 8:30pm – Samsung Stage
Kendrick Lamar really is that good. Taking the stage to headline day two of ACL, he took the crowd on a journey through his unique brand of complex, cerebral, and catchy hip-hop jams. Commanding the full main stage with his backing band holding down the rhythm from the wings, Lamar frenetically swooped around in front of a giant display of images ranging from a close-up of his eyes to nudity to a gun-firing Yosemite Sam. The bass hit hard and kept everyone moving through the predictable hits "Swimming Pools," "Alright," "Bitch, Don't Kill My Vibe" and the intense beat of "m.A.A.d City." But, he wasn't afraid to slow down the intensity and jump through lyrical gymnastics in interludes "For Sale?" and "For Free?" and the slower groove of "Complexion (A Zulu Love)." Lamar brought out ScHoolboy Q, who played earlier that day, to run through lightning fast verses on "Collard Greens" and the dissonant "THat Part." Over the jazzy guitar solos and tight bass groove closing out finale "A.D.H.D," Kendrick promised "I will be back" before fading into the night.
Words and photos by Jonathan Fritz & Amanda Grobler