Courtney Barnett at Crystal Ballroom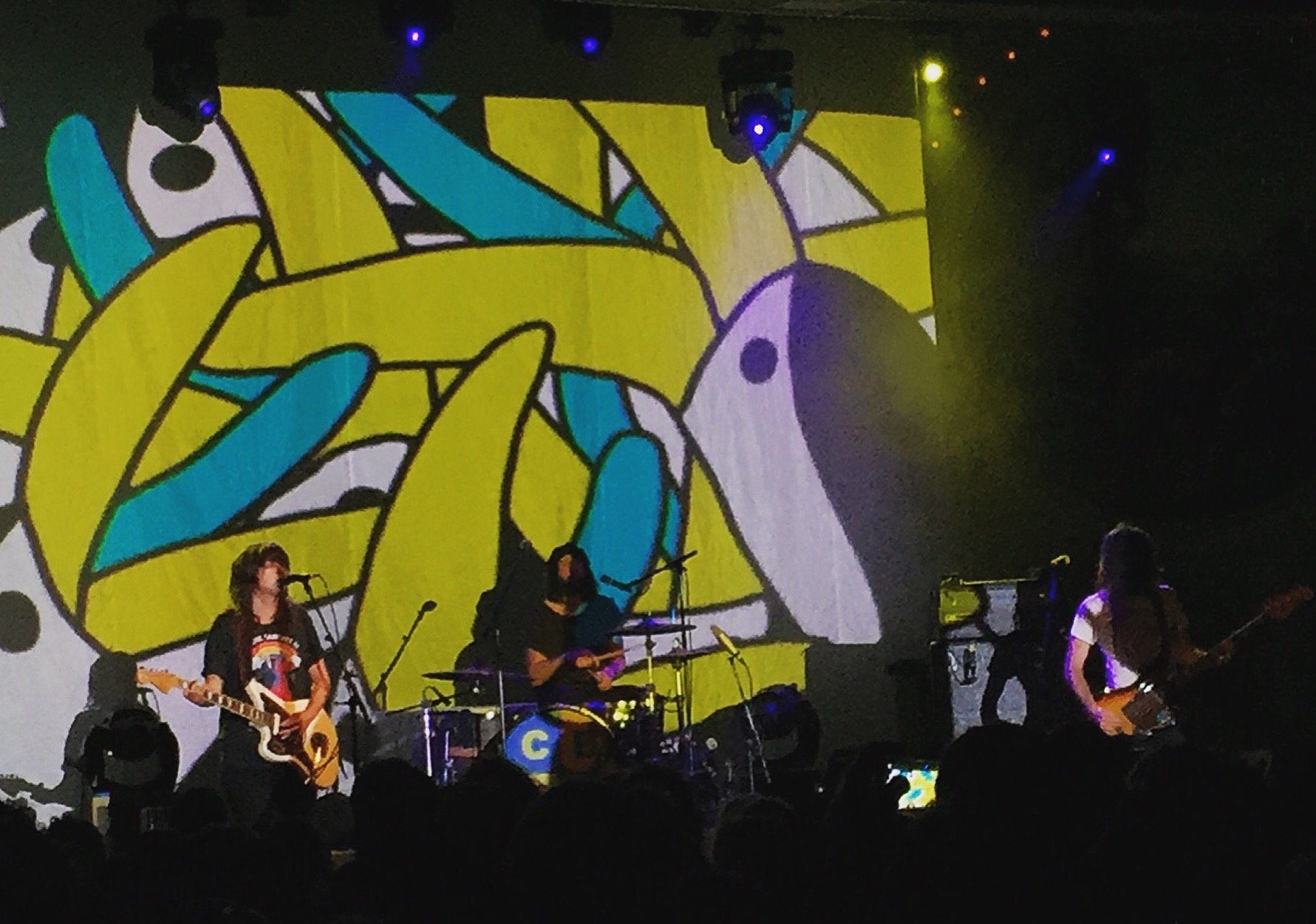 The oddity in Courtney Barnett selling out 1500-person rooms around the United States (and the world) isn't a quasi-political one, or probably even a philosophical one. There's no hint Barnett resents any trapping of her 2015 debut full-length's smashing success, like the network TV performances or a Grammy nomination for Best New Artist.
The irony is much purer, that of seeing a garage band trying to fill up a parking garage. The Australian songwriter's art and sound couldn't be more unassuming for the hundreds of thousands (and growing) drawn to it. But everyone at Crystal Ballroom Wednesday night seemed to know what they were in for: something as familiar as a good rock show, brought on by someone as complex as a generationally significant lyricist. The resultant dynamic as Barnett, her bassist Bones Sloane and drummer Dave Mudie took the stage after Alvvays was one of excited, but quiet, physicality from the crowd. They throttled themselves to the vintage grunge chords of "Pedestrian At Best" and occasionally hollered to Barnett's choruses, but more-so appreciated and perspired in place to the music's bare simplicity and winding first-person deprecations.
Barnett and company punched through most of Sometimes I Sit and Think, and Sometimes I Just Sit, plus the new standalone track "Three Packs A Day." The sounds firing across the expansive floor couldn't have been barer and still been an amplified rock band. That charming dinginess was aided by the contrast of Crystal Ballroom's medieval-style wall art with Barnett's visual backdrop: rotoscoped cell phone videos, gray cartoons and veritable screen savers.
In her near-mute stage present, the closest Barnett came to banter was: "Hey there's a balcony … I see you" toward the end of the hour-and-fifteen-minute set. Aside from the live crunch, there weren't real attempts to punch up Barnett's songs, and "Small Poppies" in particular was admirably swampy. Sonic flourishes came in the form of a few remarkable vocal tricks from the bandleader. Barnett screamed once or twice when moved, but more striking was the live revelation of her vocal register's deepest slumps. Her descents into a low, haunting voice sounds more like weariness on the album, but at Crystal these pitch drop-offs came from her gut — the troubled, self-conscious version of a James Brown grunt.
The crowd leapt the highest and pumped fists the hardest for "Pedestrian At Best" and "Nobody Really Cares If You Don't Go To The Party," but Barnett's technically finest song, "Depreston," was the show's best bit of live adaptation. The incidental and glum tune about suburban house-hunting concludes with a chorus — "if you've got a spare half a million, you can knock it down and start rebuilding" — you wouldn't have guessed so ripe for sing-along and slow clap until it actually rose from the audience. That response for "Depreston" makes for a Barnett microcosm. No Crystal Ballroom spectator will likely ever visit the Melbourne suburb of Preston (nor had they likely heard of it prior to the album), but it's the expressed attitude of these songs that resonates — the psychological skirmish of insight and apathy, rock songs that frolic to stay out of a personal pit. Like the real estate agent in "Depreston" (the one whose voice speaks the chorus) suggesting a total rebuild, the world is full of people who will misidentify you. Barnett's lyrical voices, however autobiographical, experience conflict in a deeply individual way, but put with unpretentious eloquence that doesn't make you pause to wonder who cared to ask the prodding questions her songs seem to answer. It's hardly surprising a few thousand people pack into venues around the world feeling the same.››
– Chance Solem-Pfeifer