Halsey + Jessie Reyez @ Edgefield
There's nothing better than a show at McMenamin's Edgefield property in the height of summer. The property is filled with a variety of bars, restaurants, and more to explore before and after a concert. We ended up going to the venue early to grab some seasonal cocktails and wander around the property before the sold out show. It was interesting to see so many die hard fans lining up hours early in the blistering heat wave to get a chance to get as up close and personal as they possibly could to Halsey.
Everyone was ready for the Hopeless Fountain Kingdom tour with some of the best summer outfits I've seen and a plethora of the signature blue wigs in the crowd. The venue was prepared for the heat with misting stations and water available both in line as well as inside the venue.
The show started out with the rapper London Richards opening up the show. Who had some technical difficulties in the beginning and had a short pause in the show to make sure he could give us the best performance we deserved.
Up next was the powerhouse Jessie Reyez who I was very excited to see live as some of her latest songs have earned a heavy rotation in my Spotify playlists for the summer such as "Body Count". The singer-songwriter is up and coming and just won Breakthrough Artist at the Junos this year.
She came out with a baseball hat over her face and started to captivate with a raw and gritty sound that was very soulful. Her music is unapologetically honest with lyrics that tell stories and empower. Her performance was lively and had the whole crowd moving and dancing along.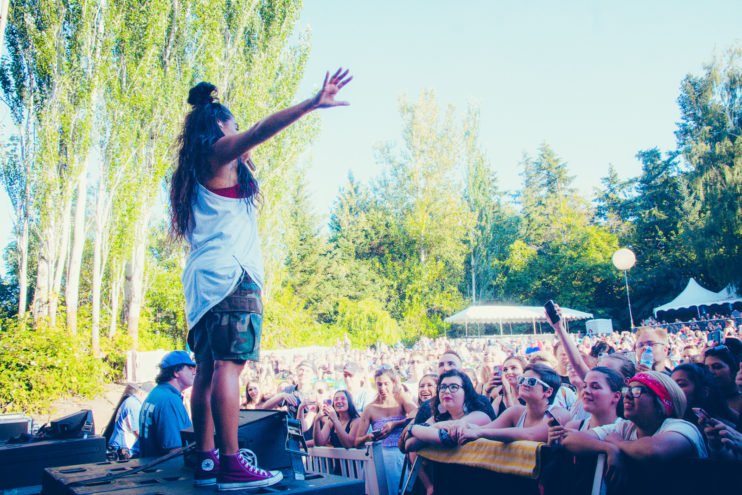 Reyez was a fireball of energy full of charisma and demanded the audiences attention with her powerful and entrancing vocals. She talked about her song "Gatekeeper" before playing it and the Me Too movement (See Video Below). She also spoke about how she got started doing covers on YouTube and how she started with songwriting and told us that she just wanted to dance before doing a short cover and dancing along to "One Kiss" the popular summer bop produced by Calvin Harris which she co-wrote. She definitely left the crowd wanting more and had everyone hyped up for Halsey. You can also check out her latest release "Apple Juice".
As the sun was descending and the summer day started to cool off a bit a white sheet was raised up on the stage while everyone waited for the headlining act to come out and wow us all. Halsey came out and started with "The Prologue" from her latest album and segued right in to "Eyes Closed" and everyone in the crowd stood up and I honestly don't think anyone sat down at all for the rest of the show.
The setlist was a great mix of both old and new with a few periodic breaks for quick outfit changes. She also talked about how memorable Portland was for her as it was the first stop of the Imagine Dragons tour where she opened for them. She also did a cover of the 2016 hit "Closer" by The Chainsmokers and jokingly talked about how it was the most annoying song of 2016. She ended the night with an encore of "Is There Somewhere" from her earliest EP and closed out with "Bad At Love" from her latest album on HFK.