The summer of 2016 invites us to celebrate the past and look forward to a bright future.
What started 25 years ago as a roving farewell tour for the Perry Farrell-led Jane's Addiction is now a worldwide festival phenomenon, adding days to its bill like Gillette adds blades to its razors. (Lollapalooza Chicago, boasting a four-day Thursday-Sunday itinerary, is still one notch behind Gillette's Mach 5.)
Another cultural icon is celebrating a big anniversary this year: Pokémon turns 20. And Pokémon:Go, the series' entry into smartphone-first gaming, currently has more active users than Twitter, Tinder, or Candy Crush.
To commemorate, we thought we'd look at the Lollapalooza festival highlights through the augmented reality lens of a Pokémon:Go trainer.
Hope you've got a bounty of extra pokéballs ready, because this weekend… well, there sure was a lot to catch.
Haim — Sunday 6:45 p.m., Bud Light Stage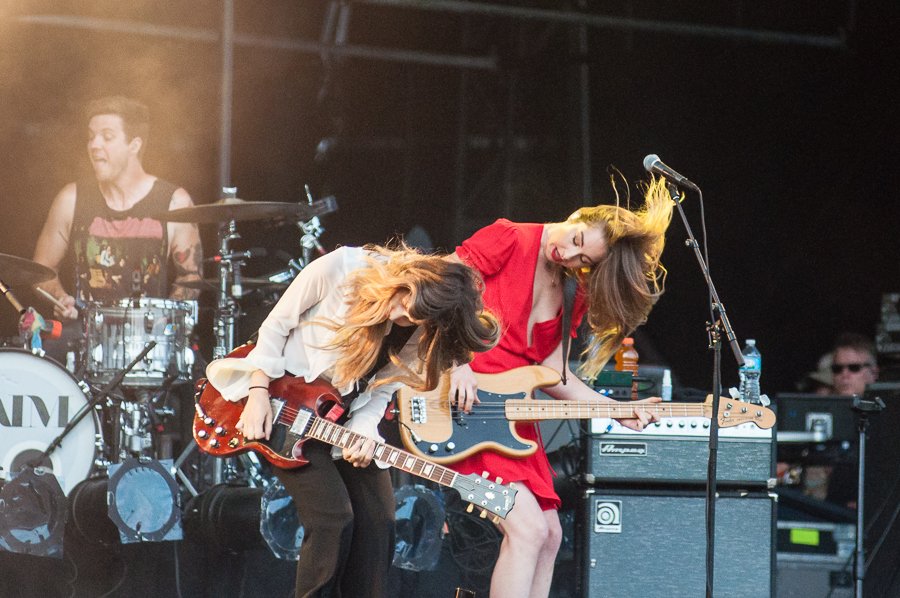 The indie scene's favorite trio of rock sisters stormed the Bud Light stage Sunday afternoon and shook the earth itself — or maybe that's just how it seemed in the pit among throngs of fans stomping through hits from the girls' modern classic Days Are Gone.
Haim's '80s influence felt especially present on Sunday. The guitar licks on "The Wire" could be a modern take on Gary Glitter's "Rock and Roll Part II." But nowhere was this more apparent than in the debut of new Haim single "Give Me Just a Little of Your Love," which sounds like it might be a 30-years-later remix of John Parr's "St Elmo's Fire."
That's not to suggest the set or the band are worth skipping if the '80s weren't your scene. It's more an acknowledgement of the timelessness of the sound the Haims have created, and a vote of confidence that their next album, due sometime later this year, seems like it will scratch all of the same chords.
The Arcs — Thursday 7:30 p.m., Lake Shore Stage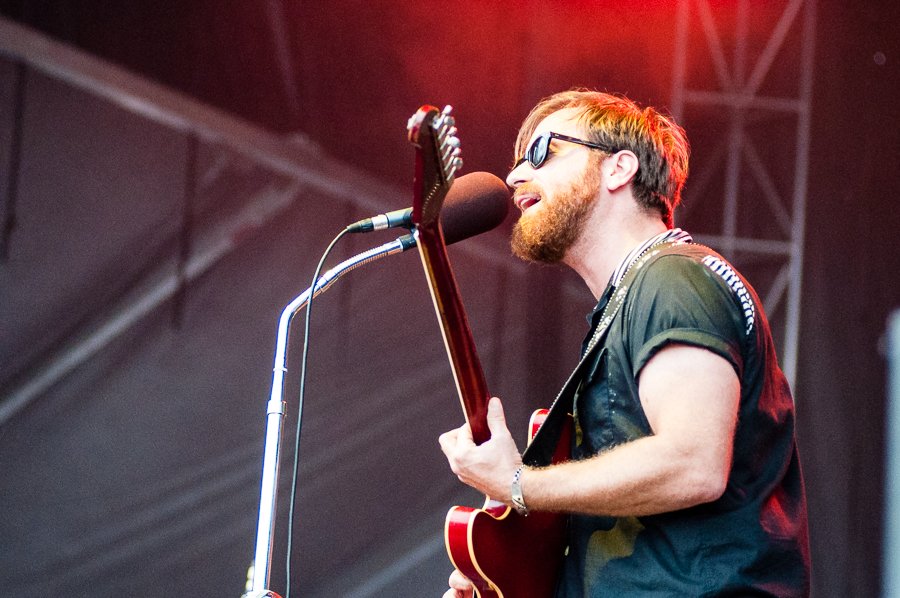 The Arcs punched out an hour of soulful garage rock to set the tempo for the rest of the Lollapalooza weekend. Fronted by Dan Auerbach, the bluesy guitar hero half off The Black Keys, The Arcs blazed through tracks from their debut album. Auerbach's falsetto on the slow burning "Stay in My Corner" and the heavy-hitting closer "Outta My Mind" rang true, and the band left time for fiery guitar interludes peppered throughout much of their set. To fill out the hour, they also played two covers: "Smiling Faces Sometimes" by The Temptations and "Little Baby" by The Blue Rondos.
MØ — Friday 3:00 p.m., Lake Shore Stage
Pokévision: Gyarados / Loading Screen
Seasoned Pokémon:Go players have grown accustomed to the app's false starts and freezes mid-game due to the servers being unable to keep up with the game's blistering success and growth. We tolerate it because the payoff is worth a little patience.
The same can be said for MØ's set, which was a smash despite a few hiccups and breaks while fixing audio issues through Friday afternoon's dusting of rain.
And like Gyarados, MØ on stage might be described as a fierce, high-attack, water/flying type. In one moment she's swum to the front-right corner of the stage to croon, the next she's flying front and center, pumping up the crowd through a swaying dance to "Final Song."
The set closed with "Lean On" which, even without an appearance from Diplo (who'd be scheduled to perform with Major Lazer just a few hours later), brought the same game-changing energy as you can imagine from Gyarados' famous finisher, the Hyper Beam.
Leon Bridges — late Friday night/Saturday morning, Toyota 25th Hour aftershow at SIX10
To find Missingno in the original Pokemon Red/Blue, you had to follow a pretty curious set of instructions: Talk to and battle an old man in Viridian City, fly to Cinnabar Island without speaking to anyone else, and then surf up and down along the island's east coast until Missingno springs up.
The path to Leon Bridges' secret aftershow was similarly obtuse: You needed to fire up Snapchat, go to *just* the right spot in downtown Chicago, and scroll through geofilters until you found one which included venue and ticketing details for the show.
The reward for finding Missingno in-game is an infinite supply of items — usually rare candies.
The reward for finding Leon Bridges is just as sweet: an hour and change of funk and soul, split between slow, smooth, hip-swaying lullabies like "Coming Home" and "Lisa Sawyer," and up-tempo ankle-breakers like "Smooth Sailin'" and "Outta Line." Bridges definitely gets his stage presence from the Janelle Monáe school of rhythm, leveraging the mic stand as one part dance partner, one part crutch to keep upright after swooning just a *little* too wildly for a regular biped to stay vertical. Catching Bridges in an intimate setting is the perfect way to pick the night back up from Radiohead's somber headlining set. He's worth a look — if you can find him.
Radiohead — Friday, 8:00 p.m., Samsung Stage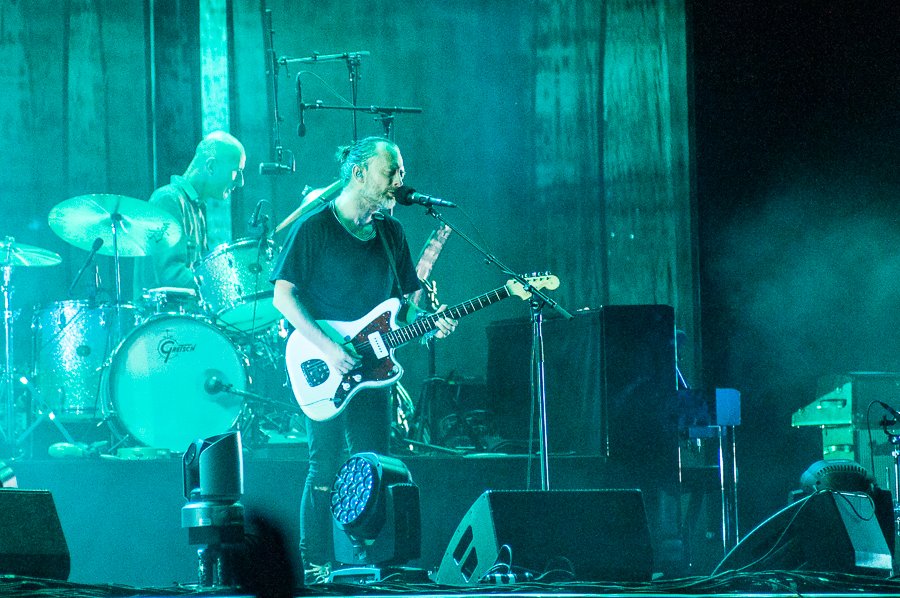 Radiohead put all of us in a trance. Similar to Alakazam's psychic abilities, Thom Yorke and Co. captured our minds, bringing us through the ebbs and flows of a dynamic, two-hour set. Opening with a trio of tracks from this year's A Moon Shaped Pool, Radiohead quickly dove into their extensive catalog including "2 + 2 = 5," "No Surprises," and "Everything in It's Right Place." The band sounded as tight as ever, reproducing complex studio soundscapes on stage. In the same way Alakazam welds spoons to amplify his psychic powers, Radiohead came armed with enough gear to open their own Guitar Center (even including a radio to add a live broadcast in the interlude leading into "Climbing Up The Walls").
But the band wasn't afraid to crank up the gain when necessary, letting loose on guitar-driven songs like "My Iron Lung" and "There There." The crowd didn't want the magic of Radiohead's set to end, calling them back out for a second encore. "Street Spirit (Fade Out)" left us drifting into the darkness, and the final closer "Karma Police" brought us back and prompted a sing-along to empty the last bit of energy from a long festival day.
Red Hot Chili Peppers — Saturday 8:30 p.m., Samsung Stage
Charizard is classic and iconic. Pokémon may be up to something like 653,456,441 different monsters to collect, but few have the staying power and appeal of the original fire-type. You may have outgrown Pokémon over a decade ago, but you can still reminisce back to your younger days and think, "Man, when I was 14, Charizard was fuckin' cool."
That's basically what you can expect from the Red Hot Chili Peppers. The hits are all the same as they've ever been. The set opened with "Can't Stop" and closed with "By The Way" before a "Give It Away" encore. Across 18 songs only five were from this past decade.
Maybe the band is starting to show its age. As of 2016, it's hard to tell whether Flea's wearing his skeleton shirt or if that's his actual body. At one point during a set interlude, Anthony Kiedis asked his bandmates, "Can I just have… 18 seconds of 'Fear the Reaper'?" (referencing the band's performance with Will Ferrell on the Tonight Show a few years back)… and guitarist  Josh Klinghoffer just completely, bafflingly just couldn't string it together. Klinghoffer is the new kid in RHCP; he's not supposed to be the one with memory loss. So how does that happen?
In any event: Anthony Kiedis, like Charizard, still breathes fire. (Though the former is the only one of the two currently sporting a thick dad 'stache.)
Bro Safari — Friday 4:45 p.m., Perry's Stage
BROOOOOOOOOOOO






Machoke images via: [source][source][source]
Third Eye Blind — Sunday 3:45 p.m., Petrillo Bandshell Stage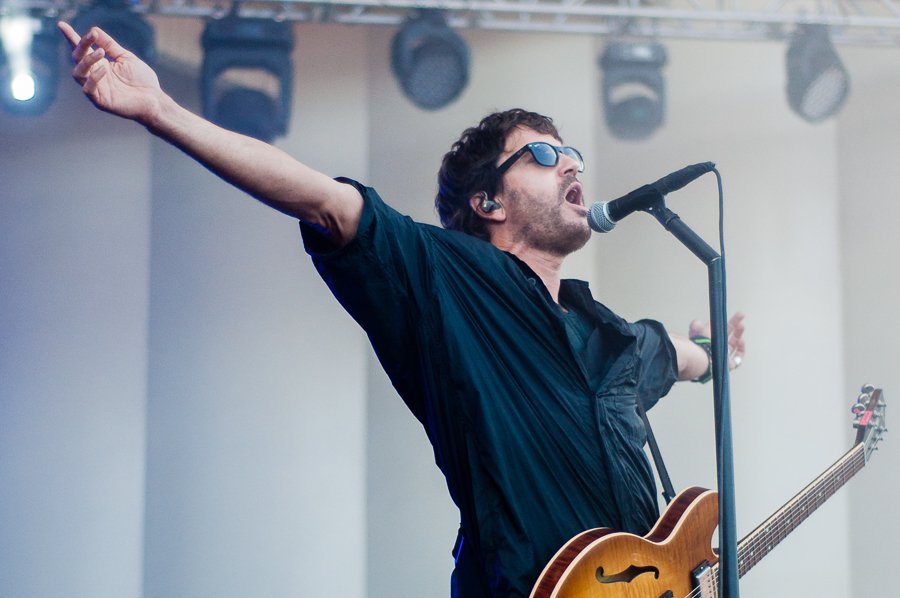 See Also
Third Eye Blind and Jigglypuff have a lot in common: If you haven't paid attention to music, or Nintendo, in 20 years, and either of them came up on stage, you'd be like, "Huh. Yeah, I recognize this."
Third Eye Blind has a few uber-nostalgic hits, and of course, "Semi-Charmed Life" and "How's It Going to Be" featured prominently in the band's set to the effect of raucous joy and singing along. You could feel the crowd ebbing and flowing over the course of the hour — a mad rush in for "Jumper" and "Never Let You Go," and a roll out during the new, milquetoast songs interspersed between. That's another thing Third Eye Blind and Jigglypuff have in common: The smashes are good, but most of the music puts people to sleep.
Baio — Saturday 10:30 p.m., FLOODfest Afterparty
Opening up for Local Natives at the FLOODfest afterparty, Baio was vaulted into a pretty exciting position — here you've got a quirky, highly energetic, highly danceable outfit that seems to be tapping into the trop trend at just the right time. That's an exciting space for a couple of kids — maybe they'll be the next Matoma or Kygo to make the leap?
But no, it turns out this is just the side project of Chris Baio, who's also the bass guitarist from Vampire Weekend. Baio isn't exactly a celebrity like Zayn spinning out from One Direction, but still, it's not like this is a new kid exploring stardom for the first time.
Doduo was kind of rare and interesting in the original Pokémon games. In Pokémon:Go, it can feel like it's on every street corner. Baio's hits are super catchy. "Sister of Pearl" is absolutely worth checking out — it evokes the mental image of your 8th grade science teacher jamming out on a keyboard at your middle school fall dance… but somehow, in a good way. Nonetheless, catching this band would be a lot more exciting knowing that they hadn't already been there, done that before.
Miike Snow — Friday 7:00 p.m., Lake Shore Stage
Miike Snow is an old standby. Consistently a strong performance, not strong enough to be a headliner, or rare enough that you'd feel compelled to buy a $100 ticket just to see their set. (For reference, tickets to their Aug. 6 set in Eugene, Ore. sold online for just $25.)
But still, if you've got time to kill before a headliner, Miike Snow's a fine option, and an appropriate warm-up for either Major Lazer (with whirlwind dance bangers like "Animal," "Cult Logic," and "Paddling Out") or Radiohead (with more somber reflections in the likes of "Silvia" and "Black & Blue").
The band has long since ditched its masks (otherwise perhaps Cubone would have been the more apt Poké-comparison), but the staying power appears certain. New tracks, "Genghis Khan" and "Heart is Full," from the band's 2016 entry iii mesh neatly into old favorites, and led to a thoroughly enjoyable (if nonetheless predictable) hour of electro-infused indie jams.
LCD Soundsystem — Sunday 8:25pm, Samsung Stage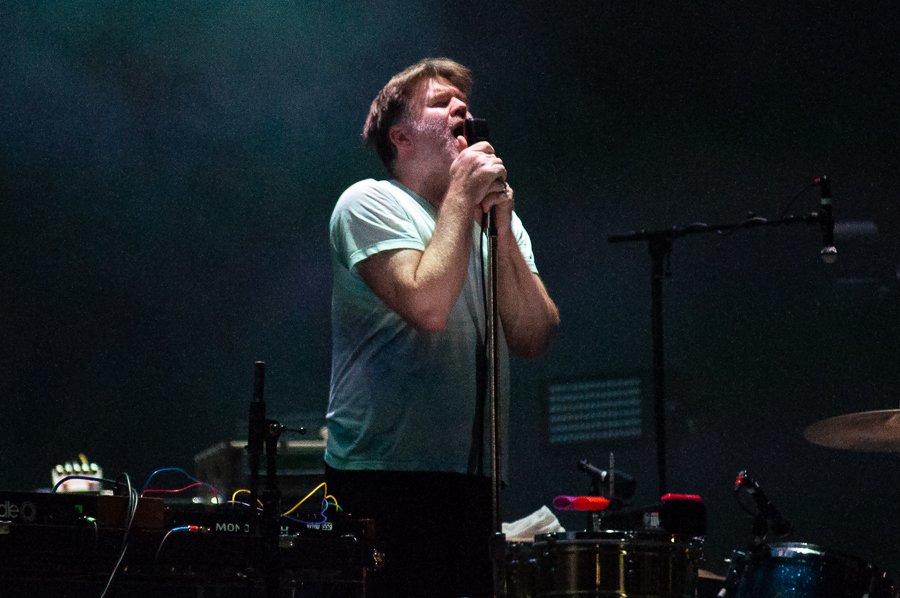 Neither Mew nor LCD Soundsystem are purported to exist — both having gone extinct long ago. There's still no incarnation yet of Mew in Pokémon:Go; yet, as for LCD Soundsystem… well, this was actually happening.
At first, it seemed the band hadn't missed a beat since the halcyon days of 2011 and the "farewell" tour. Renditions of "Us V. Them," "Someone Great," and "Daft Punk is Playing at My House" were respectively as tight, somber, and electric as ever. They closed with "All My Friends" instead of "New York I Love You, But You're Bringing Me Down," which is appropriate for an outdoor festival based in not-New York.
Crowds at LCD Soundsystem shows are typically large and voraciously hungry. Yet, Sunday night at Lollapalooza felt surprisingly sparse — especially unusual considering the fact that this was a sold-out festival, that the band hasn't done anything in five years, and that their side-show at the Metro sold out in approximately three seconds.
Maybe it was the competing lures of three other night-closing acts: Ellie Goulding, who does pop music better; ZHU, who's a purer EDM play; and Die Antwoord, who, like LCD, tend not to tour the US all that frequently.
Maybe it was the fact that by Sunday night, we'd reached the tail end of a 90-hour long music binge, we were covered in sweat and festival scum, we were tired of four straight days of waiting an hour to pee, and we just wanted to go home.
Maybe the band's just lost its edge? I could see it both ways.
James Murphy is probably the only frontman in rock who prefers to sip from a glass of wine during his shows. (Gogol Bordello's Eugene Hütz comes to mind… but Hütz tends to slug sauce straight from the bottle.) On Sunday, Murphy was visibly overweight in a slightly-too-tight white T-shirt; his 5 o'clock shadow looks more like it's at 11:45 p.m.
"All My Friends" is what LCD Soundsystem should have opened with, if only to set the tone with the song's one line that encapsulates everything: "Yeah, I know it gets tired but it's better when we pretend."
On some level, when you're playing Pokémon:Go and the augmented reality is on, you know that the Pidgeys and Pikachus perched on sidewalks and stoops aren't actually there in front of you. And let's be honest: the component pieces of the game — flicking a ball across your screen, furiously screen-tapping to win battles, and diligently managing excess inventory — are complete and utter mindless shit. We should have grown tired of this weeks ago.
Yet, instead, we pretend. We pretend that it's years ago, when we toted around not space gray iPhones, but lime green or translucent purple Gameboy Colors.
Maybe LCD Soundsystem is tired. But at least those of us in the first 100 feet of the crowd pretended. And for those 95 minutes of stage time, like the dessert menu at Murphy's wine bar in Williamsburg, everything was sweet.
Words and photos by Jonathan Fritz and Josh Petersel
No Pokemon were fainted in the making of this Lollapalooza review.