The We Shared Milk + And And And + Maps And Atlases @ Doug Fir Lounge 3/4/2014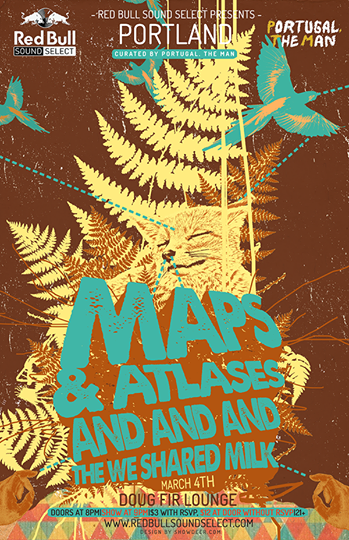 Fat Tuesday and March's edition of Red Bull's Sound Select happened to fall on the same night this year, which means this: a great trio of bands, free drinks, a game played with giant dice, and a man wearing an elaborately decorated orchestra conductor's hat dancing around with a fringed umbrella (while making it rain dollar bills onto the crowd). If that last part seems weird, then we're definitely on the same page.
If you haven't been following along, Sound Select is a monthly, country-wide music initiative put on by energy drink slingers themselves—Portland's incarnation is hosted at the Doug Fir Lounge—with a rotating cast of curators and tastemakers. This month's lineup was put together by partial Portland natives, Portugal. The Man, and featured local acts the We Shared Milk and And And And as well as out-of-towners Maps and Atlases.
Opening the late show, the We Shared Milk took the stage and instantly blazed into a trio of stunning songs. A local favorite, We Shared sound unbelievably big, arching guitar work and soulful, fuzzy vocals that bend in and out of distinction. Only ever having caught portions of their sets before and never a full show, I was thrilled to get to watch how engaging their performance is, even with the distractions of a large room full of mingling people, the band demanded attention.
It's been since late summer when I last saw And And And play (their album release show, in fact) and they've been missed greatly for good reason: they know how to kill a show. Their particular brand of grungy rock is the sort that incites a brotherly fist shake and head bang, especially during songs that are easily infectious like "I Want More Alcohol (It Makes Me Sadder)." Though they've become seriously refined over the years, And And And still rock with a vibe that makes you take notice, the musical iteration of a sneer or snarl.
Hailing from Chicago, Maps and Atlases play spunky, angular math-rock with the sort of up-tempo goodness that makes it hard to not want to move at least a little bit. There is something just familiar enough about the quartet's songs that makes seeing them live a real treat—Dave Davidson's voice squeaks, pips and croons in a charmingly distinct manor, a perfect offset against the warm, swelling, percussive landscape that makes up so much of the band's catalogue.
This being their first show of 2014, Maps and Atlases' played through a sweeping mix of songs from their discography, opening with 2010's "Pigeon." Most of it, however, revolving around jams from their last full-length (Beware and Be Grateful, 2012). "Fever" was particularly gorgeous sounding, and the fret-tapping in "Old Ash" sent the crowd into a swaying swarm of bodies.
Words by J. Fletcher