Shaky Knees Festival (Atlanta, GA)
by Josh Petersel and Jonathan Fritz
Atlanta really likes to shake.
Now into its 4th year, the Shaky Knees Music Festival seems to have really found its groove. With sister festival Shaky Boots on temporary hiatus, it's up to Shaky Knees to highlight not only the best that the contemporary rock music world has to offer local to local Atlantans, but also create a lineup that shines among the throngs of music festivals across the country.
This year, Shaky Knees is in the heart of downtown Atlanta — short cabbing distance from vibrant underground nightlife and spitting distance from the iconic Skyview Ferris Wheel. The grounds are split between Centennial Olympic Park and nearby Georgia International Plaza, connected for the weekend only by a narrow temporary scaffolding. This has the effect of making the fest seem much more expansive than its five stages might suggest — giving fans ample opportunity to follow their whims to sprawl out on blankets, nestle up to the front of a stage, or quickly submerge into the thick of a crowded pit just as sets start.
The festival's Georgian roots are ever-present. Stage names have resisted corporate sponsorship in favor of notable street names. There seemed to be a slight overindex on metal bands (Ghost, Deftones, among others) to appeal to southern rockers — but not enough so to dissuade the modern indie sophisticate eager to see up & comers like Kaleo & Parquet Courts, surprises like Matthew Vasquez, stalwarts like Explosions in the Sky & The Decemberists, or legends like At the Drive In & My Morning Jacket.
Here are 11 (of course) of the performances which left some of the most compelling impressions.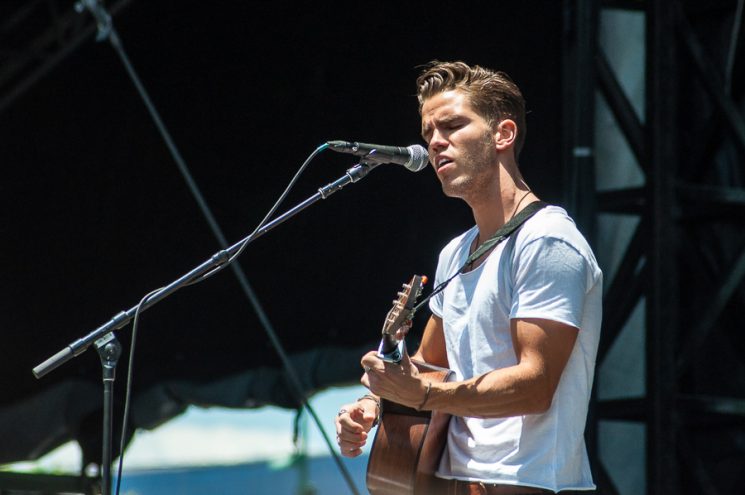 Kaleo — Friday 1:45pm, Peachtree Stage
Despite Icelandic origins, indie rock outfit Kaleo have as an authentic and energizing modern american blues-rock sound as they come. Their biggest track to date is likely "No Good," which appears in the trailer for the HBO show Vinyl, and lead singer JJ Julius Son is at his best when he's bellowing through the refrain of tracks like "I Can't Go On Without You" and "Way Down We Go." Look for a new LP, A/B, next month — and look for them live on Sunday 5/29 if you're heading to Sasquatch.
Baskery — Saturday 3:45pm, Buford Highway Stage
On the other hand, Scandinavian trio Baskery's ode to blues falls a bit flat. The Bondesson sisters did name drop Oregon ("so cool!") in describing their road trip tour of the US leading up to the festival, but the girls' experimental attempt at blues rock with new track "Canned Heat" didn't quite catch the same way the girls click on perfect folksy harmonies from the litany of their tracks from 2014 debut Little Wild Life.
Bloc Party — Friday 7:15pm, Peachtree Stage
Kele just wanted to get high the whole time — at least, that's how he made it sound throughout his quips between songs. Bloc Party played the hits — "Banquet," "Hunting For Witches," "This Modern Love," and "Helicopter" all appeared — but the band's usual soaring energy just wasn't here on Friday night. Maybe Kele needs more kale in his diet, and less of the other bitter greens.
The Decemberists — Saturday 7:45pm, Ponce De Leon Stage
Colin Meloy and Co. are no strangers in crafting engaging festival sets, mixing upbeat Americana in "Down By The Water" and "Make You Better" with songs like the softer, folksy "Carolina Low" (Meloy noted that there was no EDM stage nearby to drown him out). The band closed with their standard, yet always entertaining closer "The Mariner's Revenge Song," complete with choreographed screams of terror from the crowd once the band brought out a giant cardboard whale.
Eagles of Death Metal — Sunday 4:15pm, Piedmont Stage
"I'm finally here. I'm finally with my people. My whole family's here."
Eagles of Death Metal frontman Jesse Hughes may claim that Georgia is his home by birth, but he makes it overwhelmingly clear through the band's hourlong set that he's really most at home up on stage. Hughes led the crowd through interactive interludes during an electric rendition of "Don't Speak," and ditched his southern rock hipster uniform (red plaid with matching aviators) for a Deftones tour T-shirt before digging into "The Reverend."
Hughes ended the set on a high note with older hit "Speaking in Tongues" before tossing his guitar into the crowd for a lucky fan and exiting stage right. We're sure Atlanta would be happy to welcome Hughes back home again soon.
Explosions in the Sky — Sunday 7:15pm, Boulevard Stage
At the outset of the set, a mic is set up near guitarist Munaf Rayani. He'll use it for a grand total of 2 seconds: "We're Explosions in the Sky, we're from Texas. Here we go."
"Here we go" is prescient. It's not "Are you ready?" or "How are y'all doing tonight?" "Here we go" is much more strong-willed. The band and the crowd aren't on level playing field; Explosions in the Sky is leading us on a journey — with conviction. And for all of their lack of stage banter, boy, do the members of Explosions in the Sky rock, cradling their guitars not just as instruments which manipulate sound, but as instruments capable of conjuring thunder and lightning.
Explosions in the Sky is what space sounds like. Not the Elon Musk kind of space. The rural road, one house every ten acres, low buildings and even lower lights kind of space. An outdoor EitS set is a treat that evokes peace and wonder. It's a shame that, despite the late 7:15pm start time, the Atlanta sky was still bright out. It's a bigger shame that, due to the confines of us being at a festival and all, the set didn't last for an entire week.
Frightened Rabbit — 12:30am, Terminal West, Shaky Knees aftershow
Just because the festival gates close doesn't mean the night is over. Crowds pouring out of the festival could keep the music going by attending one of many official aftershows in venues around town. Starting just past midnight at Terminal West, a venue inhabiting a restored historic foundry, Frightened Rabbit managed to energize a crowd already tired from a full festival day.
The intense stage lighting accented the band's already emotional tone, with drummer Grant Hutchison's crazed expression adding to well-timed crescendos on "The Oil Slick," "Holy," and "The Modern Leper." Frontman Scott Hutchison's earnest lyrics and powerful vocals, especially on set closer "Keep Yourself Warm," gave a unique poetic element to the band's instrumental prowess. Frightened Rabbit finished their set just before 2am, giving the crowd a chance to get some well-deserved rest or have an extra hour before the bars close.
Huey Lewis & the News — Saturday 6:45pm, Peachtree Stage
Huey Lewis & the News is an essential experience highlighting why you want to go to a music festival like Shaky Knees.
You might tell your friends you're here to see Explosions in the Sky play an outdoor set, or because you've been a Decemberists fan since before the king died. But you'd see those bands anyway. (Or you've probably seen them already — The Decemberists did play Sasquatch just last year.)
But to see Huey Lewis & The News play live (ironically, or in earnest) is something else.
HLATN played a rendition of their bestselling album, Sports, before closing on their best-known single, the Back-to-the-Future-scoring mega jam "The Power of Love." Look, it didn't blow anyone's mind. It was exactly what anybody and everybody expected from a band reviving a 30-year old album. And it was a welcome reprieve from a long day of loud rock and hot heat, too.
Kudos to the organizers for giving fest goers the chance to briefly step out and indulge in some campy fun but still get back in time (ayyy) to catch the headliners on the main stages.
Matthew Logan Vasquez — Friday 2:30pm, Buford Highway Stage
Matthew Logan Vasquez killed it.
This was one of the less-likely sets for fest-goers to see — at the smallest stage, in the early afternoon on a Day 1 Friday, with the frontman performing under his birthname instead of with the groups for which he's much better known (Delta Spirit, Middle Brother).
But perhaps all of the handicaps above helped empower Vasquez to let loose and enjoy himself, which made for by far the festival's most intimate show. "I didn't do a setlist because… I'm a professional… let's do ANOTHER DELTA SPIRIT SONG!" he quips before ripping into "Bushwick Blues." "…I ain't got no agenda… BLUE EYES, BABY!!" before launching into Middle Brother's seminal track.
The crowd ate it up, and against all odds, actually managed to coax a 2:30pm band out for an encore. Which of course, Vasquez wasn't prepared for — he obliged by playing a rocking "Everything I Do Is Out" even harder for a second time.
At The Drive In — Sunday 8:30pm, Piedmont Stage
From their headlining set on Sunday night, it was easy to see why post-hardcore legends At The Drive-In have a reputation for memorable concerts. From the opening maraca shakes of set starter "Arcarsenal," the band erupted into a frenzy moving even more quickly than the mosh pits below. Frontman Cedric Bixler-Zavala somehow managed to brandish his distinctive scream while jolting across the stage, on the drum kit, over guitar amplifiers, and about everywhere else. The band only stopped long enough between songs for Bixler-Zavala to fire off amusing stage banter ("Sometimes at home, I listen to Abba and I'm not ashamed of it").
ATDI deftly played songs from across their catalog, and guitarist Omar Rodriguez-Lopez ("the Puerto Rican Bernie Sanders" – according to Bixler-Zavala) even managed to slip in a Mars Volta-esqe jam on "Quarantined." Newly picked up guitarist Keeley Davis, who replaced founding member Jim Ward, held his own through taxing riffs on "Cosmonaut" and "Chanbara." Shouting along with set finishers "Napoleon Solo" and "One Armed Scissor," we could leave an incredible festival weekend on a high note.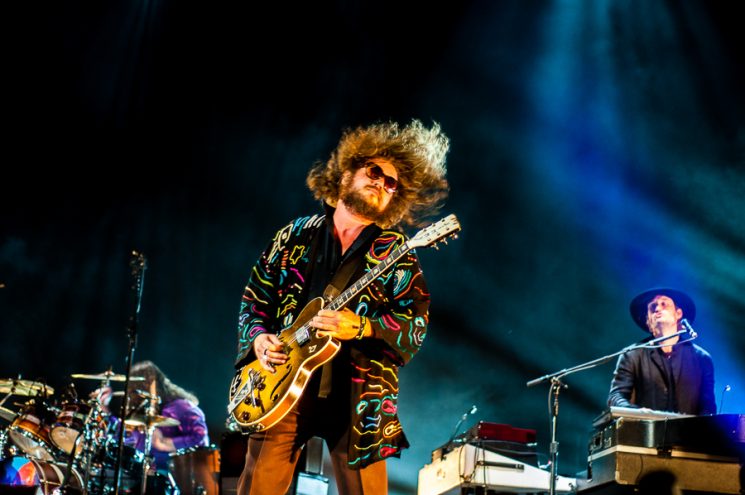 My Morning Jacket — Saturday 9:10pm, Peachtree Stage
What can't My Morning Jacket do? Holding down a commanding 2 hour headlining set on Saturday night, the band rallied through epic guitar interludes, raining confetti, pyrotechnics, and blinding laser lights to transport the crowd into another musical dimension. MMJ kept their guitars ringing through "Mahgeetah," "Off the Record," and a tribute cover of "Purple Rain." Also, it's appropriate MMJ headlined Shaky Knees, as they have already laid claim to the name in "Steam Engine" ("And god damn, those shaky knees, the fact that my heart's beating, is all the proof you need"). The band closed with a driving rendition of "One Big Holiday," with fireworks blasting as the final notes rang into the darkness.