Shearwater at Mississippi Studios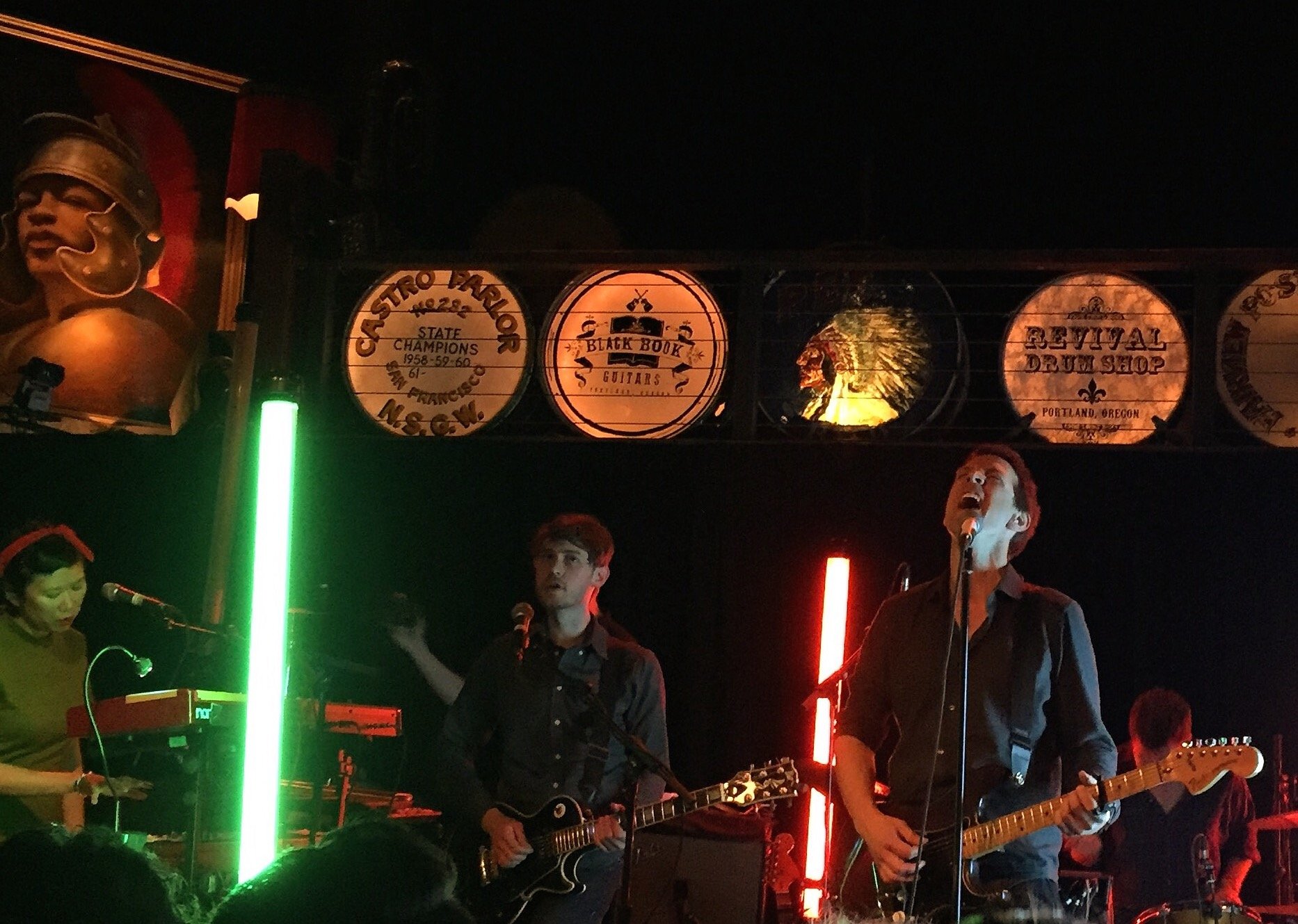 Shearwater did the sheer size and polite theater of its new album proud on Saturday night. Closing its European and American tour at Mississippi Studios, the six-piece live band rolled out Jet Plane and Oxbow (out this past winter on Sub Pop) with volume and album-appropriate mood lighting.
The entirety of the new record, probably Shearwater's most acclaimed (out of nine) to date, sounds as if sung and played from pitch black with frontman Jonathan Meiburg's trained baritone illuminating the expressively tense rock. He physicalized that contrast from the outset on Saturday, opening the show with "Prime" and holding a LED-lit glove to his face before the band came in at full force. At the point (as shown in the picture above), the band's six auxiliary lighting poles set a tone somewhere between eeriness and convicted celebration. This, after openers Cross Record and Portland's The OO-Ray set the table with down-tempo ambient pop and looped, improvised cello, respectively.
Even with album producer Danny Reisch on hand playing an array of auxiliary percussion, the live show trended toward the loud, the protracted and guitar-heavy. This suited the album's bass and drum-driven tracks, like "A Long Time Away" and "Filaments," quite well. And Meiburg's onstage presence was exactly what you'd expect hearing the intensity of his vocal delivery on this new record. While any Shearwater follower, from the early folk albums onward, knows the bandleader sings purely, Meiburg was puckering lips and savoring words on Saturday. He was performative on a lyrical level, biting in, letting you know (at the same as never missing a note), "I wrote this." And the live band, which Meiburg called "probably the best I've played with" in an interview with this publication last week, turned it up on old material too. "74, 75" fit right in with new fare.
Encoring with a handful of tracks from David Bowie's 1979 album Lodger, Shearwater's night-long musicality held up the mantle of its acclaimed new album with technical resourcefulness and genuine catharsis, leaving it all on the stage at the end of their 43-city tour.
– Chance Solem-Pfeifer