The Great Idea 2013 @ The Enchanted Forest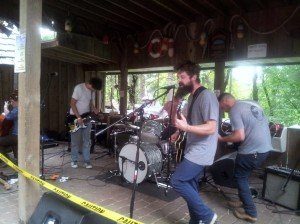 Upon arrival to The Enchanted Forest (right outside Salem, OR.), the sky grew dark and threatened rain. The air was thick with humidity and laden with a certain amount of ominousness. Immediately through the gates, And And And's post-apocalyptic rock saga music was audible through the trees and the winding paths that make up most of the "forest". Their 90's grunge, garage-rock set was full of restrained and kinetic energy–unleashed at precise moments onto the crowd. There is endless emotion and longing in And And And's music; a yearning that is understandable and allows for immediate connection. Part of their uniqueness is multi-instrumentalist Ryan Wiggins, who juggles trumpet, cello, and guitar throughout the set. And And And's music was an oddly succinct characterization of The Enchanted Forest– the poetic story of a struggle , possessing glimmers of brightness, but consumed with a bleak feeling. Lead singer, Nathan Baumgartner, exclaimed that The Enchanted Forest was where he experienced some of his scariest memories as a child.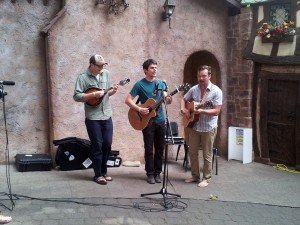 Sons of Huns played their set on a little stage called Gepetto's Toy Shop, which may be the only place the crowd has ever sat down to watch them. Their bassist, Shoki Tanabe, was out of town, so his brother, Toby Tanabe (from Typhoon) filled in for him. Their set was electric, and shreddy and incredible, if not out of context– I don't know if the crowd knew what to make of it. Lead singer, Peter Hughes, kept getting shocked by the microphone, but beyond that it was a seamless set.
The Builders & Butchers headlined the fest, playing songs from their new record, as well as some oldies. Their street-roots, big sound was eruptive in the Forest, and they played to the biggest crowd I saw all day. I would call the fest a success, albeit a welcomed, strange setting to watch the bands that you usually see play cooped up a dark bar.
Words by Rachel Milbauer. Photos by Brandy Crowe.