The Men @ Mississippi Studios 6/23/2012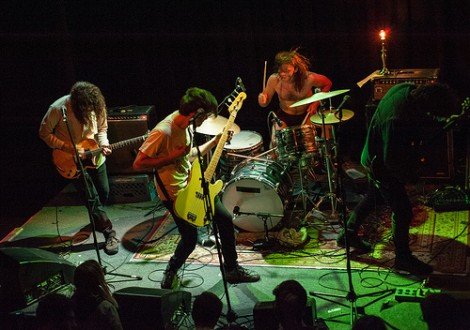 What a way to kick off the summer—the evening began with two ripping sets from Hausu and Hurry Up, and by 11pm the room was filled with the stench of campfire and testosterone. Not quite a sold out show, it left some wiggle room for more people to filter in as the New York foursome took the stage. The energetic, heavy, punk/post-hardcore quartet opened with some crowd-pleasing tunes from 2011's Leave Home which definitely got the fans going—specifically the male crowd (the men outnumbered the ladies in attendance 10:1), who showed their love and appreciation with a sweaty mosh pit of body slamming and beer spilling.
Trading up lead vocal duties nearly every song between drummer-turned-guitarist Mark Perro, guitarist Nick Chiericozzi, and relatively new bassist Ben Greenburg made for a dynamic performance showcasing a wide spectrum of skill and style. Dressed in only shorts, black socks, and Chucks to match, hard-hitting drummer Rich Samis was an animal behind the kit. By the end of the show, Samis looked as though he got caught in a Portland summer rain.
Thirty-eight sweat-drenched minutes later, the band took a short two-minute break before the hoots and hollers brought them back for an encore. Energy surged through the crowd and was quite possibly the most epic moment of the night. The entire front half of the venue was entangled in a mass movement of bodies and head banging. The Men attempted to take off their guitars, and were humbled by the fans demanding more. My ears are still ringing, and that's a good thing.

Words by Wendy Worzalla.
Photos by Mike Herman. More can be found on Flickr.