"Bon Voyage" by Melody's Echo Chamber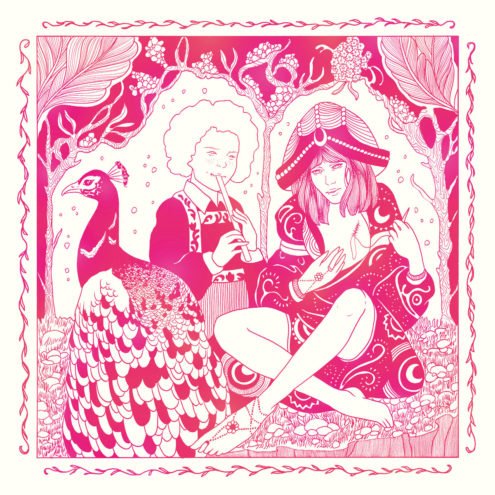 A hiatus can often be a good thing. Bon Voyage, the new album from Melody's Echo Chamber, is seeing the light of day, six years after the project's eponymous debut. Melody Prochet has delivered a strikingly different beast from that very gaze-y, hazy debut. While the first effort, produced by Kevin Parker of Tame Impala, was a decent collection of psychedelic pop, it perhaps ended up fitting the mold of myriad other albums in the vein of Tame Impala's dreamy wall of sound from song to song. That stuff is great, but there's kind of a saturation at the moment. Six years meant Prochet had time to clean the slate and record this album during a retreat in the Swedish wilds, relatively free of distraction. Bon Voyage was produced and recorded with Reine Fiske and Fredrick Swahn, alum/collaborators around the proggy band Dungen, and the three, along with other friends from Dungen and Pond, have come up with a seven song collection of diverse cultural influences and surreal sonic touches, harder to pinhole and shot through with lust for life.
Prochet made the choice to sing in French, English and Swedish, reflecting the eclectic, holistic take on music throughout. The flow of the record is frequently very chaotic, and sometimes a far cry from pop, though the single "Breathe in Breathe Out" sure is an earworm. The flirtations with world music, particularly Eastern sounds, give a sense of mystery, imaginatively framing Prochet's lyrics of poetic rebirth; like the frenetic hook that propels "Vision of Someone Special" and the swooping, Arabic-sounding strings in "Desert Horse." What's more, the latter song does not follow a straightforward pop-song structure, veering madly from section to section, from guitar solo to ear piercing scream, even taking a few moments in the middle to pause for a deep breath. More auditory surrealism abounds, like the stream-of-consciousness-esque rambling poetry from Pond's Nicholas Albrook that interrupts "Quand Les Armes D'un Ange Font Danser La Neige." The end result is oftentimes more like wonky, manic, psychedelic-prog than the usual suspects of artists that journalists have compared Melody Prochet's work to. Broadcast this is not. The irresistible guitar hook from the strutting closer "Shirim" brings things to an end, and you're left wondering why this 33-minute experiment was so brief.