"Lamp Lit Prose" by Dirty Projectors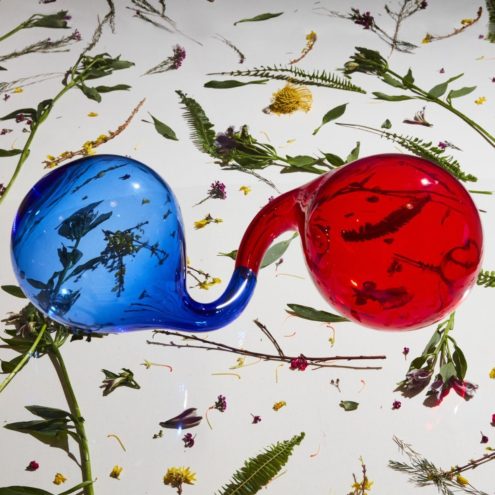 Life is always a matter of balance. What goes up must come down, what swings left also swings right. For David Longstreth and his ever evolving and eclectic Dirty Projectors project, their latest and eightest effort, Lamp Lit Prose, feels like an emotional recalibration (or retcon) to last year's self-titled release.
While Dirty Projectors featured David at his most vulnerable–cathartically cataloguing his heartbreak and quest for closure after parting ways with former bandmate Amber Coffman through a somber and synthetic wasteland–Lamp Lit Prose could hardly be more different.
Practically bursting at the seams with a mixture of joyful spontaneity, blindingly bright sounds and life-affirming hooks, one has to assume that whatever lamp the title is referring to isn't the type of lamp that has a shade.
Album opener "Right Now" (featuring Syd) starts off with the sound of David inhaling deeply—a fresh breath and a new start–before an interplay of fingerstyle guitars, triumphant brass and dreamy vocal harmonies blossom into the album's thesis: life is better when you stop fighting it for what it isn't and enjoy it for the mess that it is.
Lead single "Break-Thru" feels like a love song continuation of this personal epiphany. Featuring no shortage of sharp drums, yelps of joy and shiny and slinky guitar hooks, the song is just begging to be used by a brand to sell you something in a few years' time.
If you find yourself at a loss for the band's emotional 180° shift, you're not alone. "I Feel Energy" (featuring Amber Mark) contains a brief existential crisis of an interlude where David wonders to himself about whether he actually deserves his new-found state of happiness, but the moment of self-reflection ends when he decides it's better not to question a good thing.
As per usual, Longstreth's production chops are a delight. The entire album has a feeling of almost HD intimacy—which manages to balance a sense of tangible live energy with almost too-good-to-be-true clarity. That being said, the album's track list can get a bit exhausting due to its bombardment of seemingly never-ending optimism.
Although featuring multiple notable musical collaborators (including Empress Of and Dear Nora among others) one shouldn't expect much more than the Longstreth Happiness Express. And while by itself Lamp Lit Prose seems a bit one sided, it certainly brings a renewed sense of closure and balance to last year's self-titled effort.