"Upright Behavior" by Landlady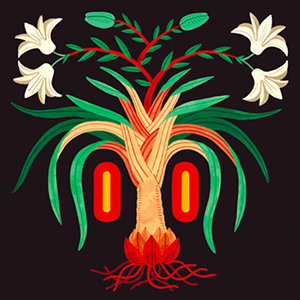 When blending together a sonic concoction from the likes of TV on the Radio, Dirty Projectors, and Maps & Atlases in the world-renowned (and not completely made up) 'Audio Amalgamator,' the outcome is really something quite pleasant—a somewhat new band out of New York called Landlady. The band, whose frontman Adam Schatz has played saxophone for both Vampire Weekend and Man Man, will release their sophomore album, Upright Behavior, July 15 through Hometapes records.
While Upright Behavior lacks certain elements of the Man Man-esque spookiness that drew me to Landlady's 2012 debut album Keeping To Yourself, the new album introduces a cleaned-up production of Schatz's striking sense of composition. Lead single and opening track "Above My Ground" begins with the old-timey twinkling of a piano buried in heavy delay, but is quickly washed away by a march of drums and carried straight into a catchy vocal hook that dominates the song. For nearly five minutes, vocals echo and instrumentation builds pressure before a fog of distortion lifts, and the same march of drums that introduced the song brings it to a close. Though the tune is powerful and poppy, it appears that lyrically Schatz is mourning the loss of something for which he once was heedless: "I didn't know I needed you always then / but I need you always now."
Equally as tenacious of an earworm, "Dying Day" shows just how dynamic and powerful Landlady can become with two drummers filling out their rhythm section. Starting with a playful and mathy medley of interweaving drum beats and guitar, the song completely shifts directions into the chorus behind a steady growl of bass, swirls of synthesizer, and a commanding vocal melody—only to stop dead quiet before rolling back into the humorous verse. Perhaps a less obvious favorite for some, "Under the Yard," which, aside from an awkwardly experimental drum click and vocal part in the beginning, has the feel of a tune by the chops of the one and only Randy Newman. This Newmanian influence is most noticeable during the dreamy verse that drifts in at the 1:20 mark, before the final climactic chorus—where for the first time on the track the full band plays together.
Landlady's Upright Behavior might not be a "must have" for everyone's record collection, but I imagine if it winds up
in there it would end up on repeat more than a lot of its competition. » 
– Travis Leipzig