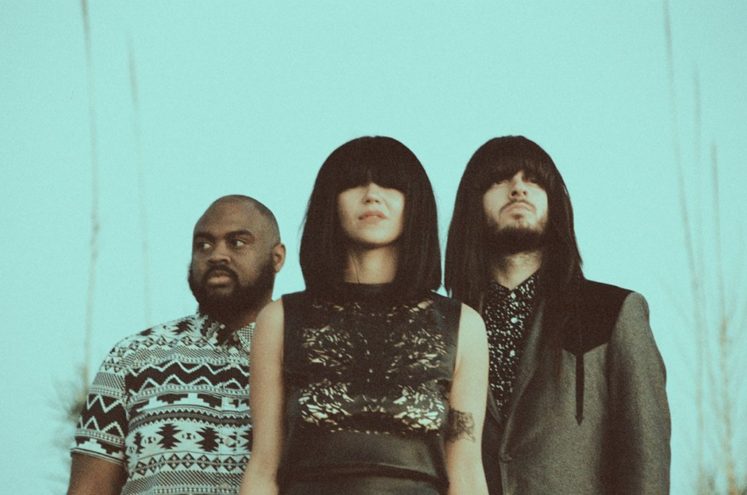 Khruangbin give exotica a good name. The Texan three piece (Mark Speer on guitar, Laura Lee on bass, and Donald Johnson behind the drums) take their moniker from a phrase in Thai, and much of the inspiration for their hazy, laid-back sound from '60s Southeast Asian psychedelic pop. The band's moment in the sun has been a long time coming. Khruangbin formed in earnest around 2009 and caught the attention of Bonobo, who featured their track "A Calf Born in Winter" on a LateNightTales compilation in 2013. Their excellent full-length The Universe Smiles on You came out in 2015 on Night Time Stories Ltd. following a string of EPs. In fact, that album's track "August Twelve" is a reworking of an earlier song "Start, You, the End Starts Again." They can only gain momentum from here.
There's a strong funk influence to Mark Speer's casually strung-along guitar lines, giving the sense of a band that anchors delicate ambience with a muscular heart. That metronomic beat and comfy, hyper-melodic guitar are what make tracks like "Two Fish and an Elephant" and "The Man Who Took My Sunglasses" really shine. Though you could call them quintessential lounge music, Khruangbin lean towards jazz and country influences from time to time. For instance, the pedal steel courtesy of Will Van Horn that dips in for "Zionsville."
Khruangbin keep things slow and calm, only upping the ante for tracks like "People Everywhere (Still Alive)" with its disco/Philly soul-like beat. For such a minimal approach, the trio can craft an earworm like it's nothing. Case in point: their single "White Gloves," which features vocals from Speer and Lee for a cinematic-sounding, mysteriously shimmering pop song. The analog glitches and ethereal echoes at the corners of their tracks could evoke lo-fi Southeast Asian pop from a radio cutting through soft rain–or Jamaican dub–for that matter. A criminally underrated outfit well worth wading through the jungle to find.
Live in Portland November 17 | Wonder Ballroom