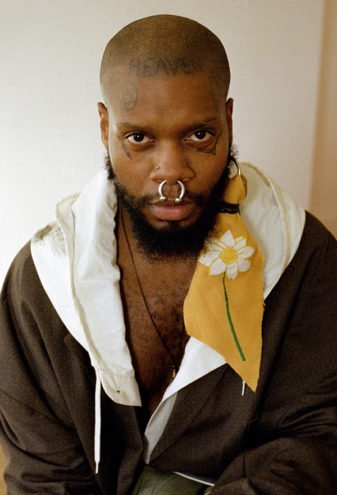 Live in Portland June 21, 2018 | Holocene
Trying to describe Josiah Wise, aka serpentwithfeet, reminded me of trying to explain to my parents why I should be able to listen to Marilyn Manson: "It's important social commentary, Dad! Listen to what he's saying!" Despite my protests, his music was banned because they didn't like his look or the emotions he evoked. Wise would have received the same response. He's got a few face tats, wears black lipstick, has an obsession with dolls, yet is motivated, creative as hell, kind, and good at what he does. Looking at the pentagram and "suicide" engraved on his forehead doesn't scream choir boy, highly educated and highly self aware, but that's exactly what Wise is. Which is why labels are for canned food.
The 29-year-old Baltimore native, now a New York resident, grew up in a very religious household and remnants remain; His soulful voice having been honed during Sundays at church now is a beautiful, mature voice that contorts around experimental sounds. Studying at Philadelphia's University of the Arts gave Wise a more refined sound. Now the artist is at that age when you usually start to reflect on where you are in life. That new perspective has launched Wise into a space that is more serious, more honest, more… serpentwithfeet.
See Also
Signed to both Secretly Canadian (JJ, Yeasayer) and Tri Angle (oOoOO, How To Dress Well), they collaborate this month to promote serpentwithfeet's first full length album, soil. Wise does provide social commentary, and his sound made me draw comparisons to TV On The Radio, Baths, The Weeknd and Perfume Genius. Self described influences include Kirk Franklin and Brandy. Check out singles, "cherubim" and "seedless" to understand what Wise is bringing to the table.
Through his defined, well crafted voice over experimental R&B vibes, you'll be guided into an abstract perspective, sometimes funny, sometimes sad, but always real. soil is a great first album for serpentwithfeet and I'm excited to see how he pushes his boundaries further on future work.