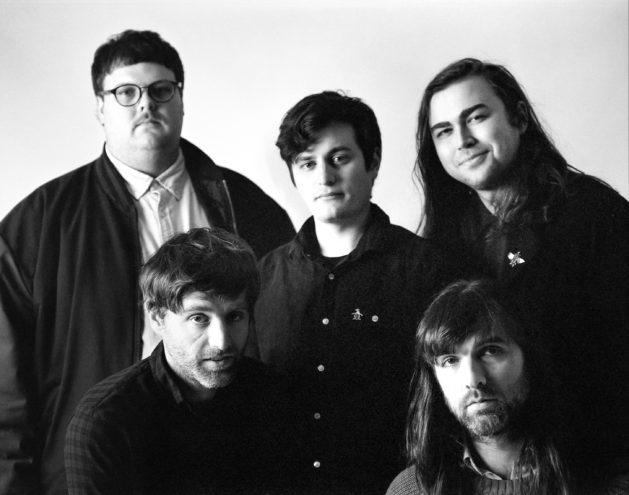 In the four years between their self-titled debut and this year's Bell House, Kansas City's Shy Boys have subtly polished their lo-fi production while doubling down on their sweet vocal harmonies. Initially formed as a trio in 2012, Shy Boys now comprise five members: brothers Kyle and Collin Rausch, Konner Ervin, Kyle Little and Ross Brown. The band's languid, sun-drenched Midwestern brand of jangle-pop is reminiscent of indie-rock forbearers such as Big Star, The Wedding Present and The Shins' early output. Their '60s bubblegum affinities and intertwined honey-glazed vocal arrangements are suffused with irreverent-yet-earnest wit, imbuing bittersweet whimsey into even their dourest ditties ("Evil Sin").
There's a certain effortlessness to this band's square peg/round hole pluckiness: Shy Boys' breezy and loosely kinetic songs don't sound painstakingly labored over. Instead, they seem crafted with ease by a quintet of close neighborhood friends (Bell House is named after the fondly remembered Bell Street headquarters they called home for the better part of five years). "Take the Doggie," for instance, belies the sadness of its narrative—liberating a neighbor's neglected and malnourished pup—with nervy rhythm and just-muddy-enough percussion, sounding akin to Thin Lizzy engaged in a friendly game of lawn darts with The Apples in Stereo.
See Also
The linchpin of Shy Boys' sound, however, is their use of five-part vocal harmonies. Bell House's opening track, "Miracle Gro," is a shimmering choir cresting a wave of Baroque-pop sensibilities, featuring nothing but handclaps and the band members' a cappella latticework. While their vocal interplay has earned comparisons to The Beach Boys and their music conjures a certain warm and nostalgic indie-rock familiarity, Shy Boys' sunbeam-soaked arrangements whirl with a looser kind of nudge-nudge, wink-wink playfulness. Angelically golden-voiced, Shy Boys are like time travelers back-packing through pop-rock's decades gone by, beaming in from a daze of future's past.