As the frontman for the sweepingly cinematic rock band Typhoon, Kyle Morton has shared his stories of loss and suffering by performing to sold-out crowds all over the world. When he's not at home with his lovely wife Danielle Sullivan and their poodle, Archie, he's managing shows at one of Portland's well-regarded venues, Mississippi Studios. As a solo performer, he has captured his sense of dread for the future in a post-apocalyptic album, What Will Destroy You. Morton has also recorded covers of popular artists ranging from Frank Ocean to Bob Dylan to John Prine to Bruce Springsteen, and has scored short film soundtracks for local director, Matthew Thomas Ross.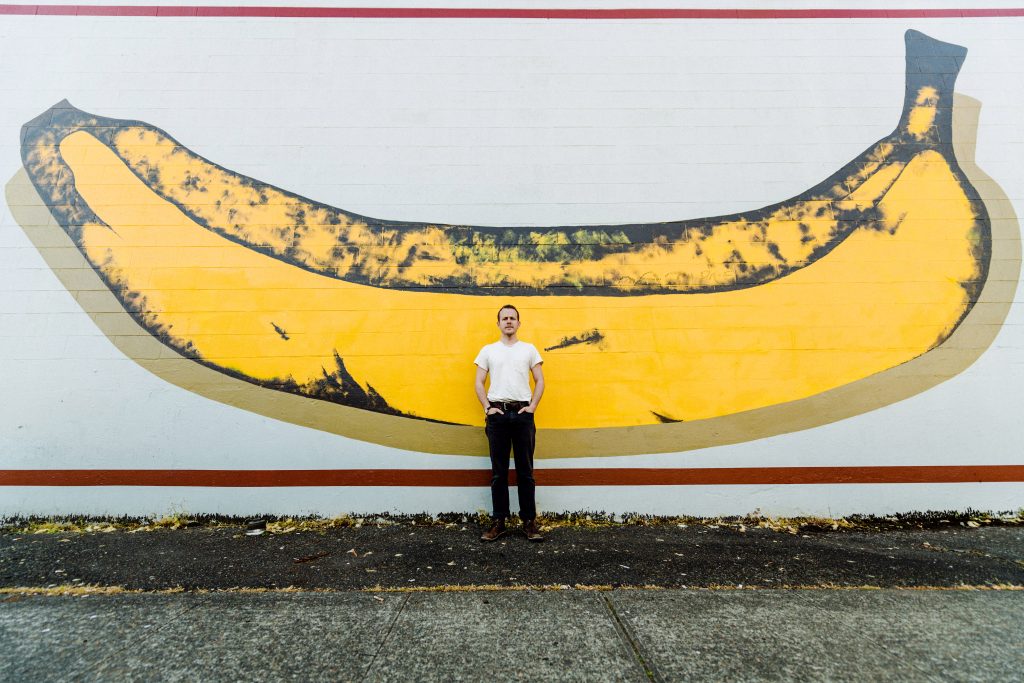 Whether in his role as band leader for Typhoon, working production at Mississippi Studios or as an independent artist, Kyle is a champion of the local scene. His passion for supporting his friends and fellow local musicians cannot be overstated. When booking their 2018 North American Tour to support the release of Offerings, their newest, darkest album, Typhoon chose to bring along local bands Mimicking Birds, Sunbathe, Wild Ones, Matt Dorrien, Amenta Abioto, and The Fourth Wall in lieu of picking up acts along the way that might have had more regional draw.

Part of his commitment to supporting the local scene comes from its support of him. Growing up in Salem, Oregon, Kyle played music with his friends in High School as The Mops. When they started a new band, it was with those same friends — one of whom was Tyler Ferrin, who would go on to become the first-ever intern at local record label, Tender Loving Empire. As Kyle describes it:

"One evening in 2009, in a dark corner of Yur's Bar & Grill in Northwest Portland, Tyler and I met a man with some strange ideas. In record label school, the first thing they teach you is to not sign the inactive 15-person orchestral-basement band. There's a variety of practical and financial reasons for this. And yet, here was Jared Mees — one half of the husband-and-wife-operated record label, Tender Loving Empire — with a simple proposition:
'If you make an album, we'll release it.'"

The resulting album was Typhoon's 2010 release, Hunger and Thirst. On the final track of that album, the rest of the band pauses so that Kyle can share a song, "The Sickness Unto Death" without all the hubbub — no strings or horns, just a man and his guitar singing about vulnerability and morality while his friends quietly sing along.

Having been bitten by a lyme-carrying tick in his youth, Morton struggles with what he calls "a lifelong crescendo of health crises." He has famously addressed these crises in his writing. Typhoon's critically-acclaimed 2013 album, White Lighter, dug into a particular moment of being bit in the song "The Lake," whereas "Common Sentiments" addresses the prolonged nature of a human relationship to hospitals and lingering sickness with the lyrics, "I have been patient for a long time now / I have been a patient for a long time now."

On Mother's Day, Morton will be playing an intimate set at Holocene, dedicated to promoting awareness of Lyme Disease in the Northwest and a benefit show for volunteer-run non-profit Oregon Lyme Disease Network.
Eleven: This upcoming show at Holocene is one of very few for you this year. What made you decide to do it?

Kyle Morton: I had planned to take a break from shows for the rest of 2019, but changed my mind when asked to play a benefit for Oregon Lyme Disease Network. I had Lyme disease as a kid, it's pretty well documented so I won't go into detail, but for me a tick-bite was this small, accidental catalyst for what would become a lifelong crescendo of health crises. Although illness has its silver linings — the certainty of death is at least a form of certainty — I would never wish the experience on anyone.

11: You so often come out at the end of shows and engage with your fans. Is that an active choice that you've made?

KM: For the first several years we were a band, we always talked to people after our shows because the only people at our shows were our friends. When complete strangers started showing up we just stayed in the habit. On tour, as exhausting as it can be to sit in a van for ten hours — load in, sound check, play a show, rinse, and repeat — there's a feeling like, "When's the next time I'm going to be in Minneapolis? I should probably meet some of these Minneapolans." Our fans are generally lovely people. They've baked us pies, put all of us up for a night, and in some cases have become good friends. As a rule, always fraternize with the audience.

11: You're no longer touring with a full dozen band members, but you still have two drum kits. How does that work? Can you all fit into one vehicle?

KM: We've always travelled clown-car-style with everyone in a single vehicle. The only exception was one tour in 2011 that almost broke up the band. The sociological takeaway here is that solidarity beats creature comfort every time.

11: You spent a lot of last year out on the road. Any highlights from your North American Tour or European travels you'd care to share?

KM: A case of life imitating art, I'm afraid. I wrote an album about memory loss and now I can barely remember what happened from a year ago. Part of that is the nature of tour, every day is a repetition performed in new surroundings.

Here are a few brief impressions: Riding around in a lobster boat in Deer Isle, Maine. Staying in a nineteenth century nunnery-turned-hotel in Montreal with a carpeted crypt in the basement. Playing one of our favorite shows for the fifteen people who managed to attend our Glasgow concert despite blizzard conditions. The Benihana at the Mall of America. Cedar Point amusement park in Ohio. Playing wall-ball across America with Typhoon fans (until one guy got seriously injured in Dallas,TX—a perilous sport, wall-ball. Thankfully he's fine now). The couple that got engaged in John Cusack-style during our rainy outdoor set in Austin. Getting yelled at for being sexually-repressed Americans after wearing shorts into a nudes-only Swiss sauna. Touring with some of our favorite bands, like Mimicking Birds, Sunbathe, Wild Ones, Matt Dorrien, Amenta Abioto, The Fourth Wall. Memories!
11: The darker tones of the latest album have been remarked upon often, but revisiting it, the subtler, sweeter notes have really resonated with me. How did you end up naming a song "Chiaroscuro" and what does it mean?

KM: "Chiaroscuro" is a lovely word for the use of light and dark in painting. In the song, we find our hero alone in a dark room, every now and then illuminated by the headlights of a passing car. Incidentally, this is probably the closest I can came to a theory of my own mind. That is, a small beam of light shining into an abyss. Every once in a while, a thought emerges.

11: Typhoon has always used a multitude of instruments, but I think I heard a new one on that track. Is there a marimba or xylophone on that song?

KM: Nothing gets by you, Matthew! What you're hearing at the end of "Chiaroscuro" is the vibraphone setting of a Yamaha Clavinova — an early digital piano that has been in the Morton family since the 1990's, when I was first bludgeoning my way through music lessons. It's the perfect instrument for playing Bruce Hornsby (or Bon Iver's ode to Hornsby, "Beth/Rest") but not typically the kind of thing you hear on a Typhoon record. I use it primarily for writing, but in this instance, the fake vibes were really speaking to me.

11: Another one of the softer moments on the album is "Coverings". Can you tell me a bit more about the writing process on that song.

KM: When I started writing sketches for Offerings, I recorded a rough instrumental version of this song, dumped it in the band Dropbox, and kind of forgot about it. Shannon, who was living in Boston to study piano tuning at North Bennet Street School, dug it out of obscurity and recorded this beautiful vocal melody over it which we all promptly fell in love with. Up to that point, the song was firmly on the chopping block.

11: Your solo album What Will Destroy You is a favorite. Was that your first foray into production? Is it true you play all the instruments on that album?

KM: It is true I played all the instruments on the record, though by no means did I do them all justice. I hadn't touched a saxophone since the eighth grade, and it took me hours and hours to record what probably amounts to symphonic blasphemy. This was not my first foray into production, and it should be noted that Paul Laxer took the lead as engineer for the project. This record, as well as Book of Matches — a film project with Matthew Thomas Ross — prepared my attempt to record and produce Offerings on my own.

11: You have soundtracked quite a few of Matthew Thomas Ross' short films. Any particular challenges that arise when making a soundtrack vs. an album? Any future soundtracks upcoming?

KM: I'm currently working on the music for Matt's new short film, West Winds. The film is beautiful and I hope I'm up to the task. I think scoring differs from songwriting, mainly in that one has to have a command over the filmic language of audiovisual cues; take the obvious example of string stabs in a horror scene, or muted piano to signal poignance. Music informs the experience of film in very elaborate and specific ways. For me, this has been the steepest learning curve.

11: You live in a lovely home with your wife and dog. I hear you are working on a recording studio there. How is that going? Any projects in the works?

KM: I have been slowly building a studio in the basement of our home, however I recently decided it makes zero sense to pin my musical fate to my carpentry skills, the latter being almost non-existent. So, in the meantime I've set up a small recording space in the attic and have been chipping away at a collection of new songs and the aforementioned film score.

11: There are some songs that you guys have the ability to play live, like "Unusual," but that don't often make it into your live shows.

KM: That one, as far as playing live, kind of became a victim of habit. We started touring for Offerings even before the record was out and performing 70 minutes of material no one has ever heard before is what some might call squandering the good will of your audience, even with as nice of fans as we have. We did play "Unusual" once in New York with moderate success. Some songs just don't make the live cut. "Firewood," "Body of Love"…

11: "100 Years"?

KM: With the exception of the live album at Crystal Ballroom. It's really fast. The careful listener can tell we're a little nervous, as every song is 30 BPM faster than the studio version. In the end, I think I prefer "100 Years" at lightspeed.

11: That's an incredible collection of music [Typhoon, Live at the Crystal Ballroom]. There is a bunch of stuff on it that doesn't appear on any of the studio albums. There is "Caesar into Reed Road."

KM: That's the only real recording of "Reed Road."

11: You're doing this Portland show, and another in Seattle opening for Cataldo. The bassist for Danielle's former band, Wild Ones, is going with you for this short-run of shows, as is one of the drummers for Typhoon. Tell me about this trio.

KM: The Kyle Morton Bongo experience. Morty's Bongo fury.

11: Are you playing bongo?!

KM: Nobody plays bongo. The bongo is implied. We've got Alex Fitch on drums and Max Stein on bass.

11: You're playing guitar, mostly, or piano, too?

KM: Just guitar and singing. Lean and mean. Alex and Max are so prodigiously talented that if there are any fuck-ups, chances are it's me. They picked up the set after the first practice, so now we're just having fun with it.

11: Any covers?

KM: One cover. I don't want to spill the beans.

11: Beans left unspilled.

KM: I will say it is a Northwest artist.

11: Well, we won't count our beans before they hatch. What are the chances that there will be a Danielle + Kyle collaboration in the future?

KM: The chances are good. I won't say more than that for fear of jinxing it.

11: See any good shows lately?

KM: I caught Brown Calculus the other day for this design week show and they were incredible.

11: Any favorite pizza places around town?

KM: I feel like it should be noted that I don't actually eat that much pizza. For example, I've never been to Lovely's 50/50 which everyone tells me is one of the best in town. That said, first place, tried and true: Apizza Scholls. Any of 'em. Plus, the caesar salad with anchovies. Next, while not in city limits, Rack & Cloth in Mosier, OR. The pizza transcends geography. I've never seen the same menu twice. Following that, the places that are a problem for me due to close proximity to my house: Pizzeria Otto — Seasonal Mushroom and Brickhouse Pizza — The Combo. Finally, I feel like I have to mention the Clam Jam from Pizza Jerk, and I am partial to The Anchovy from Ken's Artisan Pizza.

11: Finally, what is it about the banana that you find so repulsive?

KM: The banana just happens to be a fruit that I don't like on account of it tastes bad and smells bad. There's nothing freudian about it.