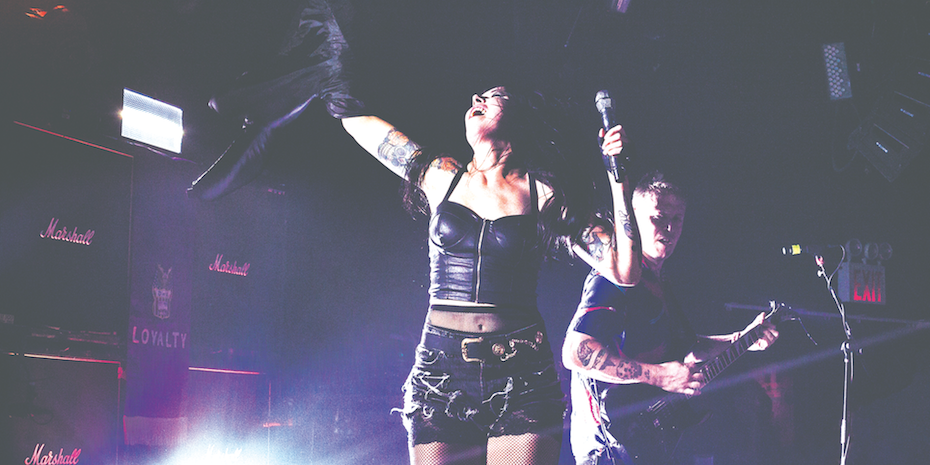 Once in awhile, a band comes along with a genre that seems impossible to pinpoint. Sleigh Bells, comprising guitarist Derek Miller and vocalist Alexis Krauss, could be described as anywhere from hip-hop to pop to hardcore to indie-electronica. Most often, they get tagged with "noise-pop." However you describe them, the Brooklyn-based duo creates music that hits with unstoppable and abrasive force.
Both members have previous experience performing and touring. Miller was a guitarist in the hardcore band Poison the Well. Krauss, who grew up in New Jersey, has a background in theater and television, but it wasn't until an unlikely interaction between waiter and customer in 2008 that Sleigh Bells was born. Krauss, who had just finished her first year of teaching in the Bronx, was eating with her mother at the restaurant where Miller was working when he expressed interest in finding a female vocalist for a new project he was working on. Krauss' mother immediately volunteered her. The two met up, listened to Miller's demos through headphones, and the rest is modern indie music history.
The duo played the CMJ Music Marathon in October 2009, signed to M.I.A.'s  N.E.E.T. Recording, where they released their debut album Treats in 2010, followed by Mom + Pop Music to release Reign of Terror in 2012 and Bitter Rivals in 2013. On Nov. 11,  the band will release their fourth studio album, Jessica Rabbit, the first under their own label, Torn Clean.
On the new outing, the band teeters right between catchy bubblegum pop and avant-garde music, combining dissonant feedback with melodic instrumentation. Eleven recently caught up with Krauss to talk about the inevitable power of timing, staying passionate about the creative process and her affinity for Portland.
Eleven: You've been in show business since you were a kid, right?  You were in a Nickelodeon Magazine commercial and were a part of the teen pop group RubyBlue. Has the desire to be on stage always been in you?
Alexis Krauss: My father is a professional musician. I was singing with him at a very young age … both causally around the house, at his gigs and things like that. I definitely had experience and access to performing at a very young age, and I very vividly remember going to see Guys and Dolls on Broadway and I was totally obsessed with the idea of acting, performing and singing on stage. At that time, the context was specifically theater. I started auditioning for things and found that I felt very much at home on stage, especially as a character.
I've always been a bit introverted in my day-to-day life … not being myself was much more comfortable than, say, performing on stage as myself at my school talent show. As I got a little older I sang with my friends' bands and things like that. And once again that proved to be just really terrifying: having to be me on stage. It wasn't until I started performing with RubyBlue that I gained some confidence singing and playing music. Even with Sleigh Bells, that's something I initially had to work pretty hard on, because I tend to get self-conscious. It's been a long evolution for sure.
Eleven: So your parents have always been supportive of your music then?
AK: They have, yeah! My dad, like I said, that's all he's ever known and done. He's a musician and an artist and my mom has always been supportive of his ambitions and my ambitions. They've always nurtured my interest in music and art. Even going into Sleigh Bells, I was transitioning from a career as an educator, which was more stable, to quitting my job and joining a band. They were completely supportive. I'm super grateful for that.
Eleven: After RubyBlue ended, you went to college and everything. Did you find yourself struggling to stay creative? And if that was the case, did you have to put that lifestyle on hold?
AK: Well, I worked as a singer throughout college. Two ways: I demoed a lot of different writers' songs, mostly within the pop landscape, but I was a session singer. I kept pretty busy working with other people and singing at sessions. So that was one way I stayed connected with the music industry. I also worked in a very active, very high-quality wedding and events band, so I would spend my Friday and Saturday nights gigging with them in really crazy, fancy hotels in New York City and things like that. It was a really great gig, because I would sing everything from Ella Fitzgerald to Christina Aguilera.
Eleven: So, like Adam Sandler in The Wedding Singer.
AK: [Laughs.] Pretty much. It depended on the size of the party, but I got to sing with great singers and really talented musicians. That was really helpful for my repertoire and just being able to sing a very diverse body of music. So, I stayed very much in touch with music, but I was not writing or creating or pursuing music other than something that was helping to pay my rent. And I don't know if I hadn't met Derek that I would have pursued music as an artist. I had a lot of other things I was interested at the time. I think it took meeting Derek to really unlock that desire to immerse myself again as an artist and the different complex layers that come along with it, like songwriting and aesthetic and developing something that's hopefully interesting to people.
Eleven: You met Derek back in 2008 while eating at a restaurant he was waiting [tables] at, right? What was it about meeting Derek that made you know you wanted to pursue a creative relationship with him?
AK: It was a bunch of different things. We had this really great, really random conversation about something much more than you'd expect to talk about at dinner with a random waiter. There was a very clear desire on his part to play me his music and for him to hear my vocals and it was all just really surreal and kind of funny. Timing is really everything: I had just finished my first year of teaching. It was the first period between graduating college and training for Teach for America and being a teacher in the South Bronx that I had a moment to really think about anything besides lesson planning and getting to bed by 9 p.m. I had been missing singing and performing and so when we met up, and he played me the very early Sleigh Bells demos. I was really inspired and intrigued and definitely felt that I could offer something beneficial to the process. I had no idea that it would turn out to be what it was, but I created a space once again for creativity in my life. It was just really ideal timing.
Eleven: A lot of creatives, whether that's writers, musicians, artists, or whatever have to put their passion on hold. Do you have any advice for them?
AK: I think it's a matter of prioritizing and juggling and balancing both your interests and also what is necessary for you to be able to pay your rent. It's really about just finding that balance. I would definitely say any passion is worth pursuing, but we can't all indulge those passions without considering the repercussions of not having a "real job." It's a struggle, it's not easy, but I think any desire to pursue what you really love requires a little risk. I would just say be responsible and rational, but also don't let those responsibilities keep you from pursuing what you really want to pursue. You can always bounce back.
Eleven: Delving into Sleigh Bells, you guys have been described as anywhere from hip-hop to hardcore and metal to dance, noise-pop and indie rock. Do you agree with those descriptions? How would you describe your guys' music?
AK: Sure, I think there's elements of all those genres. I have a very challenging time describing our band. I use a lot of adjectives. I think we are probably more of those things than other things, but I'm comfortable enough with that. [Laughs.]
Eleven: There's juxtaposition of rhythmic noise, electronic beats, harsh guitar riffs and your softer, dream-like vocals. Can you tell me more about how that comes about? What's your guys' creative process?
AK: The creative process has changed quite a bit for us from Treats to Jessica Rabbit. The earlier songs were dominantly written by Derek. I was acting more as a singer, he more as a producer. But as my investment in the band increased and as the band became my life, it became very important to me that I take on more of a role as an equal songwriter.
That being said, I think Sleigh Bells has always stayed true to its foundation, which starts with a strong instrumental track, starts with guitar and electronic production and now more than ever, synthesizer. It's never really been about anything other than those elements. I think in the beginning the vocals were more textural, less emotional and more of a part of the instrumental than they were something that sat atop the mix to create a certain mood or told a certain story. I think now the vocals are more traditional in that you can't only hear them better, but the performances emote and try to create their own space within the instrumental.
Eleven: Is that how you would say Jessica Rabbit differs than the first three albums?
AK: Yeah, I think you could say Jessica Rabbit is an album of extremes. We touched upon these extremes in the past, but I think Jessica Rabbit fully commits to them. We have softer, sweeter, much more vulnerable moments on this album than we've ever had before, but we also have much more and aggressive, noisy moments. I also think there's a lot of interesting in-between spaces that we occupy. Some are more experimental, some are more pop.
Eleven: All of this started less than a decade ago and a lot has happened since. I'm sure it's been a whirlwind. What would you say has been one of your favorite moments, or one of the most defining moments of your Sleigh Bells journey? I know that's a loaded question.
AK: Well, there's been a lot, but I think this most recent tour, which was in September, was pretty important, because we'd taken more time off than we had in the past to make this album, and I think we were a little scared that maybe people wouldn't care about our music anymore. You kinda wonder if people are going to stick around with you and maintain their loyalty as fans and as listeners. So getting back on the road and having shows exceed our expectations and having people say to us that they're really responding to the new work was incredibly gratifying. I don't ever take that for granted.
Eleven: Do you have any sort of music bucket list? Are there any specific artist you'd like to collaborate with?
AK: We've said for a long time that we would love to record something with Pharrell and Andre 3000. I think that would be amazing. We've been talking for a long time about doing something with Run the Jewels as well, which I think would be really cool to make happen. Personally, there are a lot of artists I would love to meet. I'm a total fangirl over Beyonce, but also Joan Jett, Debbie Harry — you know these iconic people that are just such a huge part of music history.
Eleven: We are all fangirling over Beyonce, always. You guys are playing Portland on Nov. 18. How do you like it here?
AK: I've always loved Portland. It's definitely a city I've thought about moving to multiple times. It's just one of those places I feel very at home at. I'd get on my bike and ride around, eat Voodoo Doughnuts … have a delicious brunch. It's definitely Austin, San Francisco and Portland where I'm excited to be in most.»
– Samantha Lopez