BY EIRINN GRAGSON
INTRO BY HENRY WHITTIER-FERGUSON
[Editors note: Catch Vince Staples at Treefort Music Fest in Boise on March 20th or at the Roseland Theater in Portland March 23-24th.]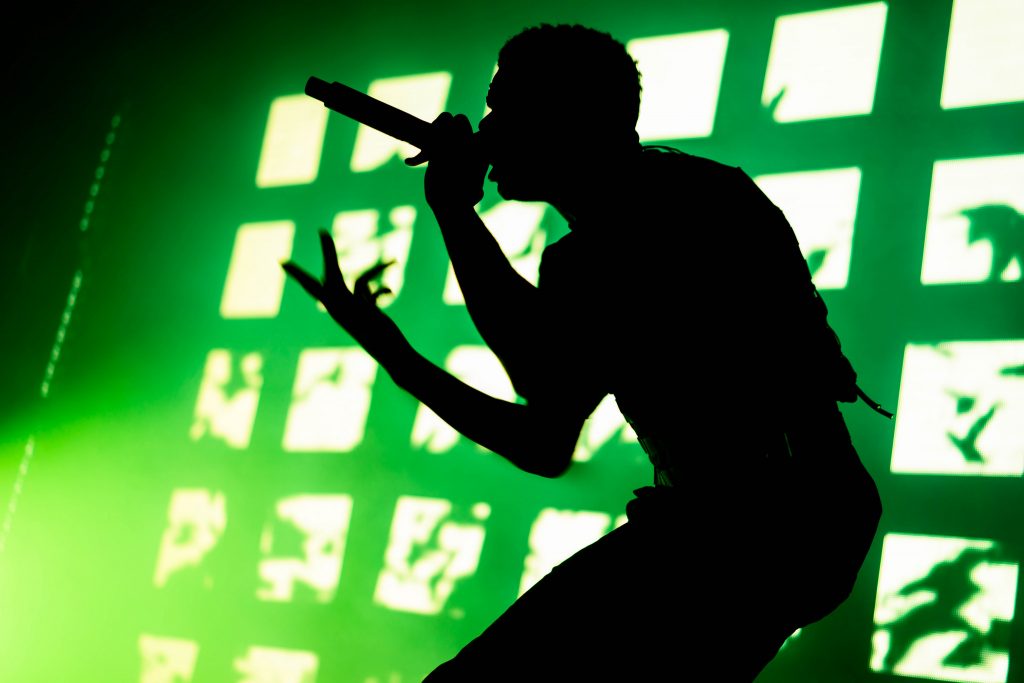 The shadow
of summer hangs over
Vince Staples' music
like
a single cloud
in a cloudless sky.
It's a symptom of an upbringing
and continued residence in Southern
California, that never-ending summer
whose seasons are really just different
degrees of heat, proceeding an attitude
that's as unmistakable as it is pervasive.
Much refined since his days of features on
early Earl Sweatshirt records, Staples has
honed that SoCal attitude to a razor's edge,
and light spills out wherever he cuts in.
Originally from Long Beach, Staples stepped onto the scene circa 2010. It wasn't until Stolen Youth, a 2013 collaboration with the late Mac Miller (under his producer alias Larry Fisherman) that Staples would truly enter the larger lexicon of West Coast rap. That mixtape, given a new relevance by Miller's untimely passing late last year, still holds up as an exemplary project of that era. Going back to listen six years later, one can hear the foundation for a sound that's become the go-to in contemporary hip-hop. Minimalist production featuring lonely piano lines and melancholy pads over subterranean 808's serves as a backdrop for a lineup of L.A. talent in their early days, including Miller alongside Ab-Soul, Schoolboy Q and Joey Fatts.
After another mixtape and the EP Hell Can Wait, Staples released Summertime '06, his 2015 debut double LP, cementing his sound as a darker counterpoint to the standard pop-rap saturating the market. Though strains of Staples' seasonal obsession appear on earlier projects, Summertime '06 hammers the theme home, exploring the idea of summer in all its sticky, oppressive, jubilant heat. The parties, the fights, the kids off school, the lineups of pop singles battling for chart space, the wildfires, the beach, the money, the drinks and the drugs. All of these and more are rolled up into the single word, melting together, inseparable as the neverending days.
Prima Donna, Staples' 2016 EP, explores fame in all its strange machinations. The cover features the rapper's head weirdly enlarged on his body — an apt metaphor for the public's grotesque obsession with celebrities and for the warped sense of identity fostered in the celebrities themselves as they live longer and longer in the spotlight. Like most good rappers, Staples has always had a sense of cynicism regarding fame and the rap game, known almost as widely for his wry commentary as he is for his music, which also happens to contain a good amount of said commentary. More than ever, in a world of appearances and facades, having voices that undercut those appearances is refreshing. And that critical attitude is Staples at his best.
In 2017, he released Big Fish Theory, a project that, while thematically consistent with Staples' discography, explores new sonic territory. It features production from Zack Sekoff, Jimmy Edgar, Justin Vernon, Flume, Sophie, among others. Building off Prima Donna, Big Fish Theory cleverly marries Staples' scathing take on modern American culture with the frenetic rhythms of Detroit techno and UK house, a combination both natural and unexpected.
In his most recent Project, FM!, released last November, Staples essentially presents a concept album. It's a radio takeover featuring Vince and co., interspersed with DJ banter from LA famous Big Boy of Big Boy's Neighborhood, which ties the project together on multiple levels. Less out-there than Big Fish Theory and more concise than Summertime '06, FM! flows like a radio playlist. In that sense, it's Staples' poppiest project to date, but it's by no means watered down. In fact, using the frame of the radio to contextualize the style Staples is working in allows him greater freedom and more of a basis for his criticism of the very style he's using. Highlights include features from Jay Rock and E-40, both of whom add distinguished West Coast pedigree to the mix, along with some hot hooks, leaving Staples to do his work in the bars themselves, where he does it best. Despite its November release date, FM! still plays like a summer album. This is where we have to ask ourselves whether Staples' fascination with the season is beyond just an ordinary love, straying into the realm of obsession. It's a bold move. Releasing a project into November's rainy cold (granted, it's still sometimes sunny in LA) in some ways undercuts the project's perceived importance. Then again, there's a tension here that's difficult to resolve, and it seems clear that it's this tension, the one between days, between seasons, between lives and deaths and moods, that Staples is and has always been trying to foster.

We caught up with Vince Staples last month to ask him about growing up, beats, Spider-Man, and more. Check it out below:

11: I hear you're from Long Beach. What was it like growing up there?
VS: Like growing up any other place; it's pretty much the same. Kids do kid things. Grow up with a lot of friends, family, money or not, but everyone pretty much goes through the same thing. It was a unique experience, looking back when you're a kid, you just a kid. Another day.
11: Does your family still live there? Do you ever go back?
VS: No, nobody live there.
11: Did you live anywhere else growing up?
VS: I lived in Atlanta for like six months. I was in Compton when I was young. I lived in Orange County.
11: When did you first get into making music?
VS: When I was 15, I met some people, just being kids. People around you were doing things, hobby type things, eventually you'd do 'em. If your friends played basketball, eventually you might shoot the ball once your twice, you know? Kinda my direction with music. I took it a little more serious when Earl came back and I met Mac Miller. He kind of helped me get it together.
11: How did you meet Earl and Mac and the members of Odd Future?
VS: One of my friends went to Syd's house, cause she had a studio there and me and Syd became cool and then I met Earl, cause that's when they started that whole Odd Future thing, they would hang out there.
11: Earl made an appearance on your most recent album. Do you still make music with Odd Future or any of them?
VS: I never did, I don't really make music with anybody, but I still talk to them a lot.
11: Were there any other big influences in your life that guided you toward hip hop?
VS: I kind of just learned as I went. It just started as a way for me to kind of figure out how to try to make some money, and it kind of grew from there, and it became something bigger than that, obviously because I'm where I am today. My manager helped me figure out a lot of stuff, Mac Miller, DJ TY on the radio helped me with a lot of stuff, Earl — just the people around me — Matt Martians from the internet, they helped me a lot. Hands along the way, and I just took that much.
11: Have you noticed any big changes in yourself since the release of Summertime '06?
VS: I was younger. I'm 25 now, just getting older, mature – whatever you wanna call it. Not being that kid no more, seeing a world of opportunities. You know, just growing. Growing as a person.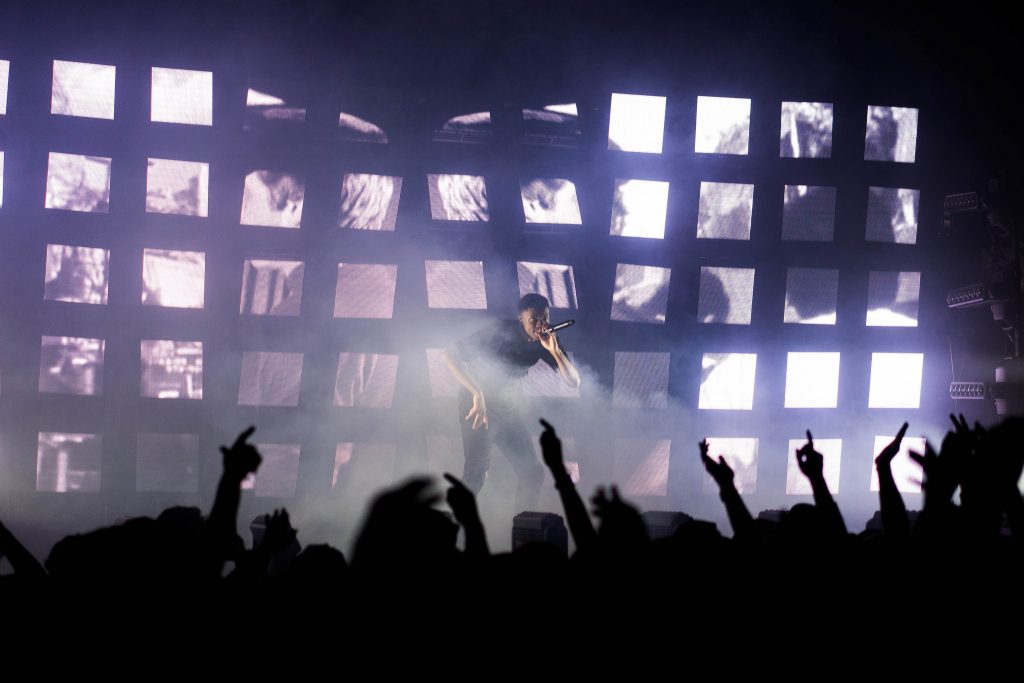 11: What does your songwriting process look like? Do you make your own beats, or is it more of a collaboration with your producer?

VS: I've never made a beat in my life. It just depends. Either I have an idea or I don't. I don't really try to force it. I keep it as simple as possible, as organic and pure as possible. I know where it needs to go right away.
11: When you write your lyrics, do you usually just freestyle it and write it down after, or do you write from your head first?
VS: It depends, either-or. It depends on the beat, the mood. It's a case by case basis: you can't try to stick to one thing. That'll kind of limit what you create. I just try to get to where I can have the most freedom to make what I want to make.
11: What kind of music were you listening to when you were younger? Does any of that influence what you write now?
VS: I don't really listen to much. The music I heard was pretty much from my parents, television, movies, things like that. I wasn't really into listening to music. At the point in time when I grew up, it was when Limewire was a thing, iPods. Anything I heard was whatever was popular!
11: Is there anything now that influences you, other than music?
VS: Just life. I think if you doing music and you try to get influenced by other music, then you not doing your own music because you're just creating something that's already been created. You just gotta take life experiences, pay attention. Be OK with kind of questioning things, questioning your feelings, questioning the world around you. If you find those answers, you find your music.
11: Do you like going on tour? Is there any specific part of the world that you like traveling to the most?

VS: For shows, it depends. Case by case. I like going to South Africa. I like New Zealand a lot. Southeast Asia was very interesting. Japan – I like Japan a lot. You can find something interesting every place; you just have to look for it.
11: And I have to ask – are you a Spider-Man fan? How did it feel to be part of the Into the Spider-Verse soundtrack?

VS: You know what's crazy? I haven't even watched that movie at all! But I saw the Spider-Man with the … whoever the new Spider-Man is … I forget his name, but I fuck with him. Tom Holland? Yeah, he's tight. I'm not fucking with Tobey Maguire.
11: Were you ever into comics?

VS: Nah, it wasn't my bag. I know a lot of people who were, but I never really got around to that. You know, maybe one day. I'm gettin' old, need to pick up an old-people hobby.
11: Is there anything you'd like to add for the readers of Portland?
VS: I like Portland too; they got those donuts! I like Portland a lot.