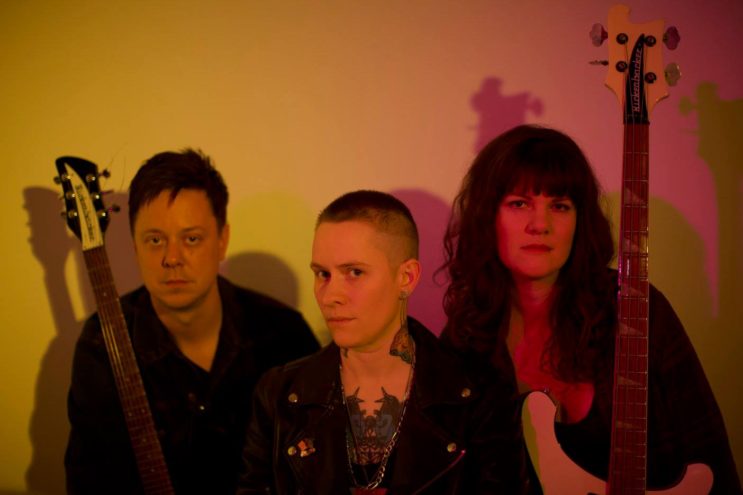 [dropcap text="M"] iss Rayon practices in a cute garage space adjacent to Eric Sabatino's moped shop in St. John's. The doors connect, and both day life and nightlife collide for Sabatino, who kickstarted Miss Rayon last year. Joined by drummer Hannah Blilie and bassist Jenny Logan, a no-wave / post-punk / goth-pop dream has come alive and is sure to take hold of the Portland scene.
Their debut album Eclipse features haunting vocals and catchy dance riffs, along with an accent of dark synth. Comprising former members of bands like Gossip, Cat Hoch, Deathlist, Appendixes and Summer Cannibals, this talented crew has been places and are a truly passionate bunch. Quite the gear freak, Sabatino rocks an Emax synth sampler from 1989, an obscure piece of history compatible with the original Macintosh computer of the late '80s, not to mention his various other synths and guitars complementing their cozy music haven.
Watch Miss Rayon's brand new music video for their single "Domestic Gesture" — featuring portland music favorite, Mattress — premiering below. The band releases their debut album Eclipse on Saturday, November 17, celebrated by a show at Black Water joined by WL and Conditioner. (event page)
—
ELEVEN caught up with Sabatino and hear all about this incredible setup. 
Eleven: So this is your shop and studio?
Eric Sabatino: I own the moped shop, yeah. That's what I do during the day, and for money. And a couple of friends and I, plus my girlfriend, all help keep that place going, and we all play music in here all night. It's a pretty cool setup.
11: When did you open the shop?
ES: When I moved here, I worked at a different scooter shop. And when I quit there, I just started getting work, and it slowly just snowballed into my having an actual rented garage with some guys. That was more of a funky DIY space … I was definitely running a business out of my garage, and my neighbors were complaining. Then, that got to the point where I kind of needed a real storefront, so I got this full-sized street spot in St. John's.
11: Is Miss Rayon your brainchild?
ES: Hannah is really co-writing a lot with me now. I started it, and I wrote the first batch of songs myself, but I'm trying to make it a band and not a solo project. Everyone's got a solo project, and I have like two of the coolest musicians in Portland who want to play my music with me, and I want it to be a band. It's all three of us.
11: And Jenny runs XRAY?
ES: She's the president of the radio station. She started the radio station and still works there, but it's a big organization with a lot of people. And she plays with a lot of bands.
11: I also saw that you're on XRAY Records.
ES: Yeah, she and  started a label, and I was conflicted about going on the label since it's partially Jenny's thing, but they release records by pretty much our closest friends and the bands that are kind of our family, so it felt appropriate. It's that family of bands. They put out the WL record. It felt like something I wanted to be a part of.
11: Where are you from?
ES: I grew up near Detroit.
11: I have to ask – where did you get this Macintosh computer?
ES: That Macintosh interfaces with this Emax Synch. It's an old late-'80s sampler. It's the smaller, more live friendly version of the E-Mu E3 sampler, which is how the Pet Shop Boys did everything. Depeche Mode made Violator on it. And the drums and everything come out of these things. The Macintosh, most of the bigger color screen models would also interface with this, but this is actually a little bit faster. It's an '89, I think. It interfaces with that perfectly, so I can make samples on there – you can play Oregon Trail on it too.
11: This is even older than I ever used! This is a beautiful piece of history.
ES: The hard drive doesn't hold a lot. It's 512MB; that's a lot for a computer like this, and the sound samples are tiny. In 1986, this was like a $5,000 synth, which would be like $12,000 now, so this is studio-grade stuff, and now it's something I get off of some nerd that I can trade for some Vespa work. I could buy a brand new Korg sampler, but I probably wouldn't want to fuck with it. This is just so historically weird, and the interface is so fun, and there's this Macintosh!
11: So how long have you been playing guitar?
ES: Forever. I got into it when I was like 11. There was an acoustic guitar in my grandma's basement. I played backward — left handed. I didn't know I was holding it the wrong way. I have all of these upside-down guitars, all of these special guitars.
11: But you're not left handed?
ES: I am left handed, but I played that guitar left handed to a point where I was too far along to flip it over. I got a chord book from KMart and just read it upside down, I guess, and learned it enough playing all the chords the wrong way with the big string on the bottom and I was like: too late!
11: Hannah, you wrote the song "Eclipse," right? I was curious to ask you about the meaning of the lyrics?
Hannah Blilie: Yeah, so at the time the solar eclipse happened, I'd been in a spot in my life where I'd been partying really hard and kind of lost myself in that lifestyle a little bit. I was out at a friend's property right in the path of totality, just south of Portland, and we'd been up all night and finally 10 o'clock rolls around and the eclipse started happening, and I just had this very powerful emotion of … "Whoa, this isn't working for me anymore. This is sad." All the things that used to make me really happy, all the things I used to escape to or escape through or whatever, just weren't clicking anymore. Not matter how many things were consumed. Also, being around people I loved just wasn't enough. It was a very powerful realization and a very big turning point in my life.
11: I didn't even think about the eclipse or that being a turning point, but I felt a similar thing, almost exactly what you're talking about during that time.
HB: There's a lyric, "I stare into abyss and it feels like punishment." That's me just looking at the eclipse and thinking about my life and partying as a punishment more than something that feels good anymore. I think it took that weird cosmic experience to really hammer that home.
ES: The eclipse thing, that song – we were at the eclipse and that was the day my whole life went completely upside down. It was really appropriate for the story arc of the record. It was like we just needed that song to make all 10 of them make sense together, you know?
11: Can you tell me about this upcoming record you're releasing?
ES:  Elaina [Tardif] from Tender Age helped me with a lot of the vocal melodies for the first two songs on it. There are 10 songs: the last song is the only one I actually recorded here entirely and because so technical from the aspect of connecting devices to each other. I didn't think I could recreate it again. It's a really strange recording. I couldn't do it again in another studio.
11: Is that something you'll ever be able to play out?
ES: We used to play it live. We just had to play it really differently. And it came out cool live.
11: Who are your biggest influences, musically?
ES: I grew up on Sonic Youth. It's like the most important band in the world probably. I mean, the obvious things are like that and My Bloody Valentine. Those are what I grew up on as a kid. I really got into Magazine a lot a couple years ago. I don't know; I listen to all kinds of stuff. I've been almost only listing to Fela Kuti, which might be more apparent on the new stuff we're writing — dancey, heavy polyrhythmic stuff. I write from the perspective of The Kinks more than anything, where a lot of times I try to not write from my perspective. More like, "He's a dedicated follower of fashion," singing like you're observing other people was really Ray Davies' main thing.
11: Why didn't you record it yourself?
ES: This record mattered so much to me that I couldn't hear it at all. I couldn't tell if I was mixing it weird or doing weird things, and I just felt like I wanted to get somebody who did it all the time to just make it. This record got to be this huge personal thing to make.