Bear in Heaven @ Mississippi Studios 04/12/2012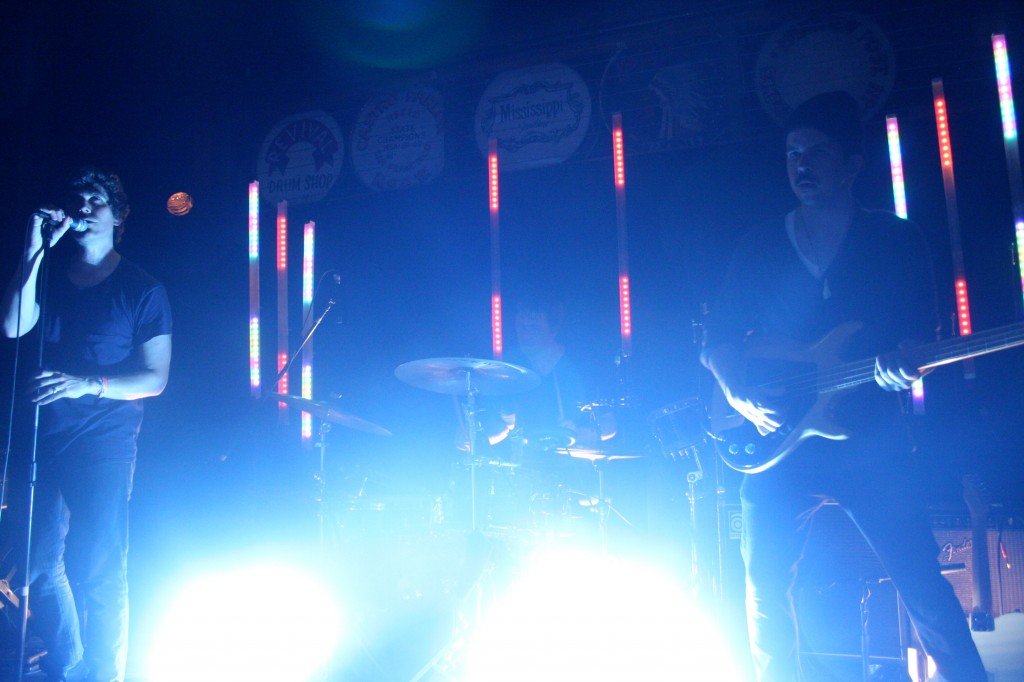 Electronic groove-makers Bear in Heaven sat down with ELEVEN's Bex Silver before their show at Mississippi Studios to discuss touring in support of their new album (I Love You, It's Cool) and the festival circuit.
11: You guys have been on the road for a while, right? SXSW, then a spring tour…
BH: [Jon] Yeah, we weren't touring then, we were just down for SX, then back to New York to finish building the light rig for the tour…it's going to look really neat in the dark. [Jon to Joe] How long have we been on tour now? [Joe] About two weeks…
11: And In that two weeks you had a new album come out (I Love You, It's Cool). How's response been while you're on tour?

BH: [Jon] We have yes. [Adam] Yeah, we've gotten some good reviews.
11: So, the new album is called I Love You, It's Cool. That came from a note that you found from your former band member Sadek [Bazarra, keyboards and bass] after he left the band, correct?
BH: [Jon] Sadek slipped it under my mixer (chuckles). Joe found it. Joe got one, too. It said, "I Love You, It's Great," and then mine said, "Jon I love you, it's cool" and had this cool little drawing. It was kind of a funny thing… we were kicking around a lot of ideas for record titles for a while, and for some reason that just kinda stuck.


11: Two weeks into the tour, have you hit your stride yet?
BH: [Adam] I thought we did in San Francisco, but then we just took three days off. [Jon] Yeah, we played really good in San Fran, it felt really good. Yeah, I was just thinking about that, lamenting, like, oh fuck, a couple days off actually kinda sucks.
11: This tour is going all the way to Europe, how long will you have been on tour at that point?
BH: [Joe] Till the end of June. [Jon] About three months.
11: Are you anticipating any shows, have you played any that have been particularly memorable?
BH: [Joe] San Francisco was very fucking awesome. [Adam] Revolutionary. [Jon] Columbus, Ohio ruled. You wouldn't think that, right? Yeah it was good, good vibes. Vancouver is pretty fresh. Actually tonight, since our label is here, Hometapes, we'll have a lot of label friends. [Joe] And this is Blouse's hometown, which is exciting.
11: Have you been to Portland before, how do you like it?
BH: (nods and mumbles of agreement that Portland is cool)  [Jon] We really like it here actually. I wish it was sunny all the time though. There was like a few hours today, that was sunny…that shit was nice! [Adam] We've had good luck in the past. I feel like we come here and everybody will say it was raining for the last 2 weeks prior to us getting here, and then it will be nice an sunny.
11: So you bring the sunshine?
BH: [Adam] We try and bring the sunshine.
Being from Brooklyn and involved in that music scene, have you noticed any similarities in Portland?
BH: [Jon] Well… it seems like there are a lot of bands in this town, that's for damn sure. It's a tough question. But I would say that I really don't know too much about the stuff that's going on here, other than Blouse is from here. But I have this sensation in my toes that Portland could very be the next…spot. Where a bunch of bands all the sudden come out. It seems like it's prime for it. There are a lot of bands. [Adam] It's because it's cheep living, and no one's got jobs. [Jon] You've just got all this emotion running through you, and no money, and a guitar. It seems like it's ripe for the picking.


11: Does touring get monotonous driving back and forth across the country?
BH: [Joe] Yeah, sometimes, it's cool though. There's monotony and then there's exciting parts. I honestly don't mind the monotony, you can just zone out drive boring roads. [Jon] You're doing something. [Joe] Puts you in a cool headspace.
11: Do you see any good roadside attractions?
BH: [Adam] Yeah! I have an awesome app. (Pulls out phone) It's called Roadside America. [Joe] It only tells you to go to the weird shit.
11: That's good though, that's what you want to see.
BH: [Jon] We saw a statue erected to a runner. [Adam] It was erected in memory to a runner who was kidnapped and then burned to death in his car. That was the first thing we stopped at. That was in Oklahoma…no Omaha, NE, I think so…[Jon] No, no, no it wasn't, it was in Tulsa. [Joe] Yeah, it was in Tulsa. [Adam] Then we went and saw some alien stuff. Cadillac Ranch…
11: As you're driving across the country are you looking out for those kind of things?
BH: [Adam] Yeah, definitely. We try and make as many little diversions as we can. [Jon] We didn't really do too much of that on the way up here…[Adam] because there weren't so many freakish things, it's just like nature. [Jon] Beautiful.
11: Do you enjoy touring?
BH: [Jon] Yeah, I think we do. This time it's a little bit nicer because we have a better van, kinda made it a bit more sweet. It makes a big difference, you wouldn't think it but it does. We've got a long tour ahead of us. We've got a few things over the summer, but when we get back it's probably back to writing.
11: What's your favorite part of that whole process from writing to recording, touring?
BH: [Jon] There's parts of each one that are awesome, and parts of each one that suck. [Joe] It's like the seasons of the year, it's like you gotta go through the transitions. Every time you start on the next part it's awesome. And then after a while you're like, I can't wait to get started on the next. [Jon] There's like a midway point when you're making a song that I really enjoy in the studio. It like the kinda fucking it up part, that's one of my favorite things.
11: Playing festivals, is there a favorite on you like to play in the US or otherwise?
BH: [Jon] Well there are ones that we haven't played yet that we wanna play… Sasquatch and Coachella, we wanna play both those, somehow, someday. [Joe] We've never had a bad time at a festival, I don't think. [Adam] I've never played a festival that was a bummer.
11: What has been your favorite festival to date?
BH: [Adam] We played this one in Poland. [Joe] That was rad. [Jon] OFF Festival in Katowice (Poland).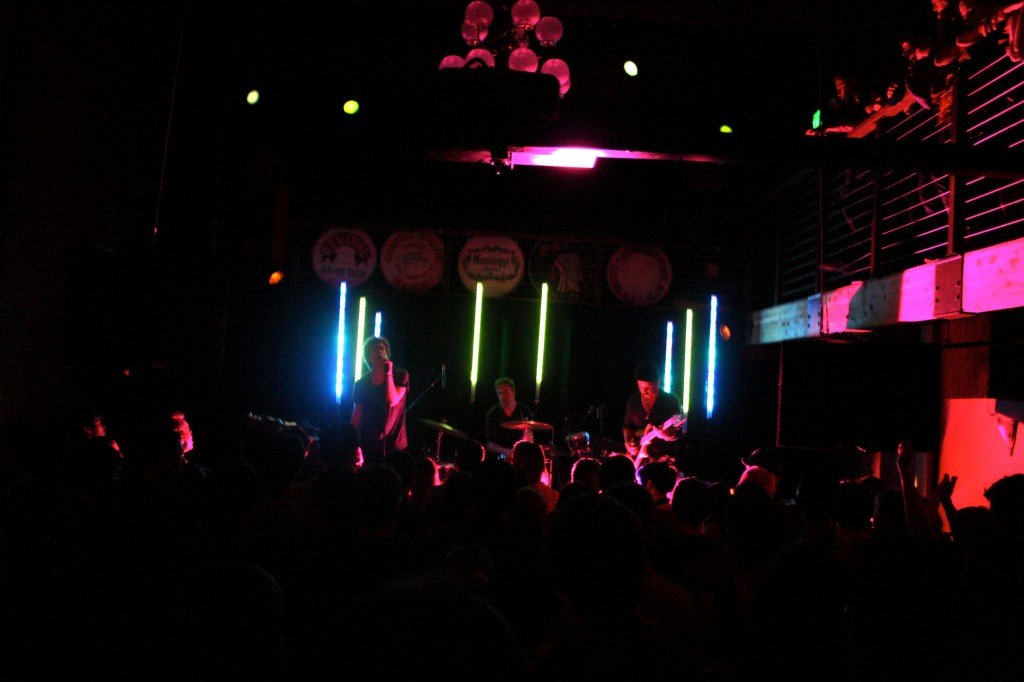 Words by Bex Silver
Photos 1+4 by Cary Watts
Photos 2+3 by Greg Maguire