FUZZ 3/30/2013 @ Bunk Bar
Is your ass still sore from kicking yourself because you missed out? Are your ears still ringing the sweet sounds of FUZZ because you were lucky enough to get into Saturday's sold out show? It's no April fools, kids–this show ripped!
Wooden Indian Burial Ground kicked off the night right with a blazing set that had the crowd moving and grooving. The guys brought their A-game and they brought it hard. With a set predominately consisting of material off their self-titled October release, their synth-psych garage rock rang loud and proud.
With a break long enough to grab a drink, have a smoke, and use the bathroom, the eager crowd anxiously awaited the restless Ty Segall's latest outfit: FUZZ!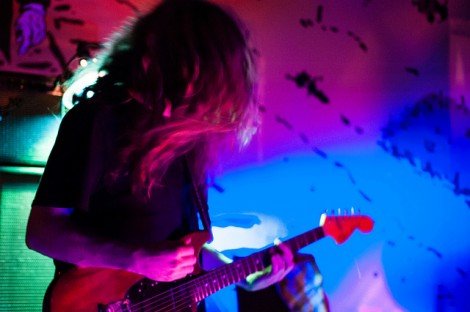 Teaming up with a couple partners in crime from his Epsilons days–Charlie Moothart on guitar and Roland Cosio on bass–Segall takes a semi-backseat by sitting behind the kit while simultaneously providing the vocals. The trio kept the crowd wrapped around their collective finger from beginning to end with their first single, "This Time I Got a Reason", and slew of tunes no one knows the names of yet.
Moothart on guitar is a real treat–he shreds, he rips, and boy, does he know how to work those pedals! The crowd ate it up, and at one point Segall had to pause for a moment to remind an overly aggressive fan to: "Chill out, man!" As quickly as the band stopped, the threesome didn't miss a beat and kept on playing. I can't blame the rowdy fans, though–how could you not dance around causing a ruckus to the Black Sabbath inspired tunes? After a rip-roaring set, the band was cheered to an encore of a Groundhogs song (not the already Segall-coverd, "Cherry Red").
Words by Wendy Worzalla
Photos by Michael Herman