A quiet little stretch of Russell St. in the Boise-Eliot neighborhood has been roused in the last decade with the emergence of new businesses like Russell St. BBQ, Black Water Records and the Wonder Ballroom. A nearby Victorian-Era building–circa 1907–was also revived.
The building's past housed two fraternal orders, The Woodman of The World and The Prince Hall Masons (secret societies, if you will). Years later it was converted into artist studios before entrepreneur Matt Johnson purchased it and began a massive renovation in 2004. A new Spanish restaurant, Toro Bravo, opened downstairs, and the former fraternal meeting room became a rental for special events upstairs. At the time, Johnson's office was also upstairs, overlooking Russell St.
As general manager Jesse Lundin tells it, "Toro Bravo became wildly popular, and from his window Matt could see lines of people milling about waiting to get tapas and coming to and from the newly opened Wonder. He thought 'why not give these people a place to sit and wait and have a drink?'" So his office became a swanky cocktail lounge called The Secret Society.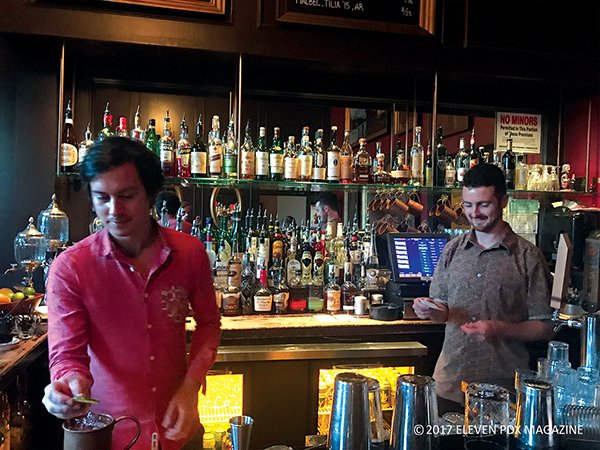 To find it, you must find the simple, single door almost blending into Toro Bravo's windows. It opens into a grand red staircase leading to a foyer with two doors. It feels like a speakeasy, but no secret password is needed. Choose the left door and find the office-turned-lounge–A small, secret hideaway of polished wood and glowing lights, and a warm respite from the waiting and rain, which you can still view from the windows. The bar is stocked with local spirits and wines, and "The Green Fairy." They have an amazingly detailed craft-cocktail menu inspired by film, song and history from the early 20th century. My pick is the "Blood And Sand," with Bank Note Scotch whisky, cherry brandy, sweet vermouth and OJ served up, created for the 1922 silent film that starred Rudolph Valentino as a matador. Their food menu has matured from snacks since their 2007 opening. They now serve plates of Shrimp Scampi, Linguini, Chicken Duxelles and perhaps a Brandy Alexander creme brulee for dessert.
Choose the other door and find the old meeting room as a dance hall and performance venue, with an additional full bar. The Secret Society has built a community around ongoing shows that hearken to a past of jazz, soul, folk and vaudeville. Mainstay events include Pete Krebs & His Portland Playboys, vintage starlet Pink Lady and swing and salsa dancing. There's also a monthly literary event, The Moth StorySLAM, and a new "Not-So-Secret" family show on Sunday. Special performances also fill the calendar. November will showcase The Wallace (Erin Wallace) EP on release with The Get Ahead on November 3, and the caravan songs of Robin Jackson's sophomore album, Dark Stars, on November 11.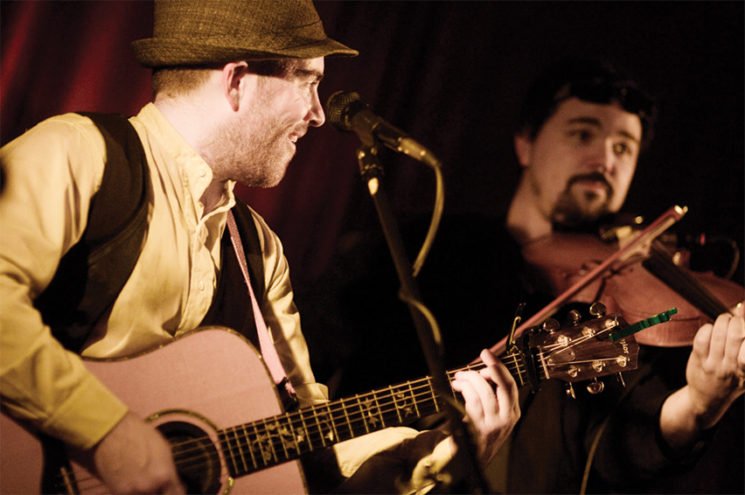 These events can be easily recorded, because the ballroom is wired to a recording studio below. This spacious hidden gem is lined with a variety of art, Persian rugs, vintage amps, guitars and an old organ. The gear list is serious business, and engineer Jordan Leff has helped artists like KD Lang, Ezza Rose, Edna Vasquez, Ravishers and Dirty Martini record here.
The Secret Society has symbiotic relationships with its Russell Street neighbors, and within itself as an all-in-one cocktail lounge, music venue and recording studio. It's no secret that it can make guests feel like they are stepping into another time–sipping classy cocktails, enjoying the crooners, the camaraderie, and dancing the night away.