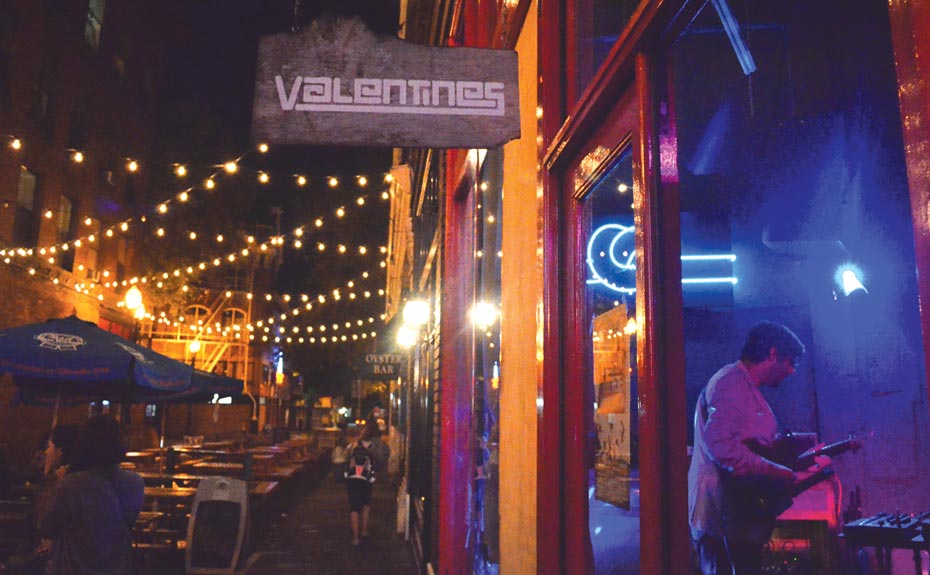 A dark, easy-going, and lounge-y space with DIY aesthetic, located on SW Ankeny Street, across from Berbati's and the Shanghai Tunnel, Valentines is a "diamond in the rough of Old Town Portland." Tucked away–like really tucked, this place is hard to find–and totally under the radar, it is a place for music, art, film screenings, poetry-readings, DJs and anything, and everything else, that is painfully indie. It feels like a speakeasy, or, more like that cool friend you had in college–his place had a basement where the walls were lined with cult-classic movie posters, an ironic poster of Nietzsche hung in the corner, and he had his own makeshift bar–everything about him spoke to fun, experimentation, and idealistic thinking. You felt, at that moment, comforted to know such a smart, interesting person. Valentines is just like that friend.
It began ten years ago as a great sandwich shop started by two youthful folks who had a passion for catering to the whole allegiance of local products and business aesthetic that is Portland dining. Over the years, and over the span of losing the two original owners, Valentines developed into an underground venue for touring and local acts from all over the Pacific Northwest, who felt connected to the intimate space. The whole venue seats maybe 40 people, and it's a place where the live music really gets your ears excited. Estia Papaioannou the owner for the last three years, and Portland-native, describes it as "[A] vibrant community of local and touring artists. [Valentines] is an outlet for the experimental arts that is integral to the city of Portland."
This hole-in-the-wall place offers more than just a great place to see a great show, though. Because of its history as a great, local foods-place, the dining is worth a visit in itself, and what is more important, the drinks.The menu lies in the tapas/small plate realm, relying on fresh and local ingredients (this is Portland, of course), house-infused liquors and hand-crafted beers. Expert staff and a small hideaway upstairs make this place a return-worthy venue that's best with a small group. If it's packed though, you can hang out in the alley, under Italian garden lights on original cobblestone, in the shadow of one of two Portland high-rises.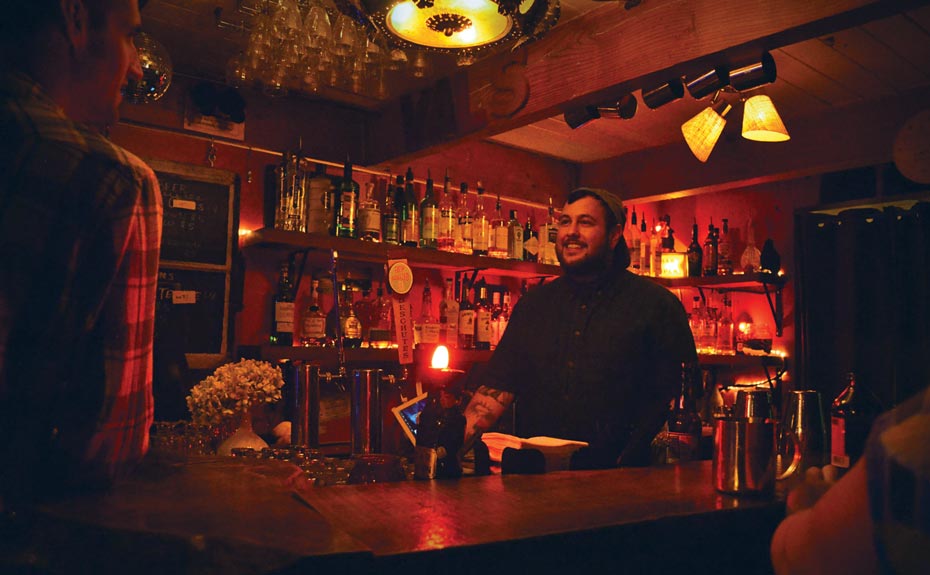 Valentines caters to the trend in Portland venues: to experience live music in an intimate setting. Portland is often recognized as being one of the top music scenes in the nation, being the home to many musicians, that you can find playing around the city in different venues every night of the week. Valentines follows in that aesthetic–its romantic lights strung overhead in the alley, and its high ceiling are details that add to the combination of live music, great dining, and hip style. »
– Samantha Lopez