Purity Ring @ Roseland Theater 4/24/2013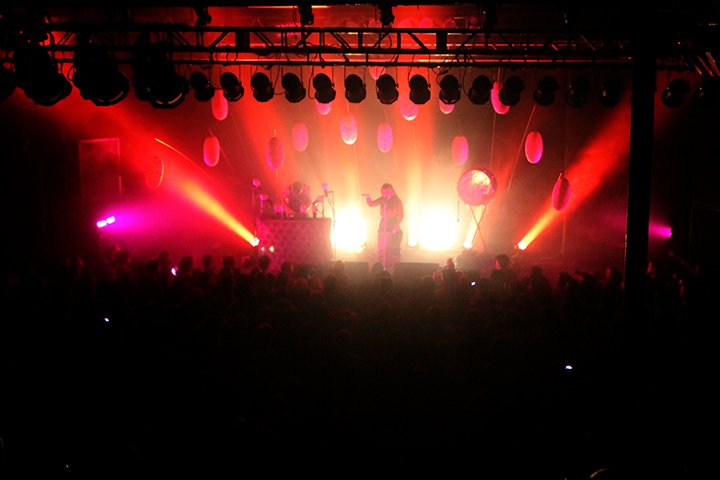 Canadian electronic/hip-hop duo, Purity Ring, played to a fervent crowd on Tuesday night at the Roseland Theater. Even though the group is relatively new (they formed in 2010) their draw was huge, with lines spiraling in and around the theater well before the band took to the sold-out stage. The theater was transformed into a bass-drenched dance club for the night, with an eruptive pulse propelling movement on the floor and in the balconies. Unlike many Roseland shows, there were signs encouraging photography from the audience, and there wasn't a typical pit, which allowed front-row access to anyone who pushed their way in.
At around 10pm, Megan James and Corin Roddick uncovered their tree-like, custom-built instrumentation, which looked like giant, light-up cocoons of various sizes hanging over the stage. These "lights" are struck with drum-sticks and create a firefly, strobe effect when played. The performance was extremely composed, intentional, and enchanting. It felt like watching a spectacle, or experiencing a foreign ritual take place.
See Also
During a few songs, James (vocals) used a mallet to strike a lit-up bass drum that was mounted above her head. The crowd really started moving during their cover of "Grammy" (originally by Soulja Boy ft. Ester Dean), where James had the space to showoff her breathy, pitch perfect vocals. The set was relatively short and filled with the singles that the audience knew from their premiere 2012 record, Shrines, including the echoey –pop-dance hit, "Ungirthed," which James said was about, "living in the woods".
Photos and Words by Rachel Milbauer