Modern Kin + Genders + The Helio Sequence @ Doug Fir Lounge 2/4/2014
Now in its sixth month, PDX Sound Select—a reoccurring monthly showcase put on by Red Bull and curated by Banana Stand Media—has become well-oiled, well-attended high point in the landscape of Portland's rotating events. Though large, sponsor-heavy events such as these oftentimes have the heady feeling of oversaturation or inauthenticity, Sound Select has found a happy marriage between branding and using it's resources to put together memorable showcases. With past lineups touting bands such as Portugal. The Man, Pickwick, and Washed Out, February's roster featuring locals Modern Kin, Genders and The Helio Sequence fell in highly-acclaimed alignment, a grade-A worthy lineup for the frosty Tuesday evening.
Much to my disappointment a late start to the evening resulted in missing much of Modern Kin's set, but their last few songs filled the Doug Fir with the warm buzz of grimy, bluesy-tinged thudding bass and staccato drumming. The room was already packed, drinks being sipped, and the pace of the night was set with an engaging, big sounding opener.
"Elemental dream rockers." "Cloudy guitar pop." "Casual Rock N Roll." "Peppy goth pop." Journalists and band members alike seem to have a too-fun time describing the sort of music that PDX-natives Genders make, but one thing is for sure: whatever you want to call it, it's damn good. With a six-week tour with Built To Spill and the release of their first full-length Get Lost under their belts, the momentum that the sunny four-piece has gained over the last few months is palpable. And the time on the road seems to have served them well.
The band delivered a set that seemed tighter than ever, bouncing between songs featured on their LP ("Twin Peaks" and "Something To Get You By" were high points) as well as a few new gems. Maggie Morris, guitarist and major shareholder of the vocal duties, punctuated the night's set by making playful jokes about the amount of Red Bull she'd consumed over the course of the evening, much to the crowd's giggling (and drunk!) enjoyment.


Though Sound Select headliners aren't typically natives to the area, Portland got a real treat with The Helio Sequence rounding out the line up. The two-piece, who've played together for just shy of a whopping fifteen years, were met with what seemed like a heavy anticipation and much applause, which comes as no surprise—though the band calls the Rose City their headquarters, they've played in the city sparingly since the 2012 release Negotiations.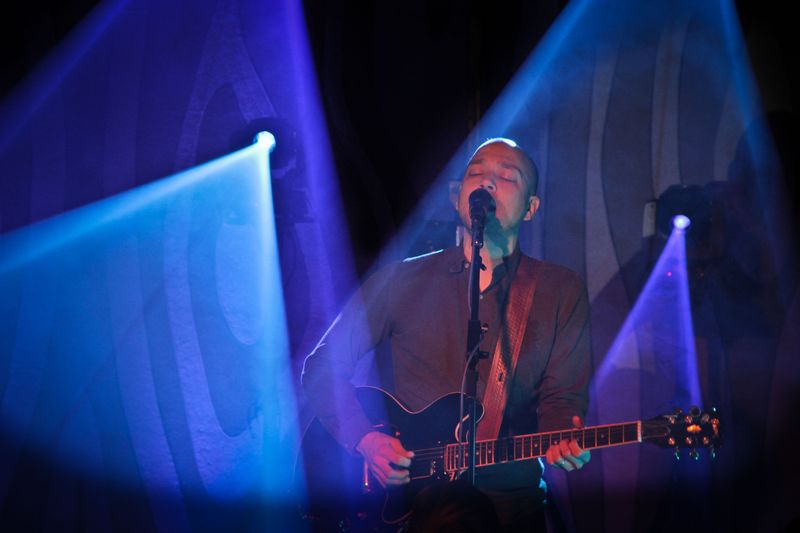 Clearly not strangers to the stage, drummer Benjamin Weikel and vocalist/guitarist Brandon Summers wasted no time diving into polished set chock full of characteristically uptempo numbers. With little fanfare on their own behalves, the duo drilled right into "Can't Say No," a sunny, sharp, chorus-heavy number from 2008's Keep Your Eyes Ahead. Touching on many parts of their expansive discography, the band received a welcoming reception to a set list riddled with fan-favorites such as "Keep Your Eyes Ahead," "Hallelujah" and "October." Their melodic, melancholy anthems have made some evolution over the years, but are still naturally driven by Weikel's precise, eerily marionette-like drumming and Summers' smooth vocals.
Words by  J Fletcher
Photos by Mercy McNab