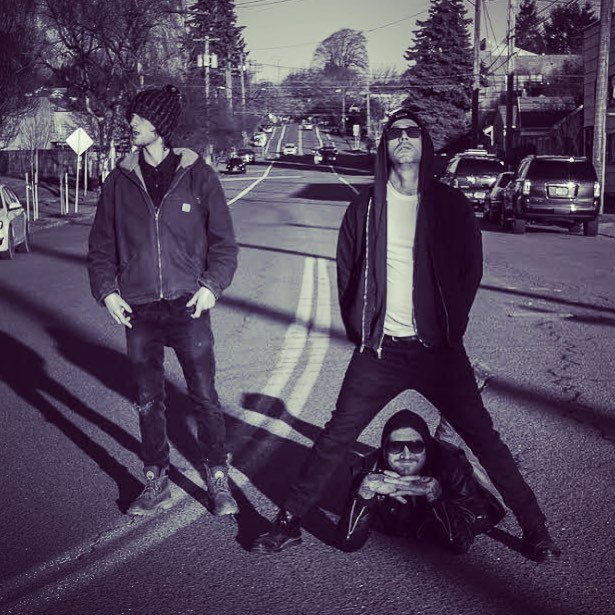 We talk about drying out and ending a metaphorical drought with Adrian Franscisco Rodriguez of Portland rock outfit El Sobrante.
What is your musical style comprised of? Who are some of your influences?

Adrian Francisco Rodriguez of El Sobrante:

Punk Rock is my first Love, especially early Nineties East Bay punk. That is the music that made me pick up an instrument. I was 13 when Dookie by Green Day came out. My mother, sister and I had just moved from San Francisco to Fresno, California. It was a drastic cultural shift to go from the diversity of SF to a mean little town like Fresno. Knowing that Operation Ivy and Green Day were from The Bay Area made very proud and I wanted to get out of Fresno.

Around the same time the films of Robert Rodriguez came to my attention (I've always been influenced by movies). El Mariachi, Desperado. I loved the idea of a musician turned assassin.

Other, earlier memories that made me want to pick up a guitar were scenes of Marty Mcfly playing Johnny B. Goode in Back To The Future and Lou Diamond Philips as Richie Valens in La Bamba. The Pulp Fiction Soundtrack introduced me to Dick Dale. I'm a nineties kid, ya know?

I'd say a lot of our style as El Sobrante is like an East Bay Punk Band playing an all ages show at the border wall. A little bit country, and Rock and Roll as fuck… con tapatio.
Your lyrics are often Bi-lingual, like the song "Ojos".

AFR: "Ojos" means "eyes" which I recognize as sounding like "I.C.E." . When The Big Orange came to power I forced myself to write a song in response, which wasn't easy because I am not fluent in Spanish. So I started teaching myself again. The way I thought about it was like trying to write a Dead Kennedys song in Spanish. "Esta soplando un veinto frio… " ("There is a cold wind blowing…") "Estan elevando el calor…" ("as they turn up the heat").
I am learning so much more Spanish from writing these songs and it is helping reconcile the two parts of myself that have been at odds for many years. I've often felt in between my Mexican and White-American Culture. Thus the album The Leftover=El Sobrante.
So, what does your latest album La Sequia Debe Final, represent?

AFR: Our new album La Sequia Debe Final translates to The Drought Must End.
We are a thirsty band haha. Right now all around the world poor folks are under attack by the global elite, it feels like there is a deep thirst of the soul. The huddled masses yearning to breathe free that our country was supposedly created to save.
I wanted to write this new album in part for my Grandfather, Alfredo Rodriguez. He came from Guadalajara to the US in the 1920's, there was nothing resembling a border at the time, he worked the Union Pacific railroads and became a citizen with very little education and bought a house in San Francisco in 1962. He decided he wanted more than what life was offering him. In that same spirit, people all over the world are in movement as I write this. This new album is a protest and a prayer for them con todo mi cariño.

How did you start playing as a band?

AFR: I didn't start out in Portland. I was chasing my tail in San Francisco for almost a decade. I was a young dad trying to work, but I struggled. I had addictions. I would always end up back at The Rodriguez House (with my Dad and Grandma). In 2013 my Son's Mother said she was considering moving to Portland and I jumped at the chance of getting out of The City. I felt really out of step with San Francisco by that time, and Portland welcomed me with my old band God's Hotel. We broke up almost immediately after getting here because I am an alcoholic.

So, I washed dishes and hung on until I met a dude named Jeremy, we started a garage rock duo called My First Mind in early 2014. I never did any booking in my old bands in California, I learned quickly that Portland already had plenty of garage rockers with cooler outfits and more connections than me, so we played The Ash Street (R.I.P.) a lot. Haha

On some of your previous work as My First Mind, you told the story of Linda Jean Smith?

AFR: My F.M. only made one album. It was a memorial album for a friend I had known living in an SRO (Single Room Occupant) Hotel on Polk Street in San Francisco.

She was in her late forties and a total mess when I met her, but she claimed to have been a famous porn star in the early eighties working with John Holmes, Ron Jeremy, Kay Parker, she even dated Don Henley of The Eagles at one point. We drank together and she even got me drunk and took advantage of me once lol. When I moved to Portland I became romantic about my hotel days in SF. I google searched Candy vintage porn star, nothing. It was only after I typed in Kandi, that Kandi Barbour the famous porn star appeared before my eyes. She was such a star!

Then I read her obituary that said she'd died homeless on the streets of the Tenderloin in 2012. No one claimed her body, when that happens The City dumps your ashes in the Bay. I needed to tell her story. I knew her only as Kandi but she used many aliases, Linda Jean Smith was one.

Did you get in trouble for the riske album cover?

AFR: We released In Loving Memory of Linda Jean Smith just before The Weinstein controversy and around the time the "p*ssy grabbing" tape came out.

I thought it was a beautiful photo of someone in their prime, and I know Kandi would have loved our sound and been proud of that photo. Facebook removed the photo from our page and I kinda let the record die. I think it was a great piece of work that wasn't fully realized and was released at an unfortunate time. I thought the subject matter was feminist as fuck but all many people could see was the porn aspect of it.

Why did I change from My First Mind to El Sobrante?

AFR: The name "My First Mind" comes from the Killing Floor Blues lyric, it was about trusting your gut.

From 2014 until the fall of 2016 we played drunken bar gigs around Portland. There were times, whenever I introduced myself as Adrian Francisco Rodriguez people kinda joked about how I didn't "look" Mexican. My impression was "this city loves to categorize things" .
My First Mind broke up in the fall of the election, and I quit drinking at that time.

Racism seemed amplified everywhere, and my Mexican half felt lost and needed a voice.
One day my wife was talking about her hometown in the East Bay of Cailfornia- "El Sobrante"-The Leftover! A light went on and my inner Mexican found a voice. My homie and fellow Californio Brandon Vaughan jumped in and started playing bass. We got Kevin Shoop from Nice Shootin' Tex to play drums for a while. Now we have The Pride of Lowell Mass. Mr. Nick James keeping the beat. El Sob is a BEAST.
How do you see PDX music scene shifting?

AFR: When I got here in 2013, it was all beards, flannel,craft beer, people smiling with acoustic guitars la la la! The old Iron Maiden listening,crust punk, tall bike,train hopping, scene had died. I was working kitchen jobs serving the new generation of tattooed condo dwellers. Places like The Ash Street Saloon and Club 21 were dying.
What's next for El Sobrante?

AFR: We have a handful of gigs left in Portland this spring and may be relocating back home to San Francisco this summer (thankfully we have the local hook-up in that crazy expensive city). But Portland hasn't seen the last of me. The older I get the more El Sobrante I am. It means The Leftover but I have come to look at it as being kind of a survivor. I am here for this reason and I'm gonna rock it til the wheels fall off.

Catch El Sobrante live during the Ides of March, at No Fun bar on 03-15-19.