What's Going On: 06/06 – 06/13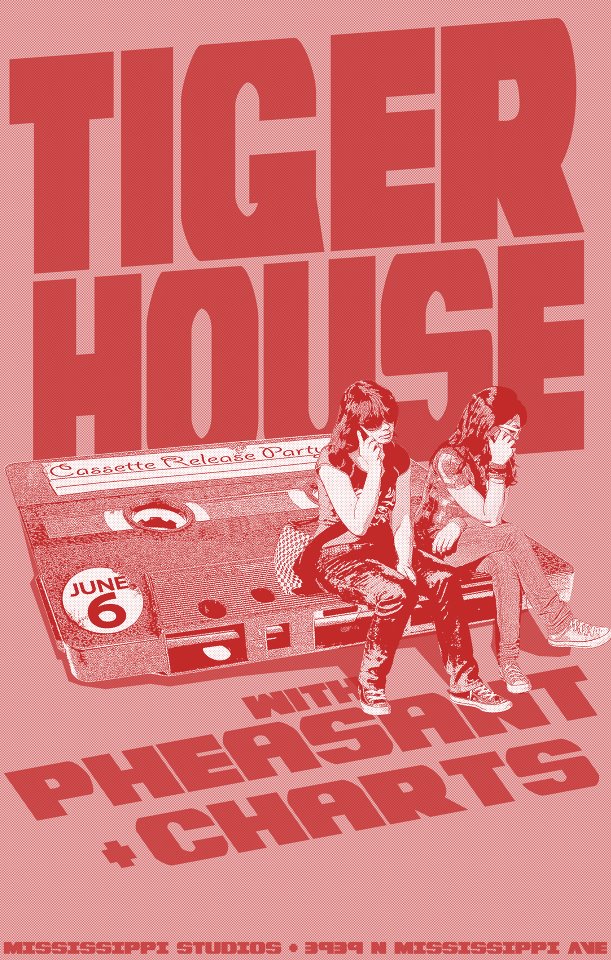 1. Pheasant w/ Tiger House & Charts
Where: Mississippi Studios
How Much: $5
When: Wednesday, June 6th -9pm
Why: Double EP release party time excellent! Tiger House is ready to put their four-song cassette, Acid Banshee/Camel Party, in the hands of the masses. They will make you dance with their infectious hooks and energetic pop songs filled with urgency. Charts offer up Tease, a deliciously crunchy lo-fi pop'n'roll treat that will satisfy, but still leave you hungry for more.
2. PDX Pop! Now 2012 Compilation Release
Where: Holocene
How Much: $10
When: Thursday, June 7th – 8pm
Why: It's that time of year again, and I shouldn't have to twist your arm too hard to cough up $10 for this year's stellar PDX Pop! Now Compilation. Featuring artists near and far: Grandparents, M. Ward, Y La Bamba, Youthbitch, Sons of Huns, Blood Beach, and thirty-five more of your favorites. The $10 includes a copy of the comp and enjoyable live performances by Sun Angle, Wild Ones, Hollywood Tans, Rose, and DJ Porsche Cayenne.
3. A Place To Bury Strangers w/ This Will Destroy You & Dusted
Where: Doug Fir
How Much: $12
When: Sunday, June 10th – 9pm
Why: The New York-based trio, A Place To Bury Strangers, have been making psychedelic shoegazy space rock tunes since 2007. Compared to its predecessors, the latest effort, Worship, has upped the ante. It's explosive, visceral, and a little dark. Both new and old tunes will sound fantastic at Doug Fir. Grab your ticket now and treat your ears to a night of brutally dynamic and melodic wall of sound.