What's Going On: 08/07 – 08/14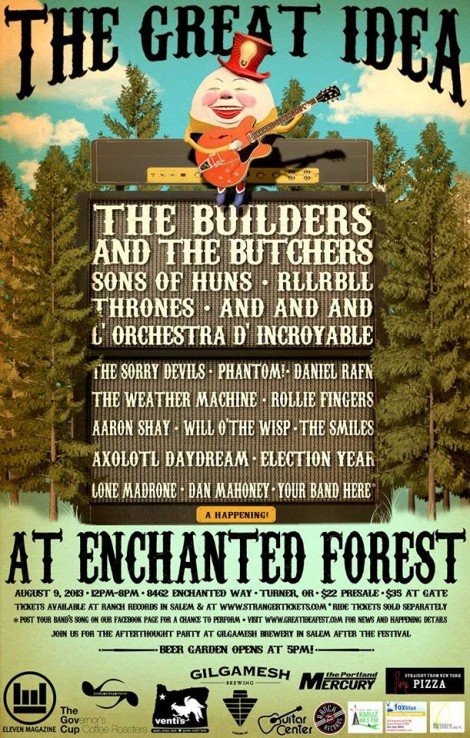 1. The Great Idea
Where: Enchanted Forest
How Much: $35
When: Friday, August 9th – 12pm-8pm
Why: As if you needed an excuse to head down to the Enchanted Forest, here are just a few good reasons not to miss this year's The Great Idea: And And And, The Builders and The Butchers, Genders, L'Orchestra D'Incroyable, and The Sorry Devils. Staying in town? Check out this awesome local show for only $5: The Woolen Men, Spookies, and Nick Delffs (of Shaky Hands). 8pm at The Know.
2. Bombón w/ Guantanamo Baywatch
Where: Bunk Bar
How Much: $5
When: Saturday, August 10th – 9pm
Why: Leave a spot on your dance card open Saturday night to shimmy and shake the night away! All-female surf rock trio (think The Trashwomen or 5, 6, 7, 8's), Bombón cruise up from San Pedro as part of their Summertime Fun Tour. With lightning fast guitar picking and Spanish punk vibes–it's the perfect summer cocktail.
3. Tango Alpha Tango w/ The Soft Bombs
Where: Rontoms
How Much: Free
When: Sunday, August 11th – 9pm
Why: August is a super solid month for Rontoms Sunday Sessions featuring local and regional acts. This week brings us Portland's Tango Alpha Tango and Nevada City, California's The Soft Bombs. As always, it's free, fun, and will fill up fast! Get there early and secure your cozy seat up front!