What's Going On: 8/17 – 8/24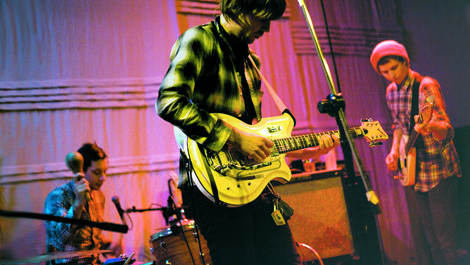 1.  Mister Heavenly w/ WATERS & Anne
Where:  Branx
How Much: $12(adv)/$14 – All ages!
When:  Thursday, August 18th – 8pm
Why:  Members of The Unicorns/Islands, Man Man, and Modest Mouse released their debut album this week on Sub Pop. So far they've been hanging out and celebrating at Flavour Spot and will continue to do so late into night this Thursday at Branx.  Come join the feel-good pop supergroup and bask in the afterglow. Sure, dancing is optional, but come on, get down and pick up a record.
2.  Royal Baths w/ Broken Water, Hornet Leg & Psychic Feline
Where:  East End
How Much:  $8 (+21)
When:  Friday, August 19th – 9pm
Why:  Royal Baths are grimy, yet melodic stoner psychedelia from San Francisco. Hailing from Olympia, Broken Water brings us brilliant post-punk. Rounding out the evening are some of Portland's finest rock'n'roll trios. $8 is clearly a bargain for 4 very talented bands.  It's Friday and it's the best show you'll find in the city.
3.  Shannon and The Clams w/ White Mystery & The Men
Where:  East End
How Much:  $8 (+21)
When:  Monday, August 22nd
Why:  Shannon Shaw and Alex White are two ladies of rock who know how much hard and tedious the music world (which is dominantly a man's world) can be. With this in mind, both front rock'n'roll bands—and man, they sure do kick some ass at it.  Shannon, with her beloved Clams, has an amazing set of pipes and knows how to use them. Whereas Miss Alex White, has a Rickenbacker and isn't afraid to shred.