The Fresh & Onlys @ Mississippi Studios 9/18/2013
One of San Francisco's most prolific bands rolled through town Wednesday night as part of their short West Coast tour in support of their forthcoming EP, Soothsayer.
The Fresh & Onlys have been making music together for over five years, trading off full-length and EP releases every year since their incarnation. For a Wednesday night, the quartet drew a respectable crowd of attentive and grateful fans.
The night began with some witty banter from frontman Tim Cohen, as a potentially problematic intoxicated fellow demanded attention. Cohen half-seriously ordered the gentleman to the back of the room in exchange for someone more deserving to reside in the front row. All jokes aside, Cohen then invited him on stage to which he responded with a poke to Cohen's leg.
The band stripped down to a three-piece with a minimal drum kit and no bassist for the first part of the evening. They captured the ears and hearts of the room with a beautiful version of 2010's "I'm A Thief". Guitarist Wymand Miles had his instrument sounding like near-perfect replicates of melodic horns and keys. Next up were a few tracks off of their most recent full-length, Long Slow Dance. "Dream Girls", complete with snapping fingers and a bittersweet reminder that you can have anything in the world, but you can never hang on to a dream girl.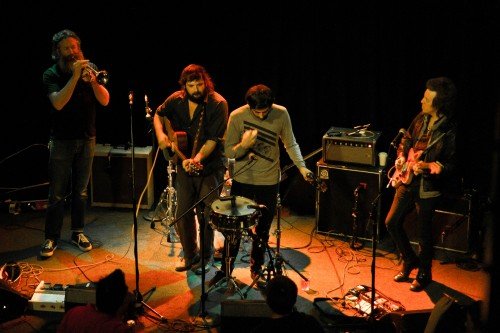 In a completely an unexpected and welcome turn of events, Portland's own Old Light frontman, Garth Klippert, joined the band on "Executioner's Song", lending his trumpet skills to the expressive folk-pop tune. Continuing with the guest appearances, Woods' Jarvis Taveniere hopped on stage for bass duty for a pair of Play It Strange songs, giving fans a pair of their best songs: "Waterfall" and "Until the End of Time". 
The set came to a close after playing the title track to 2012's Long Slow Dance, with Cohen praised the crowd, "Thanks, you guys have been great! Except for you (points to the obnoxious fellow in the front), but you still get a t-shirt."
Words by Wendy Worzalla
Photos by Elias Parise