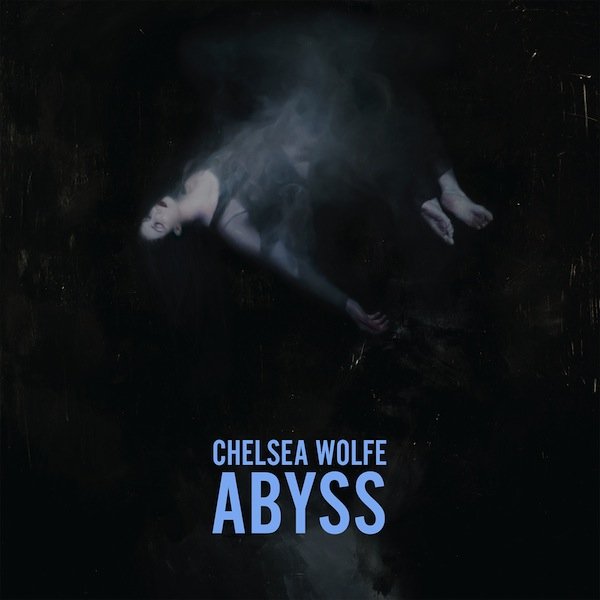 When listening to Abyss, the new record from Chelsea Wolfe, one gets the feeling that a most lamentable tragedy has befallen the folk/drone/metal songwriter and thrust her into an existential black-as-space-darkness which she is now helplessly adrift in. The album is obsidian in it's darkness, almost crushing in its desperation, and it's Wolfe's finest and most engaging work to date.
Chelsea Wolfe made a name for herself via intriguing records that uniquely and deftly presented an intersection between gothic neo-folk, heavy drone and metal, like 2010's Apokalypsis and 2014's Pain Is Beauty. With Abyss, Wolfe has plunged even further down into the shadows of her psyche and emerged with a record that is as jarring as it is enjoyable. Wolfe has said she wanted the songs to be fun to play live, and perhaps that goal is where she and producer John Congleton (St. Vincent, Swans, Antony & the Johnsons) struck such inspirational gold.
Abyss announces itself violently and without apology from the opening seconds of first track and lead single "Carrion Flowers," which is basically the musical equivalent of getting punched in the damn face. Having now listened to the record several times, I'm very surprised the track was chosen as the lead single, considering the more nuanced material that follows it. For instance the next cut, "Iron Moon," with its juxtaposition of sudden intensity and surprising delicacy, is to me a more complete picture of what the record is all about. Wolfe has said a large inspiration for the record was her ongoing battle with sleep paralysis–the terrifying condition where a dreamer is basically stuck between REM sleep and waking up, and suffers horrifying hallucinations of dark figures in the room with them–so perhaps "Carrion Flowers" is her way of announcing the nightmare has begun.
But it's not all night terrors and boogiemen on Abyss; on the contrary–Wolfe masterfully blends the gloom and harsh drones with a hopeful vulnerability that makes the listener begin to hope she can awake from this jarring dreamscape unscathed. Interesting sounds abound on Abyss: church bells, haunting synthesized vocal samples and the viola work of collaborator Ezra Buchla are all expertly placed throughout the record, and help break up the crushing sound of much of the album. The gentle (but still quite haunting) tracks like "Crazy Love" and "Simple Death" show just how dexterous Wolfe's abundant musical talents are.
For me, the centerpiece of the record is "After The Fall," a track which is undoubtedly among Wolfe's finest to date. Haunting, banshee-like vocals, thunderous drums and a sparse, melancholic piano line lead into Wolfe's chilling opening lines: "Nothing will keep us apart / I said nothing, will keep us apart / I know that you'll find me there / After the fall." It's as if she's some sort of reverse Eurydice, trying desperately to lure Orpheus into the Underworld so they'll never have be apart again, all while a chorus of devilish guitars crash all around Wolfe's magnificent, pleading vocal turn.
The only thing more prevalent than darkness throughout Abyss is its haunting beauty, and while Chelsea Wolfe has made a career out of blending the two, this record represents a step forward, and shows an artist at the height of her powers. Never before has Wolfe co-mingled the two extremes between her heavy-as-a-mountain side and her delicate folk talents with such agility, and never before has she achieved such dizzying heights. Like a great David Lynch film, Abyss is one nightmare you might not want to wake up from. »
– Donovan Farley