"A Moon Shaped Pool" by Radiohead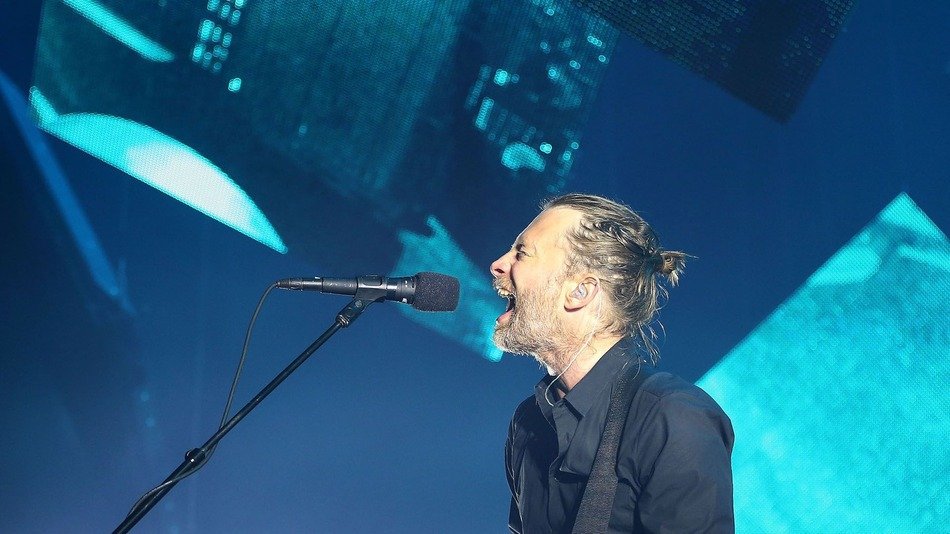 "What's your favorite Radiohead album?"
If you had asked me a week ago, I would have given you one of two answers with great conviction. If I was trying to sound cool and professional, ranking from a production and artistic merit standpoint, it would definitely have been Kid A or OK Computer. If I were being completely honest from the heart of a die-hard fan that feels the songs at an emotional level, it would either have been The Bends or In Rainbows. Ask me now and I can answer with equal conviction that my favorite Radiohead album is the one able to find a happy medium.
A Moon Shaped Pool, the band's ninth studio album, was released this past Sunday, and in brief, it's exactly what you'd expect from a Radiohead album — and that's why it's so great.
I waited anxiously on Sunday evening, with what I assumed was the whole world, for the record to drop. The release of the two singles, "Burn the Witch" and "Daydreaming" had already whet my appetite for the long-awaited new record. For all the prior hype, I was relieved that when I finally listened to A Moon Shaped Pool, I found it every bit the masterpiece I'd hoped from Radiohead, whose strong history only makes a potential bomb more perilous.
From the opening track, there's something so familiar and comfortable that emanates from the album, due mostly to seven of its 11 songs having already been heard in some form. Radiohead are known to let songs percolate, and most of these have undergone some changes over the course of the band's history.
A Moon Shaped Pool is a poignant, agonizing, harmonious triumph from start to finish. Throughout the album, Radiohead explore devastation on the environment, carelessness of the masses, love gone awry, and that eternal realization that life is both beautiful and tragic, and there's peaceful sadness in acceptance.
However ambitious these themes are, they're not a surprise. Since the band's studio debut in 1993, Radiohead have used their music to warn us: Whether that was a desperate plea to acknowledge technology's incursions on the individual (OK Computer) or what Thom Yorke described as "the general sense of ignorance and intolerance and panic and stupidity" following the 2000 election of George W. Bush (Hail to the Thief).
So, what makes this album great?
Attempts at sonic newness aren't as obvious on this record — at least not in the same way an album like Kid A contrasts, say, In Rainbows. On A Moon Shaped Pool, Radiohead gather from their past, their entire careers (both in group and individual projects), and produce something so similar and so comforting and so Radiohead.
I will say, though, the band's constant use of orchestral scoring heightens the listening experience. There's an added texture to the songs, as the strings serve a physical effect, which has been shown throughout their discography. "Burn the Witch" is driven by a frenetic string section so thrilling that it creates an anxious-filled space over which Yorke sings, and paired with its dark lyrics, helps makes the song even more unsettlingly gorgeous.
The album's second track, and quite possibly my favorite, sounds like a haunting lullaby. "Daydreaming" begins with a solemn billow of piano that invokes an incredibly complex ambiance of whimsy, peace and hidden fear. That emotional haze is embellished further by Yorke mewing over the melody, "Beyond the point of no return/and it's too late, the damage is done," which all ends in a breathtaking orchestral finish.
Despite a plodding start, "Ful Stop" is sure to be a fan-favorite; it achieves liftoff when the rest of the band joins Yorke in the second half. Easily an album standout, "Identikit" is eerily reminiscent of songs like "Idioteque." Its pulsing energy and killer drumbeat are perfectly topped off by a Jonny Greenwood guitar solo.
Track nine, "Present Tense," exposes Thom Yorke's excessive introspection when he asks if "all this love will be in vain." (Those looking for an autobiographical read of the heartache might refer to Yorke's 2015 split from longtime partner Rachel Owen.)
The breadth of the album is perfectly constructed, perfectly beautiful — but "True Love Waits" completes the achievement. This song has been in Radiohead set lists for nearly two decades, but had never been given a studio recording until now. And I'm warning you (because it happened to me): this song may leave you in a puddle of tears. Spaced-out piano accompanies Yorke's delicately pained vocals, and simple strumming builds to the song's naked, begging chorus of "don't leave, don't leave." We've known this is well within Radiohead's capacity, but the track is a masterful example of their command over human emotion in song.
This album is ultimately a great addition to a discography that's so self-aware, so intelligent, so painfully beautiful. A Moon Shaped Pool epitomizes a career-spanning Radiohead sound, and as we know from experience, whether it's a key change, a drum solo, a scream or a howl, that sound can produce goosebumps.