What's Going On: 10/09 – 10/16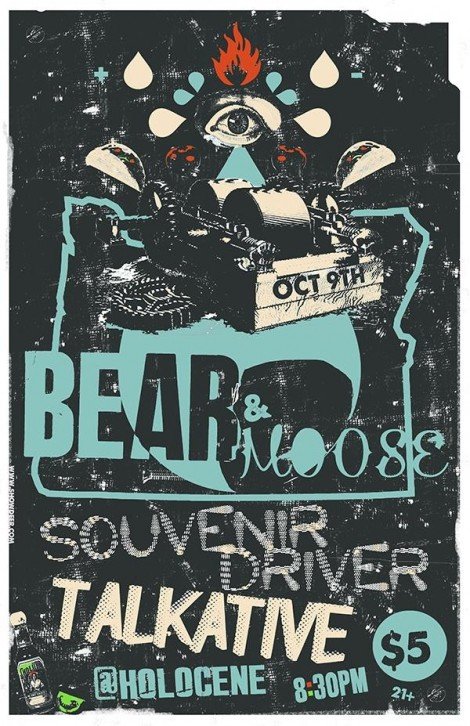 1. Bear & Moose w/ Souvenir Driver & Talkative
Where: Holocene
How Much: $5
When: Wednesday, October 9th – 8:30pm
Why: A trifecta of amazing Portland bands on one bill for a measly $5? I doubt you will need much more convincing here, but just in case…this will be Bear & Moose's last show for a while. The band has been working hard to deliver sounds you haven't heard from them yet. Come rock out to their latest tunes with the equally awesome Souvenir Driver and Talkative opening.
2. Lumerians w/ Tjutjuna & Swahili 
Where: Bunk Bar
How Much: $8/$10
When: Thursday, October 10th – 9pm
Why: Do you have your tickets yet? No? Well, don't procrastinate on this one, folks because this show will surely sell out. San Francisco's psychedelic space rockers, Lumerians, will bend walls of sound and minds alike. Don't miss out on the opportunity to experience this 5-piece in an intimate setting.
2a. Guitar Wolf w/ The Coathangers, Coward & The No Tomorrow Boys
Where: Dante's
How Much: $13.50
When: Thursday, October 10th – 9pm
Why: This Japanese garage rock power trio has been releasing albums since before most of you were born. Think of The Ramones, Link Wray, a mash-up of rockabilly, punk, and garage rock, and you get Guitar Wolf. All-female Atlanta quartet, The Coathangers, will get you in the punk rockin' mood with their devil-may-care attitude, hypnotic basslines, and sassy vocals.
3. Streetcar Mobile Musicfest 2013
Where: Portland Streetcar Loop (Eastside)
How Much: Free-ish
When: Saturday, October 12th – 6pm-9:30pm
Why: The 3rd annual Streetcar Mobile Musicfest features live music by local bands on the Portland Streetcar Loop! The festival itself is free, but you do need a valid fare ($1)  to ride the Streetcar. This year features: Hands In, Blue Cranes, Alameda, The Weather Machine, The Parson Red Heads, Sama Dams, A People's Choir, Thanks, Bevelers, Big Haunt, Eidolons, and Mbrascatu.

3a. KZME's Stumptown Music Fest
Where: Alhambra Theater
How Much: $5/$7
When: Saturday, October 12th – 5pm
Why: After riding around on the Streetcar Mobile Musicfest, why not hit up another? The first annual Stumptown Music Fest presented by Burgerville, will feature eight awesome local bands: Minden, Dresses, Alameda, Bike Thief, Like a Villain, Sara Jackson-Holman, BillyGoat and The Lower 48! Also special guest emcee Adam Shearer of Alialujah Choir and Weinland.