Premiere: Helvetia – "Sun Chasers" Single + Video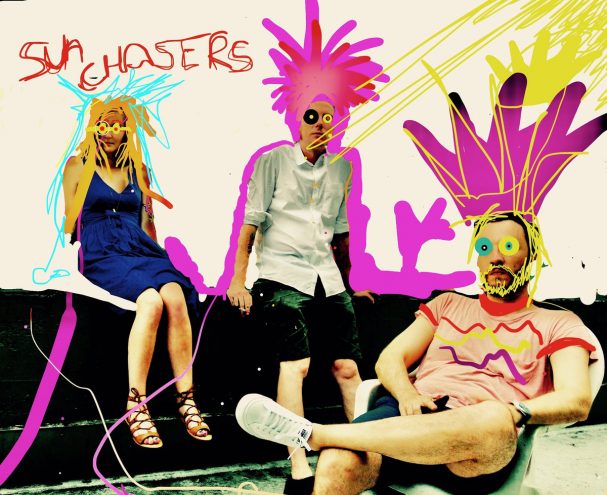 Masters of tone, texture and melody, Portland-based Helvetia are writing some of the smartest indie rock, to our knowledge (and in our opinion), to date. Following up on their 2015 LP Dromomania, the four-piece outfit lead by Jason Albertini (also of Built To Spill) is back with a new four-song EP, Sun Chasers.
The aptly titled collection of songs was written in the midst of Portland's rainy season, summoning the sun demons to dry us out and warm our souls. Officially available everywhere on Tuesday, July 25, in the middle of a particularly scorching Portland summer, it's safe to say the group succeeded in bringing the heat. The four tracks touch on everything we love about Helvetia–psychedelic guitar screeching, undeniably grooving drum and bass hooks, and even the downtempo lo-fi oddities reminiscent of their earlier recordings.
With this self released EP, Helvetia is getting creative. Not only is it available digitally in .MP3 and .WAV format (both 16 bit at 48 and 24 bit at 96), but it will be released on 7″ vinyl available September 22 with hand screened 15 point matte card stock sleeves with different artwork, AND they've even made a run of 50 limited edition beach towel to accompany the release. Purchase the digital download this week and save $10 on the beach towel. Order a beach towel (while supplies last) and get a free 7″. Purchase the digital album and the beach towel and they'll also send you a photo book of them "doing various random shit." One more bitchin' perk to ordering the beach towel? They'll send you one stream-able snippet each week of 10 new tracks off a forthcoming full-length album.
Stream our exclusive premiere of the new EP's title track, "Sun Chasers", and watch the accompanying video for it below.