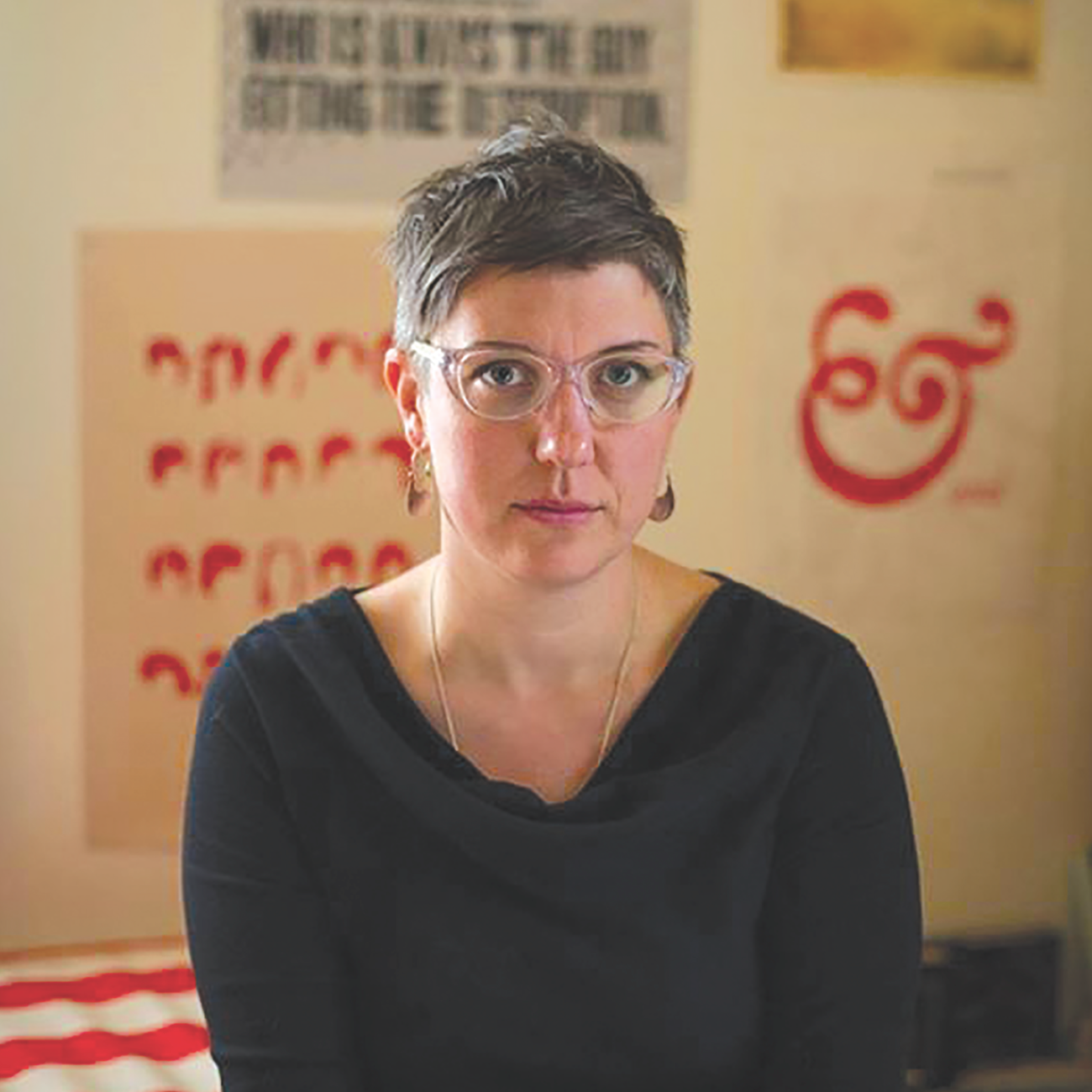 As afternoon turned into evening on April 15, Mother Foucault's Bookshop could barely contain the massive crowd that assembled for the reading of A.M. O'Malley's book Expecting Something Else (University of Hell Press). It was the place to be in Portland that Friday night, with the anticipation spreading on social media beyond the literary community. All the buzz was well deserved as O'Malley delivered a wondrous reading from her new book, the first full length release from the local poet.
The writing in Expecting Something Else [buy it here] is a poetry/prose hybrid based mainly on the mother-daughter relationship. Without punctuation, the poems read in a stream of consciousness fashion, and flow without losing the reader in the weeds. Because of their brevity and precision of imagery, the prose poems succeed in delivering you directly into memory. This arrangement between the writer and reader does not always take place, especially in poetry, where abstractions can get in the way of understanding. What O'Malley has done here is to bare her (and her mother's) reality in a way that is almost tangible. When she describes her mother hearing the echo of her own head hitting the pavement after falling off a motorcycle, the image is striking, almost too real.
The book is written in three parts marked by a series of asterisks – growing up, adolescence and "eloping," and adulthood and loss. The segments are shuffled together but still cohesive, like the far-removed storytelling of a past life. This form of writing is what distinguishes it as both poetry and prose, but not the traditional memoir, or thinly veiled fiction. There are also visual poems, that are cut up from another work, and act as chapter breaks.
These days, A.M. O'Malley serves as Executive Director of the Independent Publishing Resource Center. Between running that non-profit organization, teaching at Portland Community College, and teaching creative writing to incarcerated men, she sat down with me for coffee at Ford Food and Drink. The first thing that struck me about her after reading Expecting Something Else was her amazing memory for detail. I learned that she could remember as far back as age three, and always kept a diary. I found that I shared similar memories from the '80s – my mother also watched One Life To Live while exercising and drank Tab.
ELEVEN: So how did this book come to be?
A.M. O'Malley: The book really started as a traditional prose memoir. I had a complete draft of it finished and then went on a writing residency in Wisconsin where I was able to put all the pages on the floor and on the walls and get the book's scope. It was then and there I realized that the book needed to be in a different form, that I wasn't getting the emotional impact and narrative freedom I needed in a more traditional form.
11: Why did you choose to not use punctuation?
AMO: The idea to take out the punctuation was that of my editor, John Barrios. John and I agree that the lack of punctuation gives the book more openness to lyricism and interpretation. It was a scary choice but I am happy with it now.
11: Your writing has such a lyrical, storytelling quality to it. Can you explain about how this form reveals emotional truths?
AMO: I think that the form gets at emotional truths because I worked hard to come from the gut, to show as much as possible–rather than tell–and also allow the reader to have their own interpretation and hopefully their own connection to the work and the stories therein.
11: You use the not-so-common definition of eloping here. Where does this theme come from?
AMO: I was in a writing group for many years, we called ourselves The Thank You Writers, and my friend from that group Thomas Mowe was the one who told me about the secondary definition of elopement – to run away with no destination in mind. That idea just struck me as true to my experience of leaving home when I was 17, I was just wandering with no destination and that part of the book explores that time in my life.
11: Can you tell us about those visual poems that appear every few pages?
AMO: Those are erasure poems. They are all from the book My Mother/My Self by Nancy Friday. The book was published the year I was born and I started making erasure poems from it with no idea that they might be a good addition to Expecting Something Else, but in the editorial process I showed them to my editor and publisher and we decided they provided a nice compliment both thematically and visually.
11: The book is organized by a series of asterisks. Can you expound on this process a bit?
AMO: There are essentially three long sequences, marked by the asterisks, so you can read the book by the asterisk guide or straight through. The sequences are shuffled to get even farther away from a narrative. »
– Scott McHale