Battles @ Wonder Ballroom 10/13/2011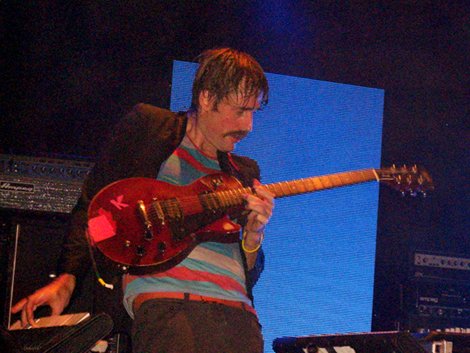 "I scream, you scream," cried the young bloods for Battles. Then we all screamed from the floor of the Wonder Ballroom as the soft keyboards gave depth to the dark room.  As illuminations of the childhood treat captured the hearts of the audience, the gyrating melodies of Ian Williams (keyboards, guitar) penetrated their nervous system, the triumphant kicks of John Stanier (drums) assured there was life in this rock 'n' roll monster. When featured artist Matias Aguayo gave face to their hit, "Ice Cream," from two giant screens behind them, the crowd was certain Battles had delivered on what Dave Konopka (guitar, bass, effects) knew all along – this was a goddamn good time!
This left only one question: "Do I dance, jump or flail?" If you're like me, then jumping and flailing are your only dance moves, so the answer was simple.
I wasn't the only one. Roaming fog clouds and plaid shirts soaking up e-bells like Oregonian manic raindrops and Ian William's slammin' mustache contrasting an elegant blazer gave the show a hometown feel despite that Battles hails from NYC. Portland crowds have always been fantastic with their hospitality and this crowd was no different, seducing the quintet to line the front edge of the stage, giving Battles such intimate presence that each tom blast from John Stanier felt like a high five.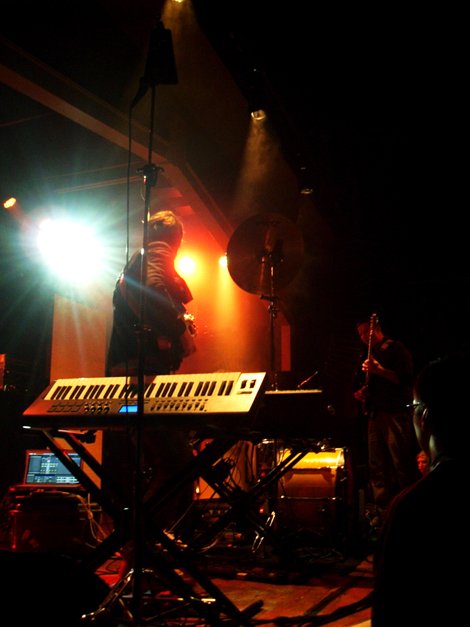 For those who are unfamiliar with Battles, the best way I can describe them is: never boring. After front man Tyondai Braxton left the band following their breakout and revolutionary album Mirrored the band became predominantly instrumental. Featured artists like Matias Aguayo on their new album Gloss Drop take on the responsibility of vocals giving great diversity to each song. Whereas "Ice Cream" (feat. Matias Aguayo) takes on a persona of Animal Collective, "Sweetie & Shag" (feat. Kazu Makino) takes on more basic song structure with vocals similar to Shirley Manson. A song like "Futura" gives you a better sample of the band in and of itself. Building from other math-rock bands like Ratatat and Black Moth Super Rainbow, Battles is exceptional with its strong rhythm section in Stanier who gives the band heart; A heart that instills confidence while sound pioneers Ian Williams and Dave Konopka lure you around each corner of this precarious and exciting adventure.
So, to say it simply, the show was great. If you missed them, then try not to let it happen again for your own sake.
Article and photos by Billy Dye. More on Flickr.