Cut Copy @ Wonder Ballroom 10/09/2011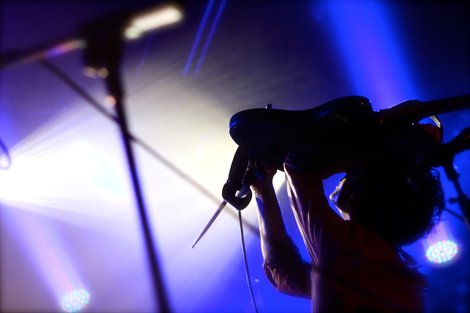 As Washed Out bobbed the crowd gaily and with sense, the unease could be satisfied by one means alone: Cut//Copy.  Wrong me not, Washed Out was our climactic buildup to a dancing fervor; It's that Cut//Copy was more.
Shivering dance beats. Evil permeation, but with love and kindness. It felt right. The filled house of awestruck wonderers had the smiles of ten thousand survived buffaloes. It was a stampede of exuberance that carried on, non-stop from go.  By the time Dan Whitford and Co. returned for the star-lit encore of "Need You Now," the house was sweat-drenched and exhausted, and if they listened to their bodies they would head immediately home, drink three glasses of water and pass out.
Instead, we listened to our souls and headed to Holocene for Dan's afterparty and DJ set, with a lead-in set by Brooklyn's funktastic Midnight Magic. We danced. A lot.
Crikey, mate. I'm spent. – Ryan Dornfeld
photos by Gabriel Granach. More on Flickr.