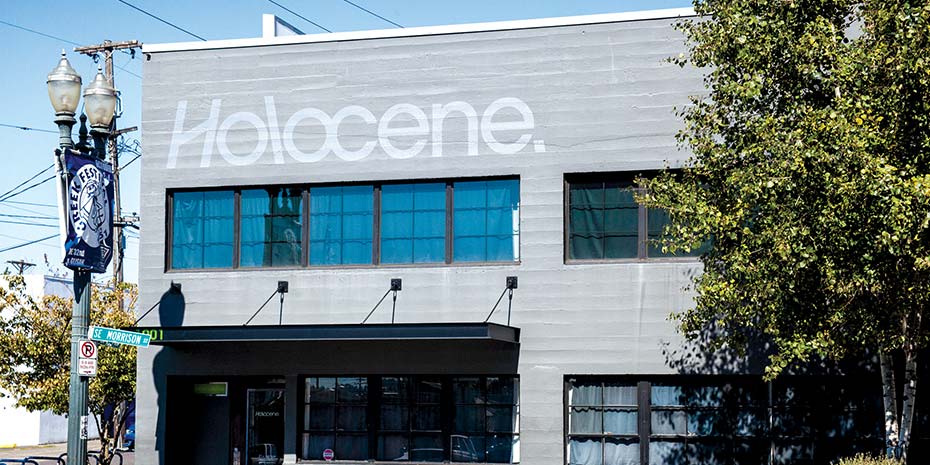 Based in a city that is so consistently dominated by sounds of indie rock, Holocene is the Portland music venue that set out to tap into the scene that wasn't so prominent at the time. Way back in 2003, when the electronic scene we know now was just a blip on the radar of Oregonian music minds, Scott McLean and Jarkko Cain were coming in hot from their immersion in the much more mature dance scene in San Francisco. Since Cain was originally from Portland, it was time to come home and leap into the techno sphere that was wasn't all that present yet.
That leap came in the form of the late two-story auto parts warehouse on Morrison Street in East Portland. Out of economic necessity, old flooring and framing were transformed into a stage and even hold up some still existing furniture. White walls dominate a sweeping view of the place and prove versatile in the venue's range of hosted events (such as art shows). The two rooms (with a smartly folding dividing wall) make it easy to provide space for both a DJ booth and a stage, in turn boosting Holocene's availability for just about every night of the week.
Weekends at Holocene are usually booked with DJ dance parties, utilizing the warehouse atmosphere for their nightclub side of the business. Weeknight events span from Gaycation, a monthly queer dance party, to InFARMation, a regular event about Oregon farm and urban community. Every event in between brings loyal guests who pay homage no matter the difference in theme nights. And many times it's the ever-changing crowd that establishes itself as the most exciting part of the industry for the venue.
But what Holocene really strives to provide is genre-bending music, and if their bookings don't prove it then their record label on the side just might. Although on a bit of a recess currently, due to the launch of the artist management company Nature\\Nurture, Holocene Music has been around since about 2005. It started as an avenue to release a compilation of remixes from Portland based artists, It's Importland To Me To Be One Step Further Than One Step Beyond. Though not as active as it once was, there's still potential for releases in the future.
Artists like Grimes, SZA, and Dan Deacon have graced the stage at Holocene, with one of the most recent acts being Empress Of. Though they prefer to book local artists, the national talent that rolls through proves relevant and doesn't hinder their goal of pushing boundaries. It's a space where anything goes as long as you're having fun and can handle a little experiment from both the crowd and the DJs. »
– Gina Pieracci