Sallie Ford & The Sound Outside @ Doug Fir Lounge 12/21/2013
Wooden Indian Burial Ground was tearing up the stage, banging around and still throwing in their echoing "woop!" to keep it psyched out. Together they played, but each of the three players flowed inside their own space. This time the drummer was moved to the center, coordinated were the beats while his movements danced like Animal. His stocking cap was gonna fall off with each song's frenzy, but he kept putting it back on anyway.
Backstage Sallie Ford & The Sound Outside were readying for their second night playing the Doug Fir, their final pair of shows together.  Sallie sat on the floor carefully plotting out a set-list complete with notes on where to add reverb or stretch an ending. Drummer Ford Tennis was focused on practice with a drum-pad, and on-stage,  Sound Outside guitarist Jeff Munger joined WIBG for a final song. The previous evening's opening band, A trio of rock-girls called And The Kids would join Sallie on stage later to contribute vocals, but for now they gathered everyone into the green room to thank them with Christmas gifts -including a wrapped cucumber for the bassist Tyler Tornfelt, and a nice bottle of sparkling booze for Sallie. Sallie was aloof, just a hint of excitement and preparedness, trying to decide whether to don her panther tights. In the end she went bare in a green dress, her diving girl tattoo, and those sparkly horned-rimmed spectacles.
As they made their last preparations, the crowd chanted her name, and cheers erupted as they made their entrance and jumped in with "The Eagle Has Landed", an instrument forward rock anthem that rides like a wave. This has been a band with a reputation of raw rock n'roll, of "Rockability": mingling blues, garage rock, surf tunes, and some old-time sentiment into a modern package that is both defiant and sultry. Like the name of their last full length, there is pride in being an Untamed Beast. 
    The law was laid with attitude and steady beats. Heavy-handed bass was in hand and upright, and there is a clear energy between the guitar play of Sallie and Jeff. Without the guitar, Sallie puts on a cutesy swing-time sway, but her lyrics have bite. She crooned "That bitch she locked me up in a cage", and covered Loretta Lynn's "Fist City" (a physical warning in the sweetest sense).
       There was also a cover of "Whole Wide World" by Wreckless Eric, a track from the band's last hurrah, a vinyl only Summer EP. Who knows how their future paths will cross, but the band obviously has chemistry and well wishes for each other as they each pursue their own projects. Sallie is said to be writing an album to lead an all-girl band out of Portland.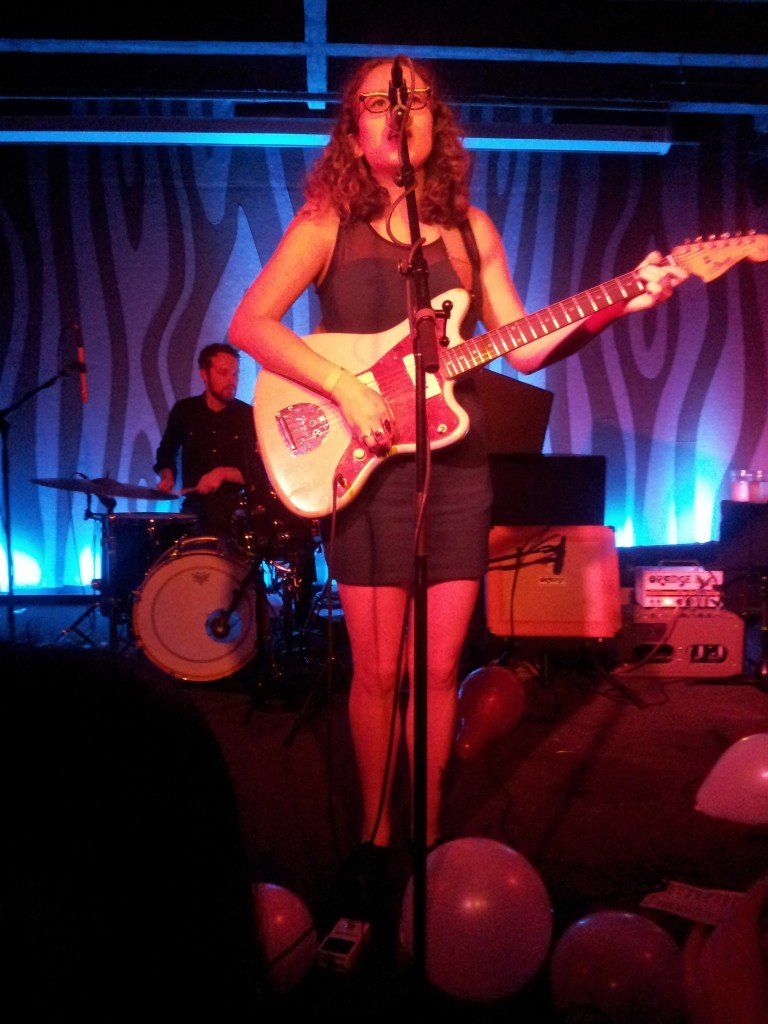 No-one knows where the balloons came from (maybe it was the Party Boyz?), or where that flying bottle came from (no Mr. Bouncer it WAS NOT me), but the raucous "Rock'n'Roll" and "Bumpin" were a fine ending to the band's run- a story to add to the legend of Sallie Ford and The Sound Outside.
Words and Photos by Brandy Crowe