Show Preview: Okilly Dokilly at Dante's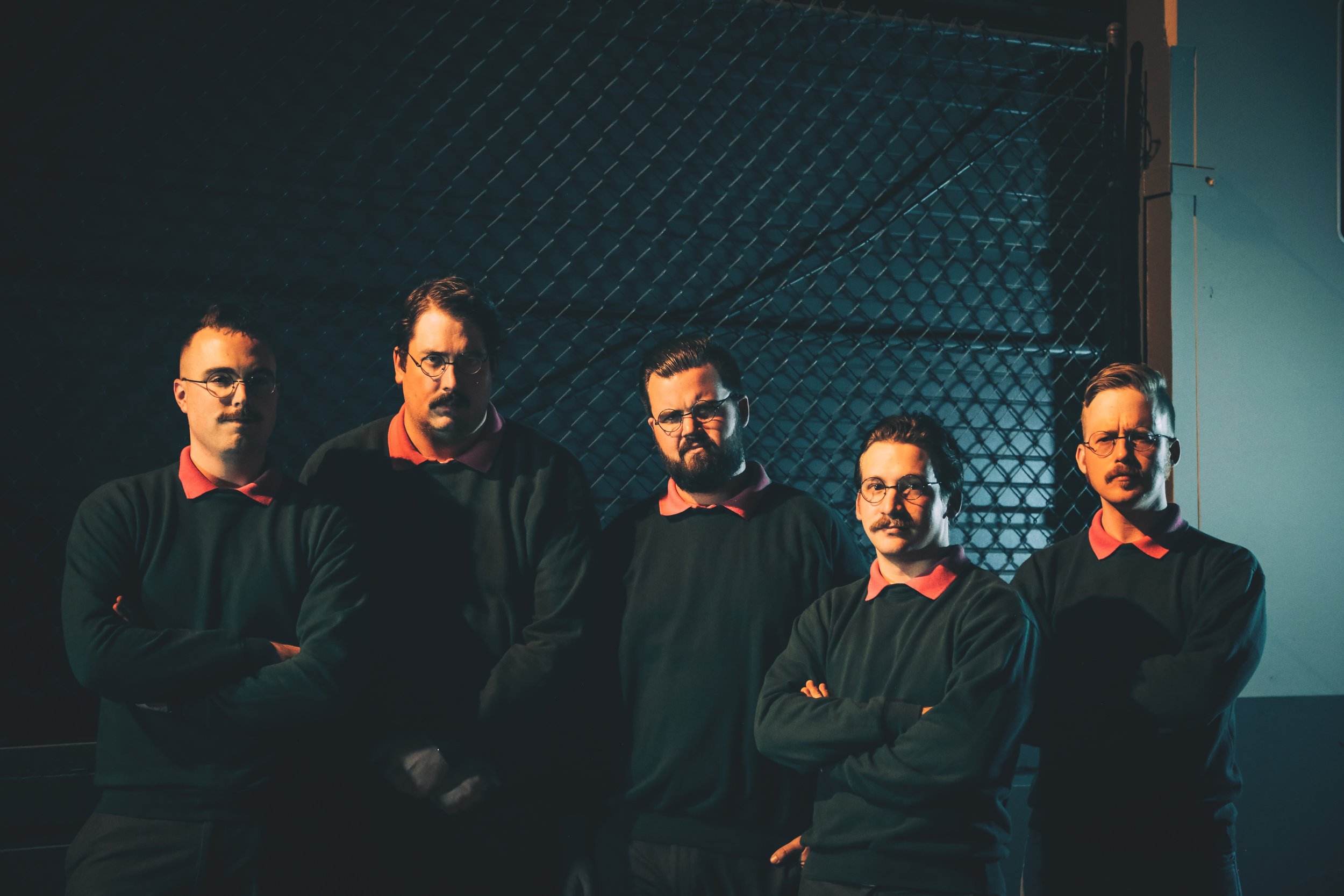 There's an episode of The Simpsons where the back of a building says "Keep Springfield Weird," so it's totally fitting that the Ned Flanders-themed metal band Okilly Dokilly plays Dante's tonight.
Although the band hails from Phoenix, Ned Flanders, like many of Matt Groening's Simpsons cast, is named after a street in Portland: in this case NE Flanders. And so Ned has landed, but instead of the pious neighbor, we have an enraged bizarro version split into five personas: Stead Ned, Thread Ned, Red Ned, Bled Ned and Hed Ned, all fitted with instruments and mics, and screaming quotes from the animated series to death metal.
We spoke to vocalist Hed Ned before the show about mustaches, pink guitars, and a song called "Mur-diddly-urdler."
Eleven: How did this happen?
Hed Ned: The idea of it kind of started with my drummer Bled Ned and I were coming up with really goofy names for this image of a really heavy band that we had in mind. What's the heaviest band we could think of with the goofiest name we could think of? From there somehow Okilly Dokilly came up, and we realized the word "kill" appears twice if we spell it a certain way.
I worked for a clothing manufacturer and could get polo shirts and sweaters for really cheap. Once we had the idea, which wasn't serious, we asked if our friends would be interested in playing in this crazy band, and that's how we ended up with a synth player. Never really envisioned synth in metal, but it's become part of our sound now. When Bled remembered he had a pink flying V guitar in his garage, we just knew. We decided to go all-out Flanders on it.
Eleven: Have you guys ever been to Portland?
HN: We haven't played a show in Portland; it's our first time in the Pacific Northwest. We know Matt Groening is from the area, which adds an extra element to us being there. We will probably be scooting around town if we have a little time before the show.
Eleven: How has touring been?
Hed Ned: Our first tour was with Mac Sabbath and Metalachi-a metal mariachi band, through the Midwest and East Coast. It was our first time on the road and getting an intro to living in a van and being Flanders in 20 or 30 different cities.
Eleven: Who are some of your musical influences?
Hed Ned: With this band, we love Thrice, August Burns Red, Motorhead. A couple of weird things that drive our direction are this Japanese band called Maximum the Hormone, which is a mix of J-Pop and heavy metal, and a lot of Metalocalypse.
Eleven: Do you all have the uncanny ability to grow Flanders-style mustaches?
Hed Ned: Yes, all of our mustaches are natural, with the exception of our drummer, Bled Ned, who had a full beard. We go with the storyline that he is the most grizzled and hardcore of the Neds, so he has all of this extra 'stache.
Eleven: Is this a parody of pent up rage that Ned Flanders may have?
Hed Ned: It wasn't a sounding idea for us, but where we pull our songs and stage show elements definitely goes along with Ned finally having snapped, and this is his musical expression by forming a death metal band. The stage show may include some severed Homer body parts. Of course a lot of our songs come from a particular episode, "Hurricane Neddy," where Flanders finally does snap and yell at the whole town.
Eleven: Every song is a Ned Flanders quote?
Hed Ned: About 75 percent of the songs are direct quotes from Ned. The rest are from other characters, usually directed at Ned Flanders, like our song "Sacrifice" is a Grandpa quote. Our song "All That Is Left" is an ode to the Leftorium, with lots of left-handed puns, and "Donut Hell" has a lot of original lyrics.
Eleven: Any appearances from Maude, Todd, or Rod?
Hed Ned: No Flanders family extras yet. But we are working on a tribute to Maude. We are working on a song called "The Last Thing," which is based on the quote from Ned: "The last thing that I bought for a woman was a coffin." We are readying our t-shirt cannon right now. There are usually bonus Neds at the shows though, which make for great and confusing photos.
Eleven: Any other new songs or videos in the works?
Hed Ned: "We are currently working on a video for "Godspeed Little Doodle" and a new song called "Mur-diddly-urdler."
Eleven: Are you hoping to get an animated spot on a new Simpsons episode?
Hed Ned: That would be a funny inception, a Simpsons-based band actually appearing on The Simpsons. It might happen; we'd be welcome to get that signature from Matt Groening.
Eleven: Leave me with a Ned quote for the day.
Hed Ned: Homer says, "Could Jesus microwave a burrito so hot that he himself could not eat it?"
Ned says, "Well, sure of course he could, but then again … wow, as melon scratchers go, that's a honey doodle."
-Brandy Crowe