What's Going On: 07/17 – 07/24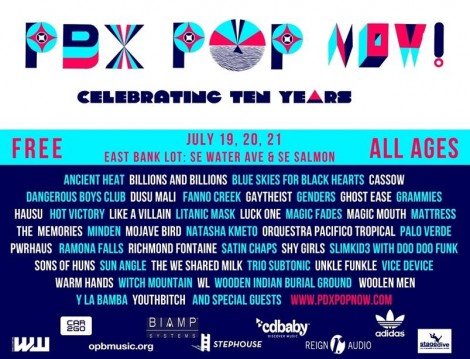 1. PDX Pop Now! 10th Anniversary!
Where: East Bank Lot
How Much: Free
When: July 19th – 21st
Why: PDX Pop Now! celebrates 10 years of stimulating and expanding your musical minds with a line up exploding with talented Portland musicians. This year, get sonically enlightened by Billions and Billions, Blue Skies for Black Hearts, Fanno Creek, Gaytheist, Genders, Ghost Ease, Grammies, Hausu, Mattress, The Memories, Minden, Mojave Bird, Orquestra Pacifico Tropical, Palo Verde, Ramona Falls, Shy Girls, Sons of Huns, Sun Angle, The We Shared Milk, Unkle Funkle, WL, Wooden Indian Burial Ground, Woolen Men, Y La Bamba, Youthbitch, and super special surprise guests!
2. Sometimes A Great Notion Festival
Where: Mississippi Studios
How Much: $12/night or $18/2-Day Pass
When: Friday & Saturday, July 19th & 20th – 7pm
Why: KZME Presents: Sometimes A Great Notion featuring Pinks Quieter, Pulse Emitter, White Fang, Das Fluff, and Pink Skull. Take a breather and come back Saturday night for Matthew Heller, The Maldives, Cambodian Space Project, Ken Stringfellow (of The Posies, Big Star, REM), and Rose Windows.
3. Houndstooth w/ Pearly Gate Music
Where: Bunk Bar
How Much: $7
When: Thursday, July 18th – 8pm
Why: Houndstooth's first full-length, Ride Out The Dark, just dropped yesterday on No Quarter Records. Do yourself a favor and check out the five-piece's first single, "Canary Island" and then get your butt to Bunk Bar for the band's record release show! Zach Tillman's solo vessel, Pearly Gate Music, opens with his extraordinary vocals and melodies.