Thao and the Get Down Stay Down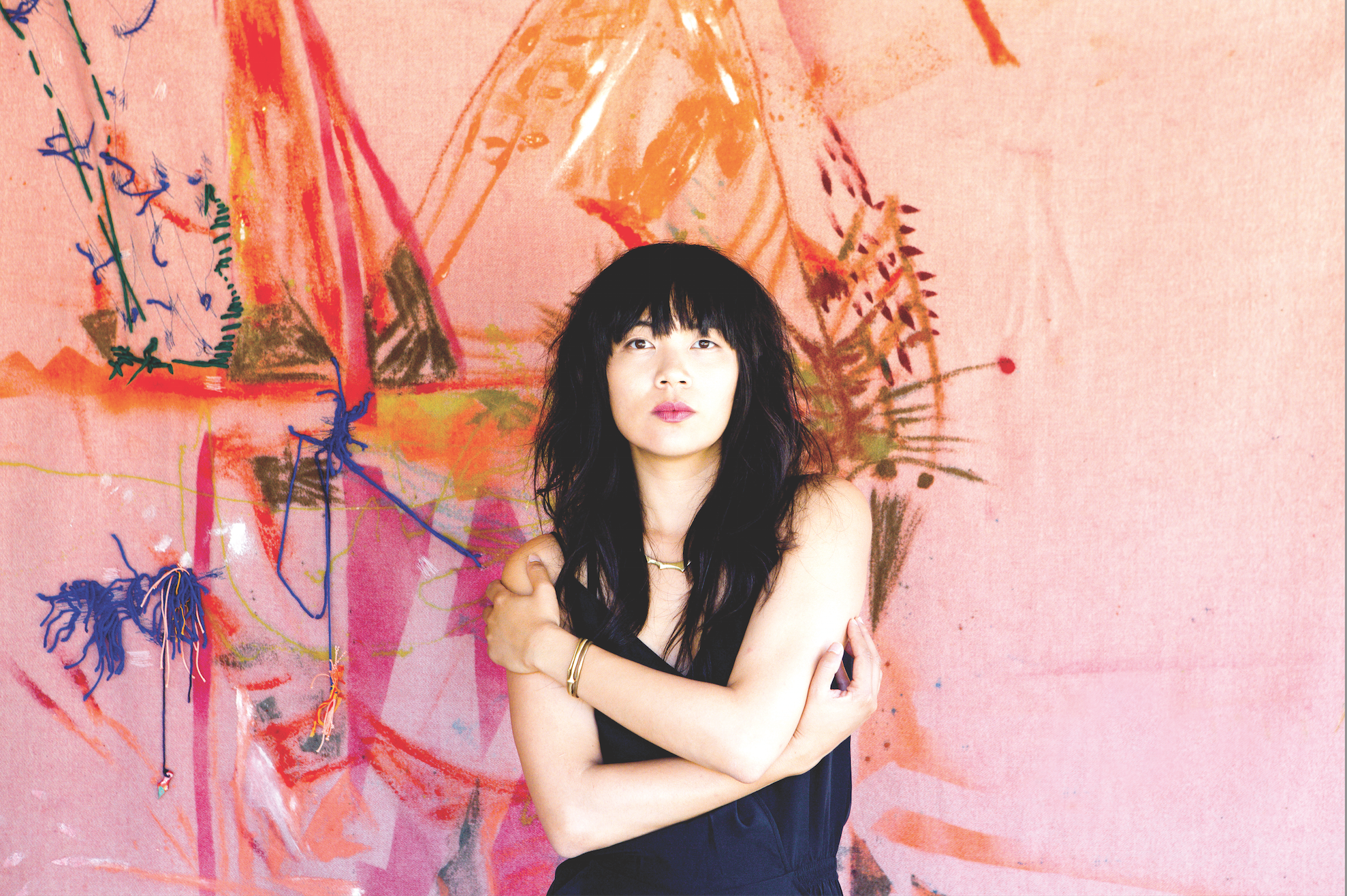 Thao Nguyen used to play a song, "Moped," from her debut record Like The Linen using a toothbrush as a sort of bouncy, rhythmic pick. It was a cute and quirky gesture, from a songwriter whose stage presence has always been funny and a little odd, but the toothbrush was also a practical tool, allowing the song a jaunty, exuberant bounce. Since that initial release, Nguyen has put out three terrific albums with her band The Get Down Stay Down, each album building upon the last in complexity, subject matter and musicality. She's toured incessantly and opened for acts like Neko Case, The Head and the Heart, and The Decemberists.
Now Nguyen is preparing to release her newest record, Man Alive, a personal album about her absent father. While the album is Nguyen's most personal yet, it is also her most sonically daring. Produced with the help of her close friend Merrill Garbus, of electro-pop outfit Tune-Yards, Man Alive is a drastic departure from Nguyen's previous efforts, mixing a host of electronic sounds and effects into her normally more folk-inspired sound, not to mention a ten-fold increase in the rhythm section. On many of the tracks, Nguyen herself sounds different, experimenting with shifts in her vocal patterns. Lyrically, Nguyen deals with her relationship with her father in a myriad of ways, from the intimate to the ferocious, much in the same way she has dealt with everything from the California justice system to jilted love in past work. The album is a risk few artists, on the cusp of a career breakthrough, would be willing to make, but Nguyen's live performances have always showcased a desire for momentum and the album is nothing if not inspired by a desire to move.
For all its differences, Man Alive seems intent on continuing what has constantly been Nguyen's push for new territory, both musically and lyrically. Nguyen has always been adept at using the tools and resources at her disposal to propel her songs to new heights, whether it be a toothbrush, a slide guitar or a studio full of tricks. ELEVEN recently talked with her on the phone about the evolution of her career, working with Garbus, and the radically different sound of her new album.
ELEVEN: The Pacific Northwest seems to hold a special place in your heart. A number of bandmates hail from the area, your first tour was with Portlander Laura Veirs, and your first three records came out from Kill Rock Stars. Not that we mind, but why the special love?
Thao Nguyen: I really appreciate how you guys handle rainfall. [Laughs] The relationship with the Northwest started with my relationship with Kill Rock Stars and my management, who were in parts of Seattle, and then in Portland. And half our band does live in Portland and have done so for years, and yeah, it definitely is like a second home and a first home for half my band.
11: You're kicking your tour off here [on March 25]?
TN: That's right.
11: We're very excited for that show at the Wonder Ballroom. I know that touring has always been a really big aspect of your music and you've always put on such a great show. I'm curious how touring feels for you a decade or so into your career.
TN: It feels more tiring, but it also feels a lot calmer, I think, after you've grown older. I think it's a really great privilege, to be able to do this for a living. And the way we get to show our gratitude is through our shows and we try to put on the best show we can for the people who have so graciously joined us. Now it's a very positive, very community- centric vibe and I really love that. We're really excited to get out.
11: You know folks are coming to your shows now, so that must take a little worry off the pre- tour.
TN: That we know people are coming? We can only hope. It's better to be just as grateful for
one person showing up as you would for however many. It's still a choice people make and we really appreciate it.
11: You had a pop-country duo in high school and the current incarnation of what y'all are up to pulls in a lot of different genres, especially on the new album, with inflections of hip-hop, aggressive rock 'n' roll, some electronic elements. I'd love to know what you're listening to in the touring van. If there's anything that's off limits, or anything we'd be surprised by.
TN: Primarily, there's not a lot of music playing because we hear a lot of it. I think everyone's listening to their own music. If the radio is on … a lot of podcasts. There's always so much sound happening, I think that people are pretty excited when there's just silence. But everyone's always sharing new songs and new bands too. Sometimes it's new bands or sometimes it's a really obscure James Brown track. Our bassist really likes to share obscure James Brown tracks with us.
11: Let's talk about the new album. It's a pretty sincere departure in a lot of ways from your earlier stuff. It seems like each album you've put out has been a progression. You've added instrumentation, added new players. Always pushing forward. I'm interested in how that idea resulted in the new album and where a lot of that new sound came from.
TN: I think that this album is a closer and more fully realized iteration of these things we've been working toward a lot, that not necessarily have been captured on record, but within our lives shows. It's the most effective synthesis of our different influences. Especially though, the leanings that I have… I know the earlier work is a lot more folk and country based, which, you know, obviously, was a big part of my youthful upbringing. The more hip-hop influences, the kind of riff-based layers, as opposed to just being based off of guitar tracks, with the guitar as the primary instrument…
11: There seems to be a lot more studio production, electronic feel to it too, and I know you worked with Merrill Garbus on the album and that you've worked with her before and I'd love to hear what that process in the studio was like and what she maybe brought out of you that maybe you couldn't have achieved on your own.
TN: Oh, definitely. Merrill's a really great friend of mine and we've been wanting to work together for a really long time, to work together again. Yes, her influence is really strong throughout the record and I would say one of the backbones of this record and why making it was so rewarding and joyful was there was a lot of time and space for experimentation and creativity. Finding some little odd sounds and not being afraid to incorporate them. Using tracks from a home demo that I recorded and just inserting that into the song as opposed to me treating it in the studio. There was a lot of fucking things up. There's a fearlessness that Merrill has that I have always admired. And that kind of energy and encouragement was amazing. That's sort of the environment she fostered for all of us. One of incredible warmth and positivity. And really premised upon challenging everyone, encouraging everyone to go a little bit further than we ever had. With a lot of weird pedals and preamps and our sound engineer, Beau Sorenson, who actually, he used to live in Portland as well, he was incredible and basically another member of the band, as far as what he was able to do from the board.
11: I know you and Merrill are close friends and you had said you wanted to keep the people in the room to something resembling a family of musicians, which was due to it being a more personal album. But I'm also curious how that introspection plays with the idea of a more feisty and energetic sound.
TN: I think that it all comes from the same place, and actually this record was a chance to explore really difficult subject matter, but with an honesty, with sort of a frankness and directness that I hadn't done before. And honestly, this is a very frank, raw, direct record.
11: Some of that subject matter deals with your father. Do you want to talk about how it felt to get some of that out there a little later in you career, on the fourth album? Why you felt the need to do that on this particular album?
TN: I think in past recordings I wasn't ready in my personal life to do it and at this point when I started writing songs for the record, I didn't know what exactly the record would be, just that it would be coinciding with what was happening in my real life. It sort of wrote itself and I could just tell where the songs were going, the direction of the record being the arc of this relationship. And it wouldn't happen in the future, mostly because it was happening now. There was no way to stop it. It was hard too in some way, obviously because it was a very vulnerable place to be in but at the same time there were no other songs that were going to happen.
11: It seemed like life was sort of directing you to write this album.
TN: I guess so.
11: Was it ever difficult to shape the lyrics around some of those songs, going in with a pre-determined idea of what you might write about and then try to fit those words into song?
TN: No. When I write, the lyrics are written sort of simultaneously with the music. So that part wasn't hard. The hard part was just really acknowledging and accepting that these songs would be out. That these lyrics that are deeply personal would be public. That's another thing that Merrill was… I could not have made this record without a very good friend at the helm. It's not a comfortable enough topic to just be exploring songs with someone I don't know very well.
11: Quick Bowie question. Was he an influence for you?
TN: Yeah. Especially in the last few years. Adam, our bassist, is a huge Bowie fan. For years now there has been… I wouldn't claim to be a too serious fan, like others are, but definitely there are several songs I have always looked to as beacons of songwriting and production, as templates of what a good song is. I loved his humanity, that was so present, even in more obscure seeming songs. Whatever production choices … the emotion of them I loved, and the ability to connect on a very humane level was remarkable. You can still feel that heartbreak and the optimism and the hope of people trying to communicate.
11: My little sister actually wanted me to ask you a question. "Body" was one of the first songs she learned to play on the guitar. She's 21 now, living in Nashville and making a run at the music industry. Any advice for her or for any other young, female singer-songwriters out there?
TN: I would say all the things you would expect someone to say. Reach out to other musicians who you think might have had similar experiences. Sort of build a community in whatever community you can. And support each other. That, and the fact of being a woman and a musician, those two things, when it comes to music, can't exist independently. It's important now, to acknowledge being a woman in music. The goal here is that it becomes … that it isn't sort of a hyphenated phrase. That said, it is a really specific experience to be a woman pursuing a career in music. And that I wish her luck. There's cheesy things I would like to say as well. "Don't give up," and all those things. Don't take any bullshit.
11: In the past you've worked with a lot of non-profits, sometimes donating portions of ticket sales, or speaking out on issues. Would you care to talk about why that's important to you?
TN: When I was growing up, I was interested in music, but when I was in school, I was not considering a career in music and I always thought I would go into a form of social work, especially regarding the prevention of domestic violence, and support around it. And then I realized I couldn't be on the front lines
of that work. I just didn't have the constitution for it. I have so much respect for the people, in all forms of social justice work, who actually do see it, every day, on the front lines of it. So when I chose music instead, I committed myself to using my job as much as I could, and always maintaining that part of my life.
I'm a member of the California Coalition for Women Prisoners. The entire last record, We the Common, was sort of a tribute to that organization. And I'm still a member and that community is incredibly important to me. It's amazing, because it doesn't matter one lick that I am a musician when I'm in that group and I think to maintain that perspective and understand that there's a lot more… just that they've given me so much more than I've given them as far as perspective and the people that I've met. When we play shows it's a little more of a community vibe and I'm just so grateful to be doing it and that's why people are there and we can kind of share this thing together. That comes from being a part of this coalition.
11: I suppose if you're on the road a lot, it's important to have a good community back home.
TN: Definitely. It's a reason to come home.
11: You've also worked with a number of other organizations, like McSweeneys and Radiolab. How did that aspect of your career start up?
TN: Yeah, I have been really lucky to collaborate with people more from the public radio life. Public radio has been amazing to us. Different programs have different variety shows, where you can not only be the musical guest, but also participate in a skit, or speak in complete sentences. That always is a bonus. Typically, when you put a show on, you don't showcase–unless you choose to talk between songs–you don't get to interact on a more conversational level. And yeah, I'm a fan of all these programs. As a listener, just as someone who listens to all these programs, it's a real joy to get to be a part of it. If they choose to invite me.
11: It seems like wherever you go or whatever you do, you're forming community, which is a special thing to be able to do. Congrats on the album being wrapped up and the tour starting up.
TN: Thanks. We're excited to be in Portland. Always. »
– J.P. Kemmick
Find tickets to the March 25 show at The Wonder Ballroom here.