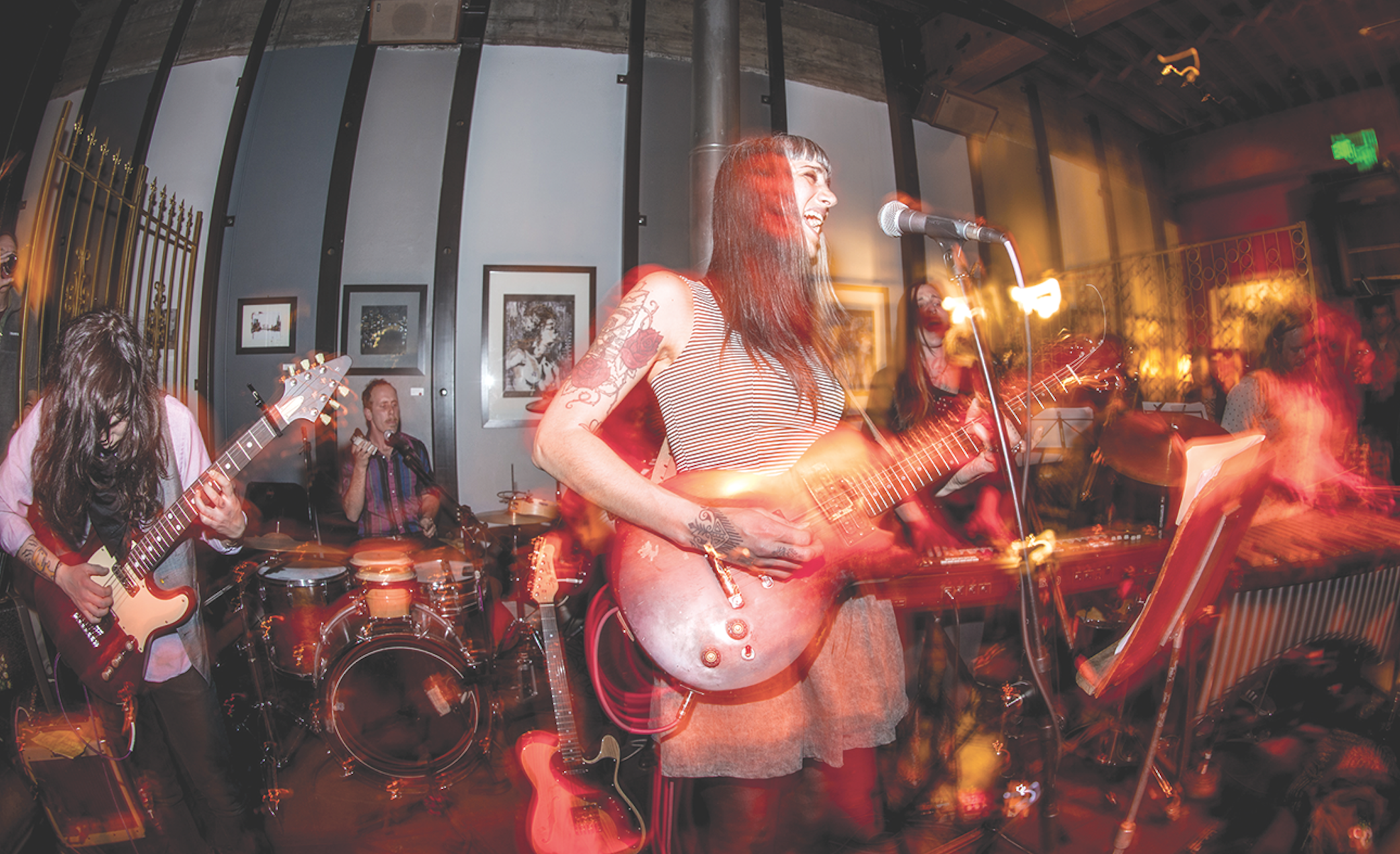 Tiburones at Rontoms | Photo by Todd Walberg
The changes in Portland are ever more apparent on lower East Burnside these days, but this part of town is still holding strong to some of its mainstays with a few eateries, boutiques, and live music venues.
This year marks the 10th anniversary for the sophisticated, yet rustic Rontoms. There isn't a distinct sign announcing that you have arrived. The owner, a man named Ron Toms, decided on an image of a man using a mobile helicopter to mark the entrance in lieu of plastering a name on the side of the building. Despite his anonymous efforts, his name caught on as the title for the business. A former web designer for Nike, Toms decided to move on from office life and ventured into bar ownership, adapting his architectural and 3D program knowledge for designing a new restaurant and performance space from the empty shell of a former industrial coffee machine repair facility.
The property underwent a full seismic retrofit, and is a unique contrast of spaces. There is an intimate bar and performance space inside, and an enormous patio space with roaring fires outside. Following suit with much of Portland's style, there are elements of industrial meshing with organic. There are sleek angles to the furniture and fixtures, with exposed metal and wooden beams in romantic light.
The menu is quality without being conceited (featuring everything from a cauliflower po-boy to a five oz. hanger steak for under $10), and while the cocktail menu is full of lovely concoctions like "Rosemary's Baby" (Cazadores, St. Germain, Clear Creek cranberry), or the "Mona Lou" (Stoli Vanilla vodka, Kahlua, Amarula cream liquor, Allspice Dram, nutmeg, named after Ron Toms's mom), there is also a reasonable beer and wine list to choose from during happy hour. It's the best of both worlds, both classy and casual, great for a date-night or late-night hang out. Then there's the music.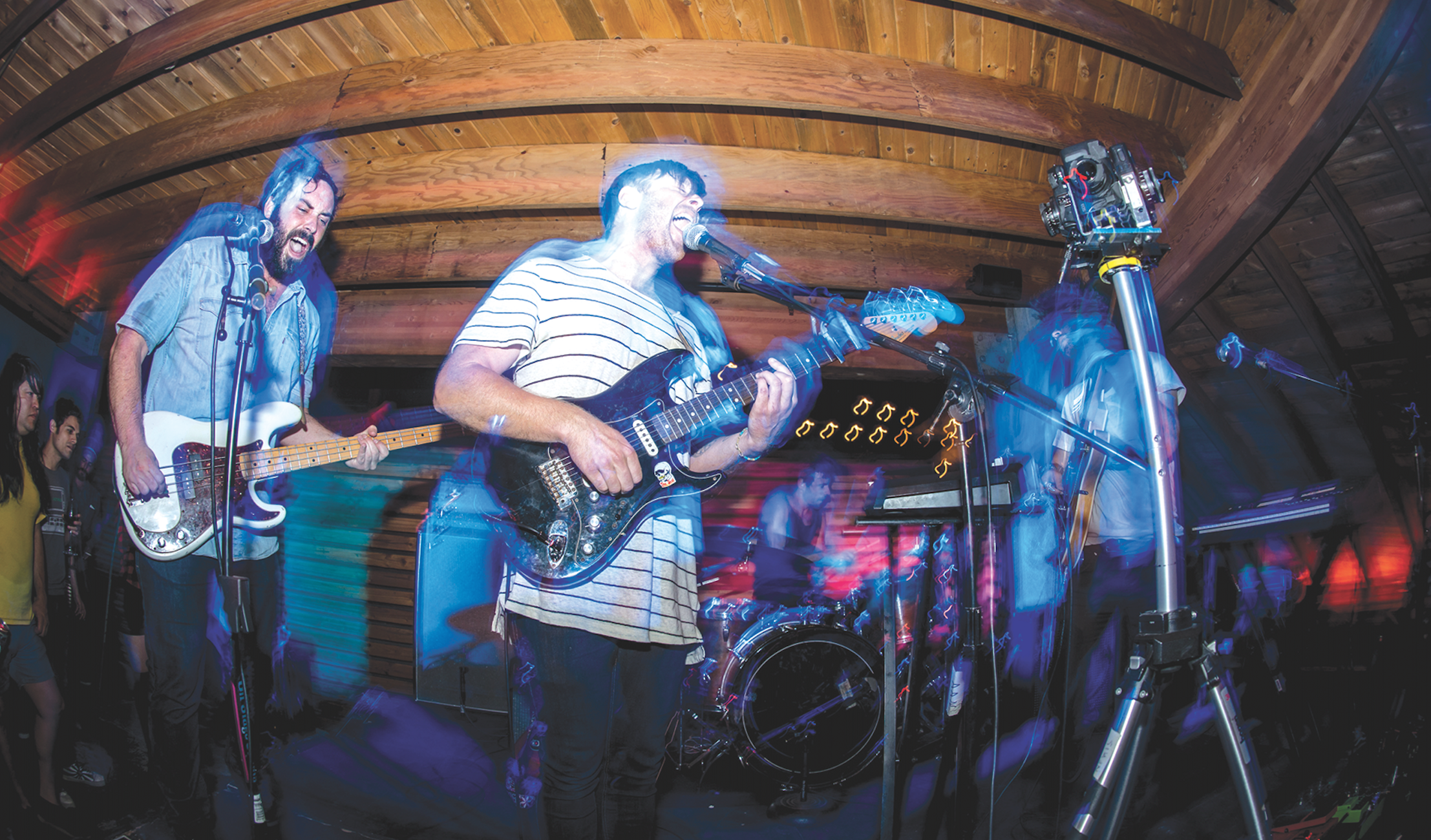 >
AAN plays the Rontoms patio | Photo by Todd Walberg
Toms designed the space with sound in mind. The ubiquitous Allen and Heath Mixwizard is not the most elaborate sound system, but in the right hands it works great for this smaller venue, especially with the acoustics of what may be the main characteristic of Rontoms: the amphitheater-style structure. Toms knew that minimizing expanding waves with an angled structure would make for the best sound quality. It even sounds good for those who watch through the large windows outside on the sidewalks once capacity is reached, but we still suggest arriving early for the Sunday Sessions.
In the beginning bookers Hannah Carlen and Joe Bowden devised the idea behind the Sessions, which was
to have shows like clockwork on a slow day of the week, and never charge for it. It's goodwill over money-making, showcasing the best music in Portland. There have been a few incarnations of bookers and musicians from Máscaras' Theo Craig to the current booker, sound tech and musician Boone Howard. Aside from a few special events, most music events are (and according to Toms always will be), free. »
—Brandy Crowe