Lemuria @ Laughing Horse Books 8/31/2013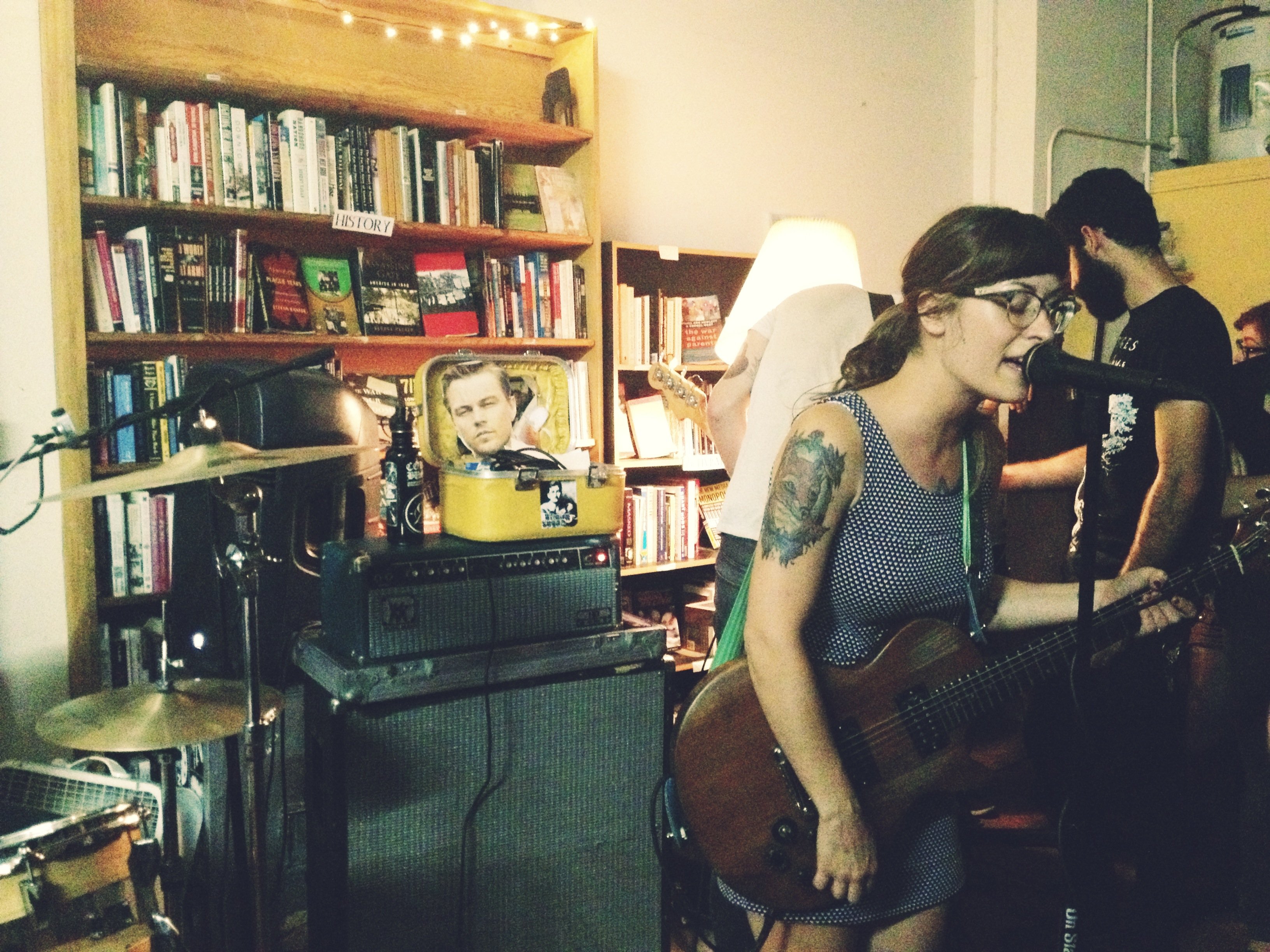 We've got it good here in fair ol' Portland. My major weekend dilemmas usually hinge around an internal debate on which handful of shows I should go to and which ones I can bear to miss; with summer on the way out it feels like there are so many things to do and see, but with limited time. Friday night alone, 34 listed venues within the city limits had shows going on. Yes, you read that right.
One of those 34 shows (and a hands-down no-brainer as far as my plans for the night!) featured Buffalo, New York natives Lemuria—a three-piece pop punk outfit with a spirited, sing-along worthy back catalogue of songs that has gained them a loyal following over their eight years as a band.
The Distance Is So Big (Bridge 9 Records), the band's most recent release, is a perfect half step between their punk sensibilities and the summery pop break-up anthems that Lemuria has been known for writing since 2005. The band blazed through a ten-song set, touching on the new album ("Ruby" and "Scienceless" were exceptional live offerings), as well as past, well-loved tracks like "Ribcage" and "Dogs," the latter of which launched the crowd into loud call and return sing-alongs of "I keep my, I keep my promise to you!"
Laughing Horse Books, a radical, volunteer-run bookstore on East Burnside, turns itself into a venue once or twice a week and is well loved by the DIY community for it's always all-ages shows. Even with the room's temperature rising to a suffocating degree of heat the crowd seemed all too excited to be in the room, one of the better attended shows I've seen all summer.
Sheena Ozzella's sugary voice is the perfect contrast to sometimes biting subject matter, and even over Laughing Horse's raw sounding PA, her voice sounded clear and cheerful. Bandmates Max Gregor (bass) and Alex Kerns (drums) also share vocal duties, adding a lush dynamic to the band's aural landscape. Ozzella, trying to make light of the heat, would occasionally lean into her mic between songs with encouragement: "it's really cold in here, right? I'm freezing!"
See Also
Lemuria closed out the night with "Mechanical" a fan-favorite from 2008's Get Better, a perfect way to end a high energy set. I can think of few other ways I would have wanted to spend my Friday night, people spilling out of Laughing Horse's doors, a smiling, sweaty crowd, and the promise of a late night pizza next door at Sizzle Pie just after.
Words by Jenna Fletcher