What's Going On: 8/3 – 8/10
1. PDX Bridge Festival Closing Party
Where: Crystal Ballroom & Lola's Room
How Much: $10 – All Ages
When: Sunday, August 7th – 6pm
Why: For a measly $10 you get a near baker's dozen of some of Portland's finest indie bands. Featuring: Copy, Symmetry/Symmetry, Tango Alpha Tango, The Dimes, Dropa, Mnemonic Sounds, Violet Isle, and Water & Bodies just to name a few. Both venues are all ages, so grab a bunch of friends or a few random strangers and treat yourselves to an evening of great local music.
2. Nucular Aminals w/ Psychic Feline
Where: Mississippi Studios
How Much: FREE!
When: Thursday, August 4th -9pm
Why: Come welcome Nucular Aminals home from their cross-country tour in support of their self-titled debut on K! Records. Their buddies Psychic Feline, who spent the first half of the tour playing shows down the west coast, join the bill and will show off some newer material. Starting the night promptly at 9pm is Portland psychedelic outfit Swahili.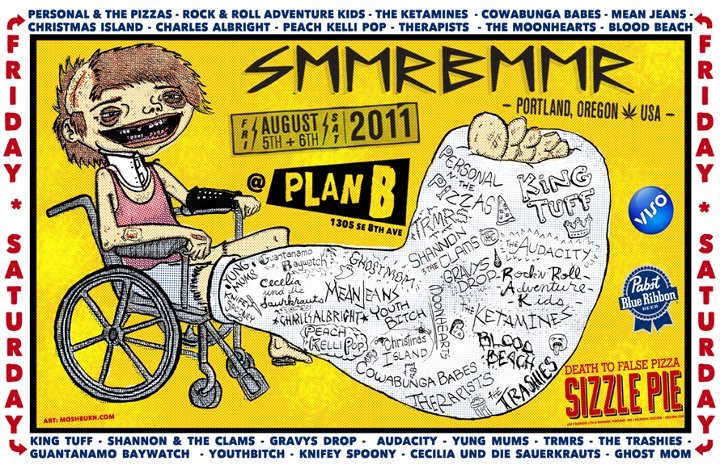 See Also
3. SMMR BMMR
Where: Plan B (+21)
How Much: $13/day or $24 for a wristband
When: Friday, August 5th – 5pm  & Saturday, August 6th – 4pm
Why: Save yourself $2 and get the wristband because there's no way you can pick just one day to go. Personal & The Pizzas, Youthbitch, Mean Jeans, Christmas Island, Peach Kelli Pop, The Moonhearts, and Blood Beach kick things off Friday. Come back on Saturday for King Tuff, Shannon & The Clams, Audacity, TRMR, Guantanamo Baywatch, Cecilia Und Die Sauerkrauts, and Ghost Mom!